Siomai or shumai is what Filipinos call their variation of the Chinese dumplings. You can find the dish in everything from fast food joints, to street vendors, to restaurants and buffets. Pork siomai is a wildly popular dish, due in part to the choice of variations, the ease of making (and therefore fast delivery), and the low cost of ingredients.
At lunchtime, workers and students alike gather around dim sum food stalls for a set meal of siomai, rice and dipping sauce.
Filipino pork siomai recipes generally include a mix of ground pork, shrimp, egg for the protein part. Vegetables like carrots, mushrooms, leeks, onions and turnip complete these delicious little parcels in a dumpling or wonton wrapper. Best served steamed or fried with a side of soy sauce and calamansi. Add chili sauce for a spicy, garlicky kick.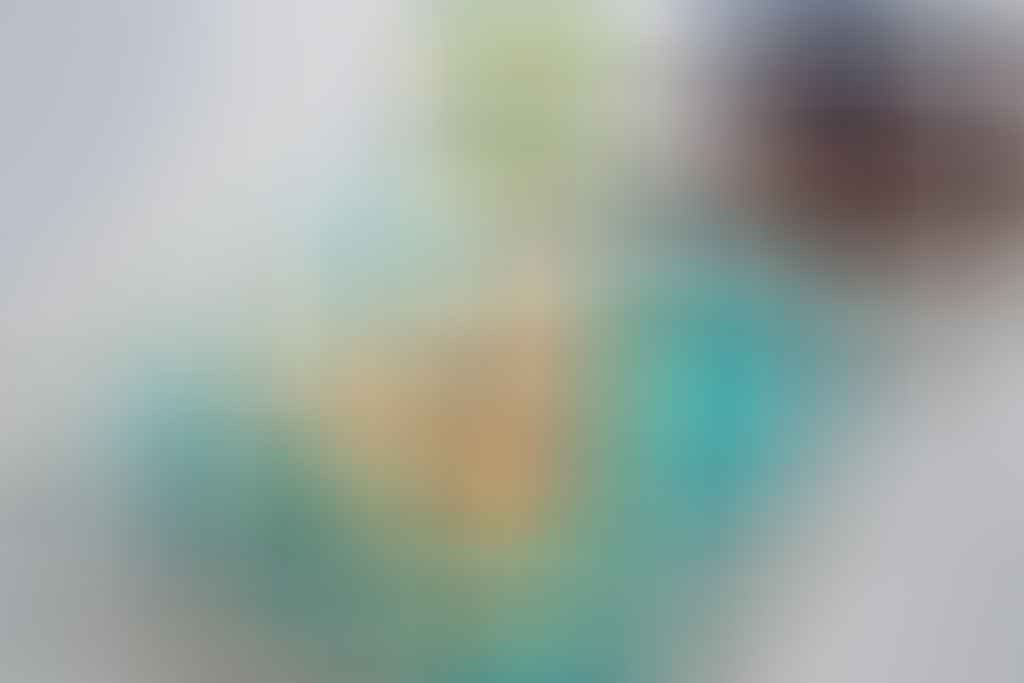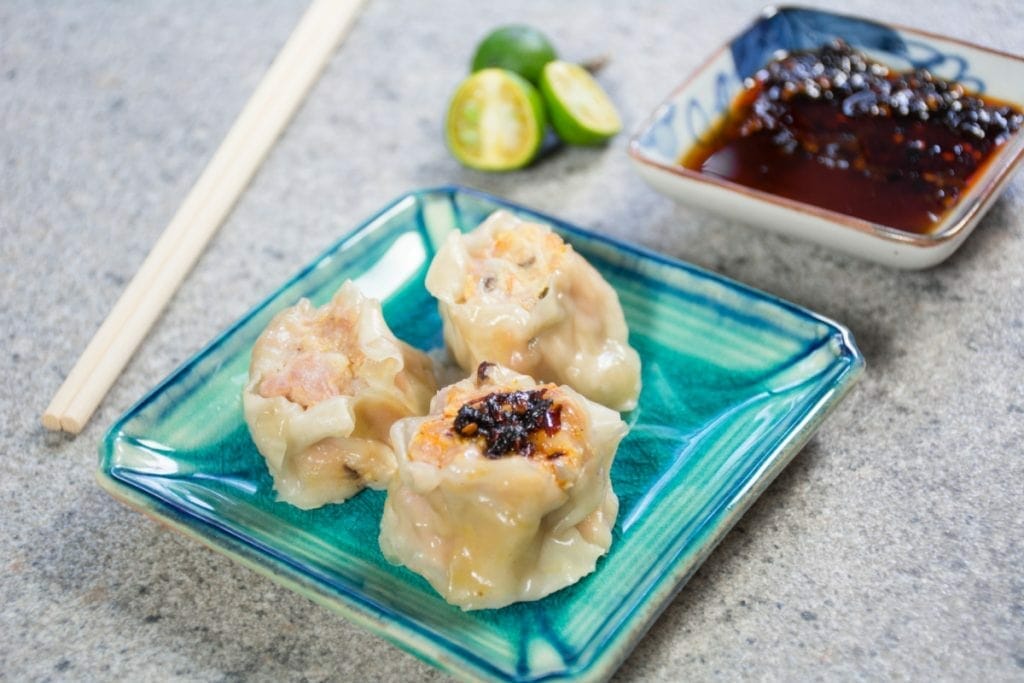 Pork Siomai Recipe Variations
Siomai also appears in other Southeast Asian countries. In Japan, cooks prefer shrimp as the main ingredients rather than ground pork. In Indonesia, the dumplings are filled with steamed potatoes, tofu, cabbage, bitter gourd, and boiled eggs topped with peanut sauce and sweet soy sauce.
Vietnamese siomai or 'Xiu Mai' are made from minced pork, onion, scallion, and eaten for breakfast.
In Manila, Philippines, Siomai and Chinese food is best sampled in the area called Binondo, also known as "Chinatown". Binondo is a great place for foodies who have a hankering for traditional and fusion styled Asian dishes.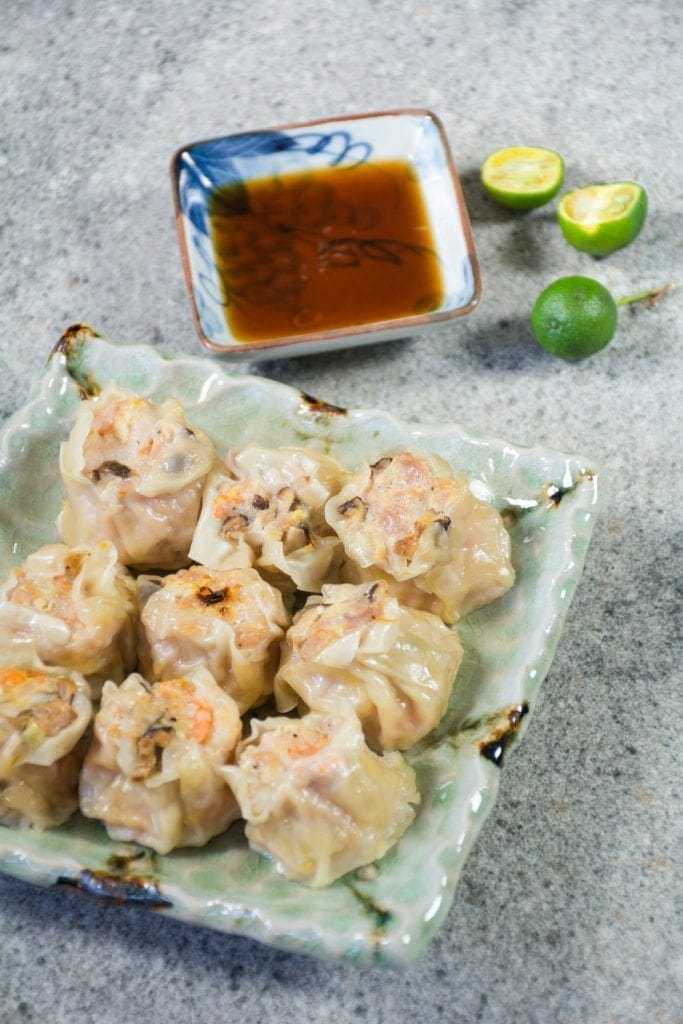 While this dish does contain a sizeable measure of saturated fat thanks to the ground pork and egg, there's plenty of nutritious vegetables inside the siomai wrapping. You won't need many of these pork dumplings as they are full of delicious flavors and very satisfying. Check out our easy pork dumpling recipe and see just how, despite being simple to prepare cook, siomai delivers a ton of taste in a small wrapper.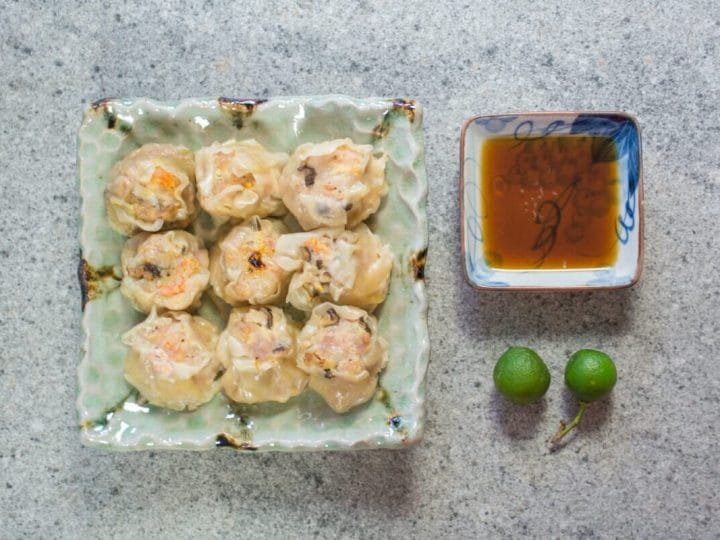 Yield:

35
Pork Siomai Recipe: Ground Pork Wontons
Filipino dumplings of minced pork and shrimp with fresh vegetables, sesame oil and soy sauce.
Ingredients
Siomai wonton
500g ground pork
¼ cup shrimp (minced)
2 tbsp sesame oil
1 ½ tsp salt
1 ½ tsp pepper
1/3 cup onion (chopped)
1/8 cup carrot (grated)
1/3 cup Shiitake mushroom (chopped)
1 egg
35-40 pieces of Molo wrapper or dumpling wrapper
Dipping sauce
2 tsp soy sauce
1tsp calamansi or lemon
Instructions
Mix 500g Ground Pork, ¼cup minced shrimp, 2 tablespoons of sesame oil, 1½ teaspoons of Salt, 1½ teaspoon of pepper, 1/3 cup of chopped onions, 1/8 cup of grated carrots, 1/3 cup of chopped Shiitake mushrooms, and 1 egg.
If the meat mixture is too wet, leave it in the fridge for at least 30 minutes to 1 hour.
Form an egg shape with your hand. Place a piece of dumpling or pancit molo wrapper in the middle.
Place 1-2 tablespoons of the meat mixture in the middle. And carefully push the sides to the center.
You can also put emphasis on the tip by closing the tip of the siomai. Giving it a bit more of a rounded triangular shape.
You can start steaming the dumplings or keep them in plastic containers, leaving them overnight in the freezer to maintain the shape. This also helps infuse the ingredients better.
In a steamer basket, place a parchment paper and brush with oil. This helps make it easier to take the siomai out.
Place the basket on the steamer. Making sure that the water is boiling before placing this. Cover and steam for 10-15 minutes.
Place the steamed siomai in a platter to cool.
For the dipping sauce. Mix in 2 tablespoons soy sauce and tsp calamansi or lemon in a small dish.
Notes
The meat filling should be at least 80% ground pork with at least 20% fat for a juicer pork siomai.
Dumpling wrappers are rounder in shape and are thinner than molo wrappers, which are also called wonton wrappers. They are thick and firm and usually square in shape.
When using dried Shiitake mushrooms make sure to cover them with warm water for 2 hours to hydrate. Remove the stems if they are too hard.
For a smoother texture, blend all the ingredients in Step 1.
You can store the uncooked siomai in an airtight container in the freezer for 1-2 weeks.
Some people enjoy siomai with chili sauce. A mix of chopped chillies, minced garlic, sesame oil, and vegetable oil fried in the pan till sauce thickens or most of the liquids have evaporated.
Recommended Products
As an Amazon Associate and member of other affiliate programs, I earn from qualifying purchases.
Nutrition Information:
Yield:
35
Serving Size:
1
Amount Per Serving:
Calories:

56
Total Fat:

4g
Saturated Fat:

1g
Trans Fat:

0g
Unsaturated Fat:

2g
Cholesterol:

21mg
Sodium:

147mg
Carbohydrates:

1g
Fiber:

0g
Sugar:

0g
Protein:

4g
This information is automatically calculated by third party software and is meant as a guideline only. This website is written and produced for informational purposes only. Statements within this site have not been evaluated or approved by the Food and Drug Administration
Frequently Asked Questions
Why is siomai so popular in the Philippines?
Siomai is a versatile dish that's relatively easy to make. This adopted dish is popular thanks to its flexibility (many different ingredients can be used), excellent taste, and sharability.
Is siomai Filipino or Chinese?
Siomai is originally from China and is a type of Chinese dumpling adapted for Filipino taste.
What is best paired with siomai?
Siomai is best eaten with a dipping sauce (soy sauce, calamansi) or soup. You can even pair it with other dim sum.
How to make sweet soy sauce for siomai?
This recipe for sweet and sour dipping sauce is a perfect accompaniment for siomai and contains plenty of soy sauce.
How many minutes to steam siomai?
Steam siomai for 10 minutes for a slightly al dente effect and 15 minutes for a soft texture.
What is siomai in English?
The English word for siomai is borrowed from Tagalog and is pronounced the same way: sio-mai
If you enjoyed this recipe, check out some of our other pork recipes on EatPh.com – Pork Sisig, Ginataan, and Sweet Pork Adobo.