Pork Liempo, or 'Inihaw na Liempo', is one of the most popular grilled dishes in the Philippines. This juicy, glazed, sweet, and savory grilled pork belly dish, is traditionally made with a marinade of soy sauce, calamansi juice, minced garlic, salt, pepper, and banana ketchup. Sometimes a spoonful of brown sugar is added to improve the caramelization of the meat.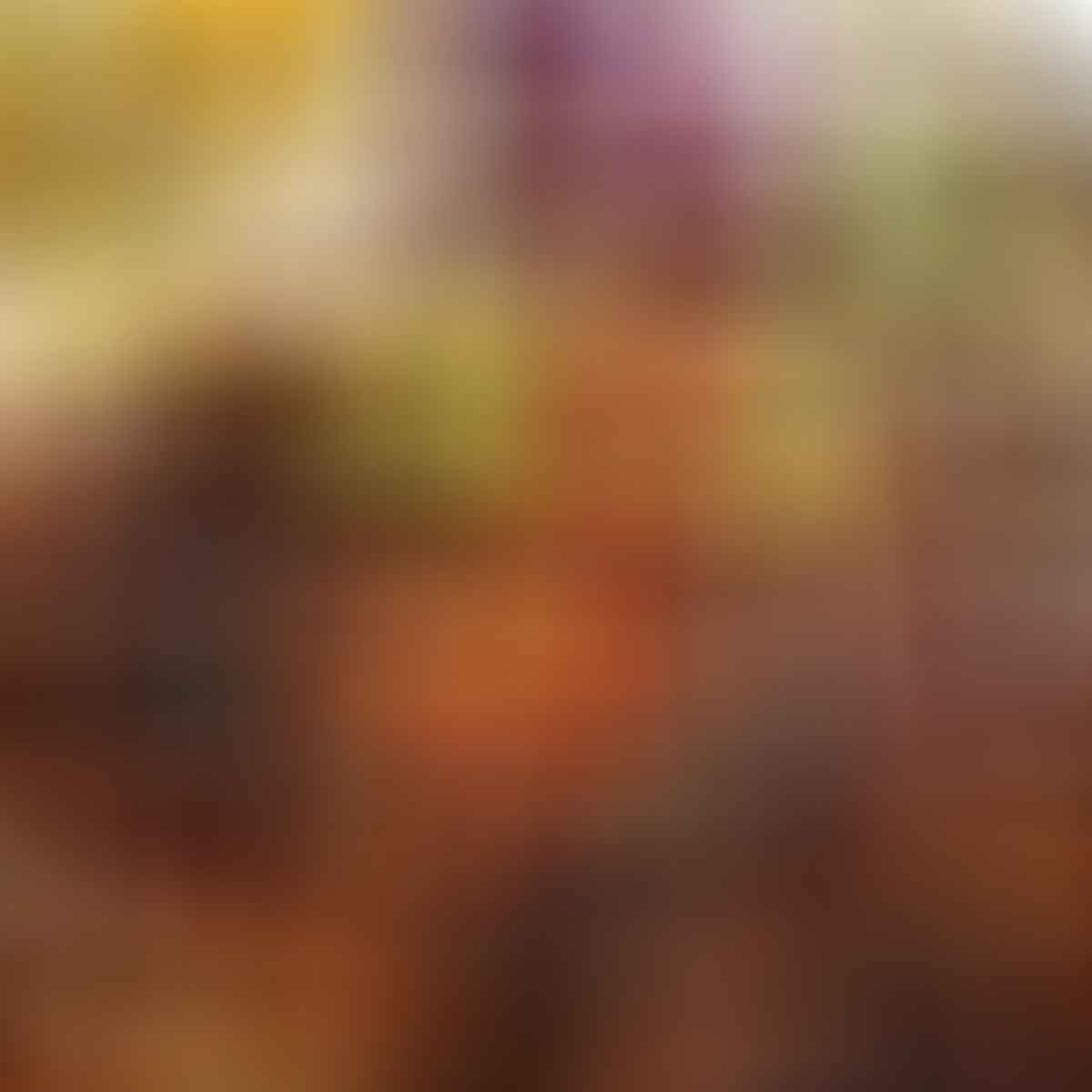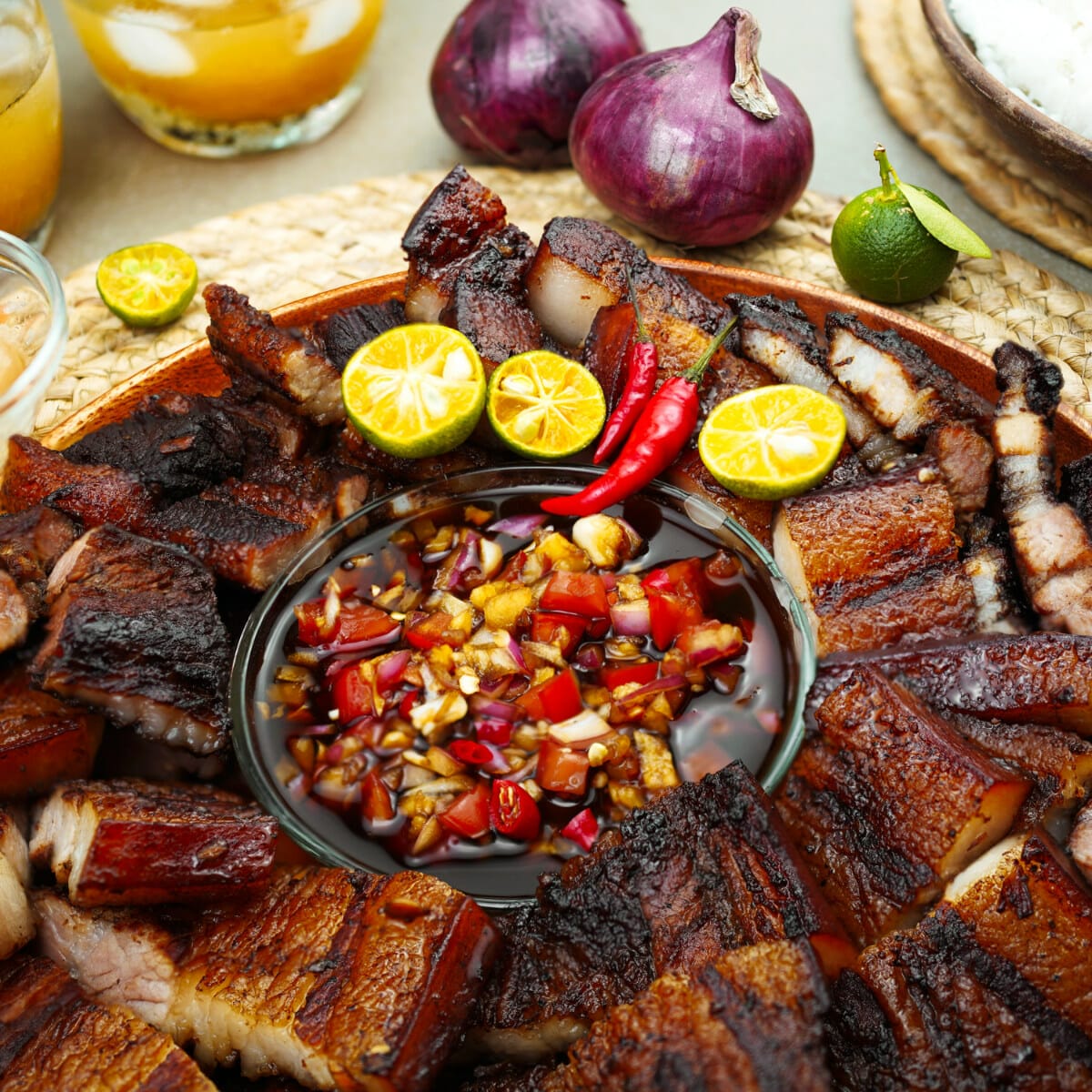 After the marinade is prepared and added to the pork slices, the pork is kept in the refrigerator or a cool place overnight. The pork belly is then grilled over charcoal for a few minutes, brushing it with the remaining sauce often, until each side has a nice char. The dish is served with a side of spiced vinegar dipping sauce and a generous serving of rice.
A simple recipe that takes just a few ingredients, marinates overnight, and then can be grilled, baked, or pan-seared.
The smell of charcoal-grilled liempo with some freshly caught fish grilled on the side reminds Filipinos of days at the beach. The pork is often accompanied by heaps of rice placed in a large bowl with roasted eggplant and other veggies. Bottles of ice-cold soda and mango, watermelon, or fruit salad kept in the cooler for dessert complete the meal.
This combination is sure to your mouth water in anticipation of summer vacation, or maybe just in anticipation of dinner time or a trip to that Filipino restaurant in town.
The ingredients list
Pork belly – try to get a pork belly that's not too lean, especially when grilling or baking. The fats keep the meat from drying.
Salt and pepper – for seasoning
Dark soy sauce – a sweet and salty combo that also adds color to the pork belly.
Garlic – makes the dish aromatic and helps remove any foul smell.
Vinegar – breaks down the meat's muscle fibers and allows the meat to absorb the sauce better.
Lemon or Calamansi – adds acidity and tenderizes the meat.
Banana ketchup – adds sweetness. Can be replaced with tomato ketchup with 1 or 2 tablespoons of sugar.
Oil – to keep the meat from sticking to the rack when grilling.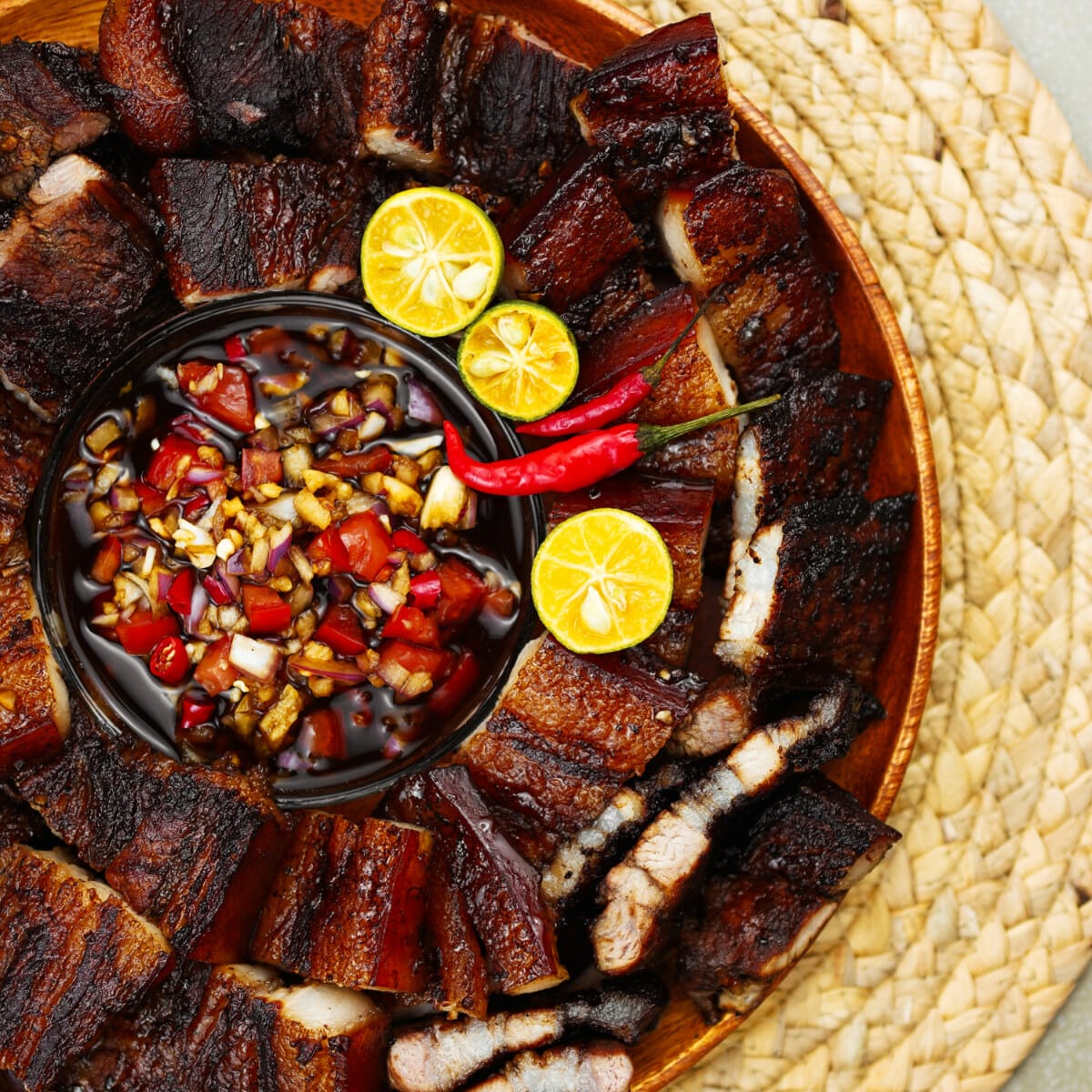 Quick tips
To check if the pork has been cooked, poke the meat with a fork; the juices that come out should look clear.
If you like a sweeter version of the dish, add 2 – 3 tablespoons of brown sugar.
To store the remaining pork liempo, cool it to room temperature before placing this in an airtight container. This can be kept in the fridge for 1 week and in the freezer for almost a month.
To reheat, preheat an oven to 150 °C or 300 °F, and cover the pork belly with foil. You can also place this on a wire rack again to remove any excess oils. Bake for 25 – 30 minutes, or till it feels warm. To pan fry, just sauté it in medium heat, flipping once the other side warms up.
Try not to microwave this dish, as the fats will start melting and may turn it into an oily soup.
If frozen, thaw this out before reheating in a pan or oven.
Frequently Asked Questions
What ways can I cook pork liempo? Grilling, pan-searing, or baking?
Pork liempo is a versatile dish that's easy to prepare, no matter what the method. Frying: sear the pieces of pork belly in a pan. This makes for an easy clean-up. Baking: bake the meat on a wire rack over a baking tray to separate the oils and make it a bit healthier. Grilling: heat the pork over charcoal to impart a smoky flavor for the traditional pork liempo taste. You could also use an air fryer for about 20–30 minutes to cook the pork belly pieces.
Why use Filipino banana Ketchup instead of regular ketchup?
Banana ketchup is a popular condiment in the Philippines and can be found in any convenience store, grocery, or sari-sari store around the country. You can find this bright red tomato sauce sweetened with bananas online or make your own banana ketchup.
Alternatively, you can add 1 – 2 tablespoons of brown sugar to the regular tomato sauce to add sweetness.
Is pork liempo gluten-free?
Yes, meat is naturally gluten-free, and the ingredients do not have any flour in them. But you might need to check the banana ketchup label just to make sure.
What makes good Pork belly?
There should be a good fat-to-meat ratio. Don't be afraid of using cuts with a lot of fat. There should be enough fat in the pork belly to prevent it from drying as it cooks.
What to do with the leftover sauce?
You can also use the marinade as a basting sauce. Brush the sauce all over the pork belly slices before baking, grilling, or sautéing. Every time you flip the pork belly, you can brush the sauce on.
What to pair with this dish?
Pork liempo is best paired with the following side dishes and accompaniments
A big heaping scoop of white rice or garlic rice.
To help make the fatty texture more palatable, serve it with a side of achara, a Filipino version of fermented green papaya.
a spicy dipping sauce mix made of vinegar, soy sauce, chilies, garlic, and onion. Mix and add ingredients to your taste.
For a simpler sauce, mix 2 parts soy sauce and 1 part calamansi or lemon to create toyomansi.
Total Time:
8 hours
40 minutes
Filipino pork liempo, is a delicious and easy-to-prepare dish made from barbecued pork. It is typically served with rice and other side dishes, but can also be enjoyed as a standalone meal. Best when cooked slowly over low heat to ensure that the meat is tender and juicy.
Ingredients
1 kilogram pork belly
1 teaspoon salt
1 teaspoon pepper
¾ cup dark soy sauce
3 tablespoons garlic (chopped)
¼ cup vinegar
1 lemon or 3 – 4 pieces calamansi
1/3 cup banana ketchup
1 tablespoon oil
Instructions
In a tray, slice the pork belly into ½ inch strips. Poke both sides with a fork to help the meat absorb the sauce.
Season with salt and pepper.
In a bowl, mix together dark soy sauce, garlic, vinegar, calamansi juice, and banana ketchup. Taste, add more ingredients if needed. Add brown sugar if you'd like it sweeter.
Pour the sauce over the pork belly, massaging till the sauce has covered all of these. Cover and keep in the fridge for 3-4 hours or overnight.
To Bake
place a wire cooking rack over a baking tray. This will help strain the oils out when it bakes.
Place the pork belly strip on top. Avoid layering the pork over each other.
Bake in a 350°f or 176°c preheated oven for 15 – 20 minutes, flipping and baking for another 15 – 20 minutes. You can also brush the sauce all over before flipping
To Grill
once the charcoals are hot enough. Brush the rack with oil before placing the pork belly. Cooking each side just till it has changed in color and is a bit charred. Brushing the sauce all over when you flip the pork belly.
To Fry
to pan sear, place a pan at medium heat, searing each side for 5 – 8 minutes or till it changes in color and is a bit charred. You can also pour in the remaining sauce to give the pork a nice sticky sweet shell.
Notes
Serve whole or chopped to bite-sized pieces with calamansi, chilies, spiced vinegar, or a dipping sauce made of soy sauce, vinegar, garlic, onion and chilies.
Baked liempo: baked pork is a bit healthier as it isn't that charred and the oil drips from the rack to the pan.
The pan-seared pork taste similarly to the grilled and baked pork liempo. It's a bit juicier since it's being cooked with its own fats/oils.
The grilled pork belly won't differ much in taste from the baked or pan-seared version. But it does have a nice charred and smoky taste.
Nutrition Information:
Yield:
5
Serving Size:
1
Amount Per Serving:
Calories:

659
Total Fat:

46g
Saturated Fat:

16g
Trans Fat:

0g
Unsaturated Fat:

28g
Cholesterol:

168mg
Sodium:

2745mg
Carbohydrates:

9g
Fiber:

1g
Sugar:

3g
Protein:

50g
This information is automatically calculated by third party software and is meant as a guideline only. This website is written and produced for informational purposes only. Statements within this site have not been evaluated or approved by the Food and Drug Administration
If this dish tickles your fancy, try pork belly lechón for the ultimate in cripy-skinned, juicy pork recipes.