The word pinakbet is derived from the Ilocano term meaning 'shrunk' or "shriveled" and refers to a dish that originated in the northern part of the Philippines. This vegetable stew is packed with a mix of greens found in abundance all over the country, but don't worry, you should be able to find all of the ingredients in most stores in the United States (or in local grocery stores anywhere outside of the Philippines).
Known for its savory taste, the dish is stewed with broth and shrimp paste to give it more depth, make it more appealing, and make it more fragrant. A classic savory vegetable dish with a Filipino touch.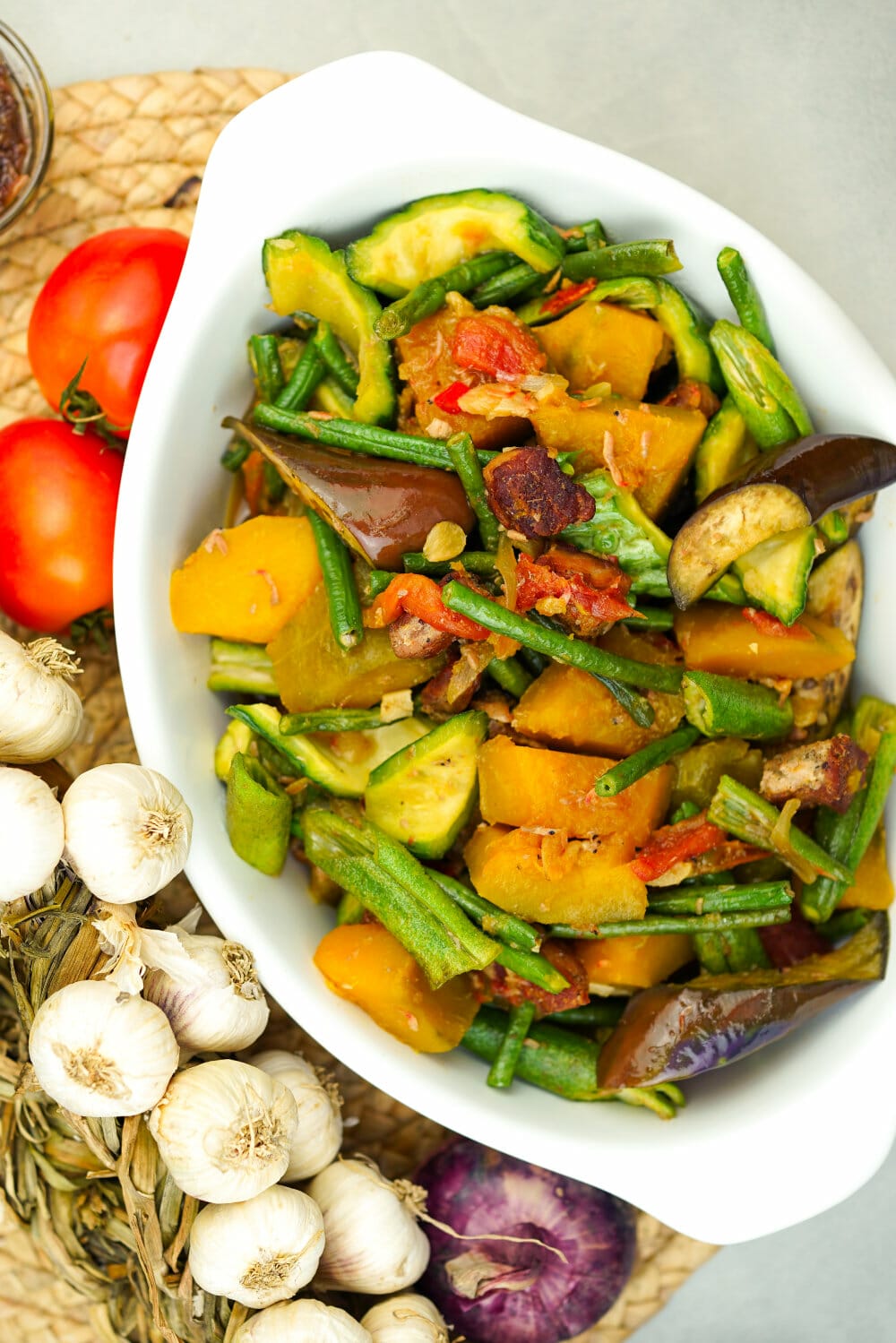 Pinakbet is one of the many healthy Filipino vegetable recipes. In some versions, pork is omitted and fish is substituted instead, or meat is omitted to suit particular diets and vegetarians. Some versions even add cream or milk to make the stew thicker and smoother, and chili peppers for a bit of spice.
Commonly, this dish is cooked until a bit of the sauce is left, though some households cook it till it's almost dry or a bit watery like its Ilokano counterpart. The best way to ensure that your pinakbet dish is flavor-packed is to cook it step-by-step, rather than mixing the vegetables altogether.
If you add meat, sear the meat first to add some color, and reduce the fat for the vegetables so that they get the same flavor as the meat. Butternut squash takes longer to cook than okra and bitter melon (bitter gourd), which are ready in just a few minutes so make sure to allow for cooking times. This prevents the vegetables from becoming too soggy and darkening.
Many Filipinos eat Pinakbet once a week or more, as it's a well-loved recipe that not only serves up a bowl of delectably colorful vegetables, but it also packs a savory blend of flavors that are packed with vitamins and nutrients.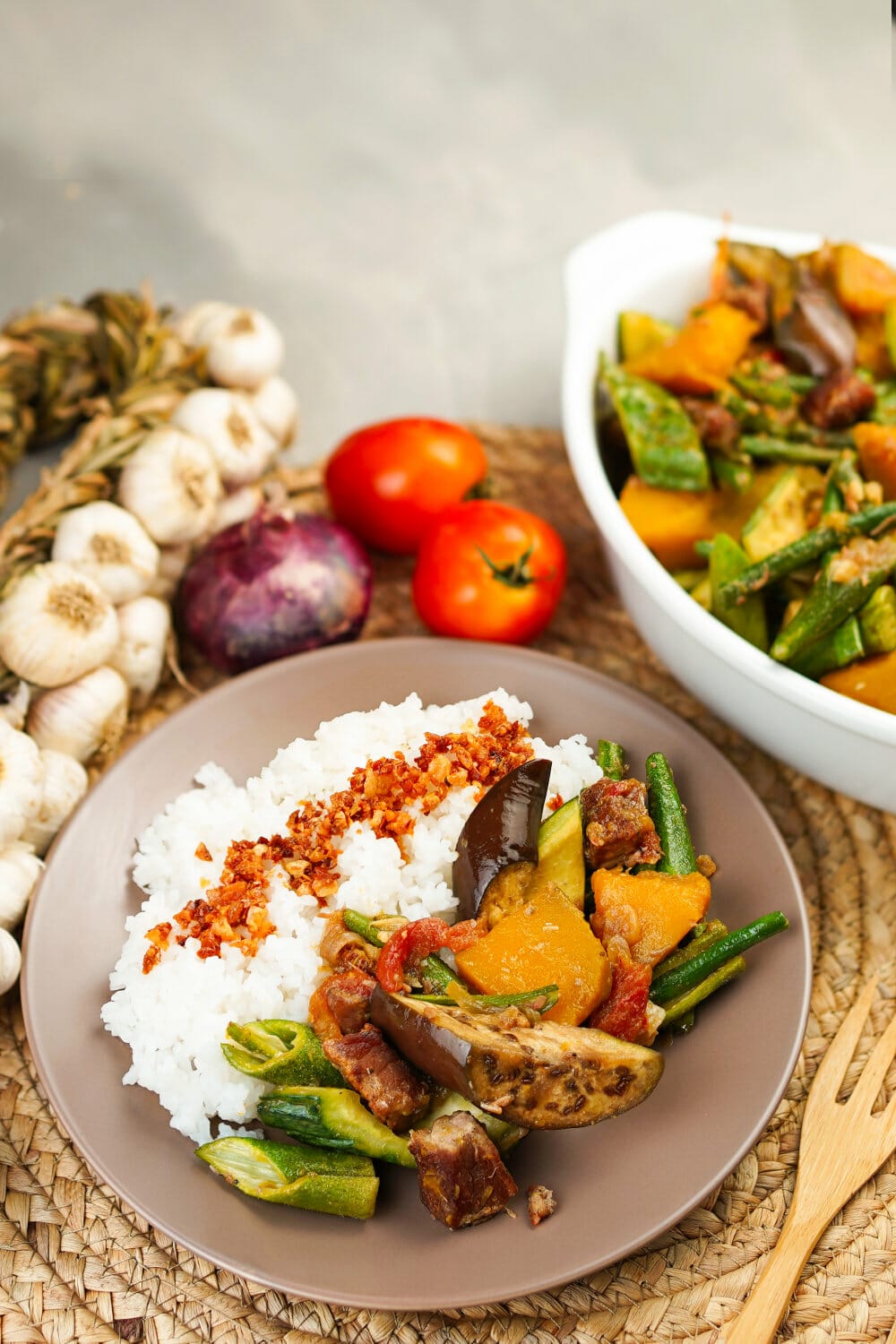 Alternatives
What to substitute for shrimp paste?
Note that shrimp paste is one of the most important ingredients to add to pinakbet. Salty and savory, shrimp paste has a pungent taste that mellows to a delightful aroma and umami taste. Substitute ingredients include fermented fish paste, soy sauce, fish sauce, vegan fish sauce, and miso. You can also omit the paste and just add more salt and pepper.
What vegetables are used in Pinakbet, and do I need to use only these?
Typically, butternut squash, string beans, eggplant, okra, and bitter melon are used in Pinakbet. However, some people add leafy vegetables or ingredients that are more suitable for their diet. The distinct taste of Pinakbet is not only made by adding shrimp paste, garlic and onions, but also by the assortment of vegetables.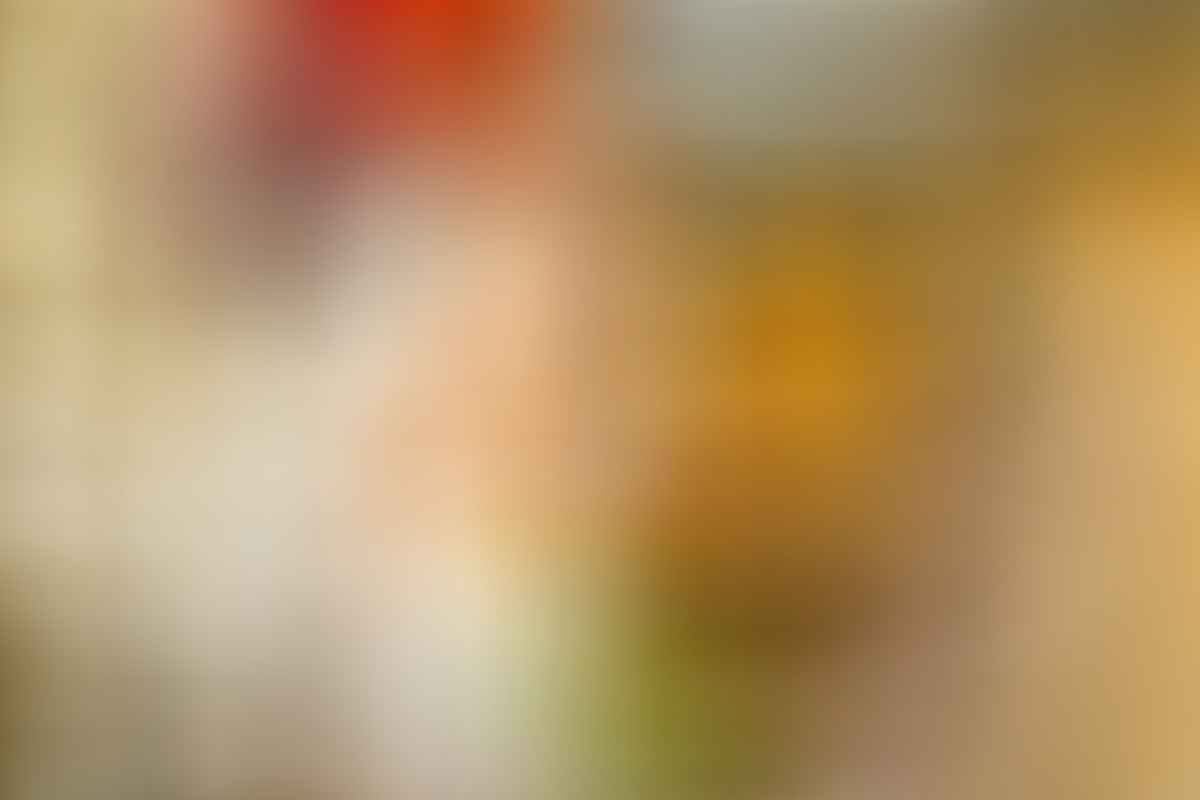 The ingredients list
oil – for searing the pork
salt and pepper – to taste and season the pork
pork belly – consists of mostly fat which adds to the richness and umami flavor to the dish.
onions – helps heighten the flavor to the dish.
garlic – makes the dish aromatic
tomatoes – adds color to the Pinakbet
butternut squash – adds vibrant color and has a slightly sweet taste. Squash is also high in fiber.
water or pork broth – to cook the vegetables while helping to create a flavorful sauce.
string beans give the dish a bit of a crunch.
okra – a great source of fiber and antioxidants that help with sugar control.
eggplant – has a mildly sweet, veggie taste that soaks up the sauce and makes it even more flavorful.
bitter melon – an abundant vegetable commonly used in Filipino recipes. Has a signature bitter taste.
shrimp paste – or bagoong alamang is a fermented shrimp condiment made of crushed krill and shrimp mixed with salt.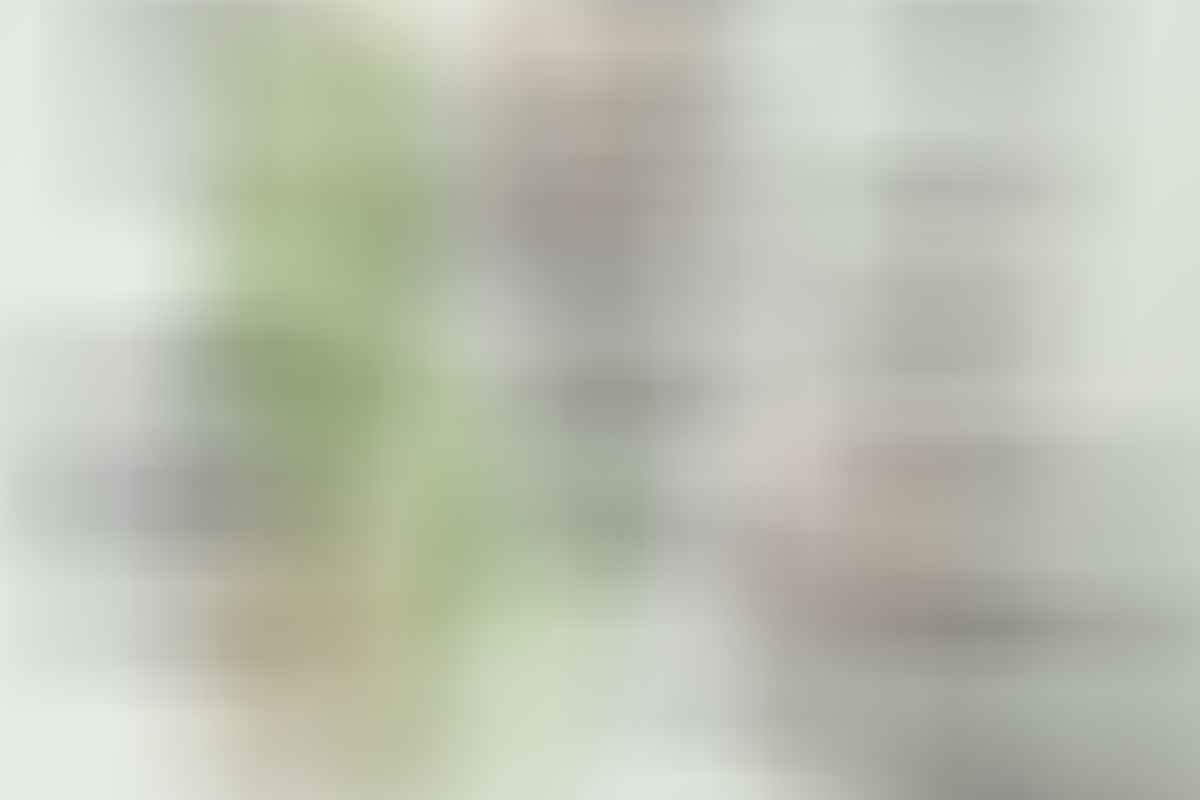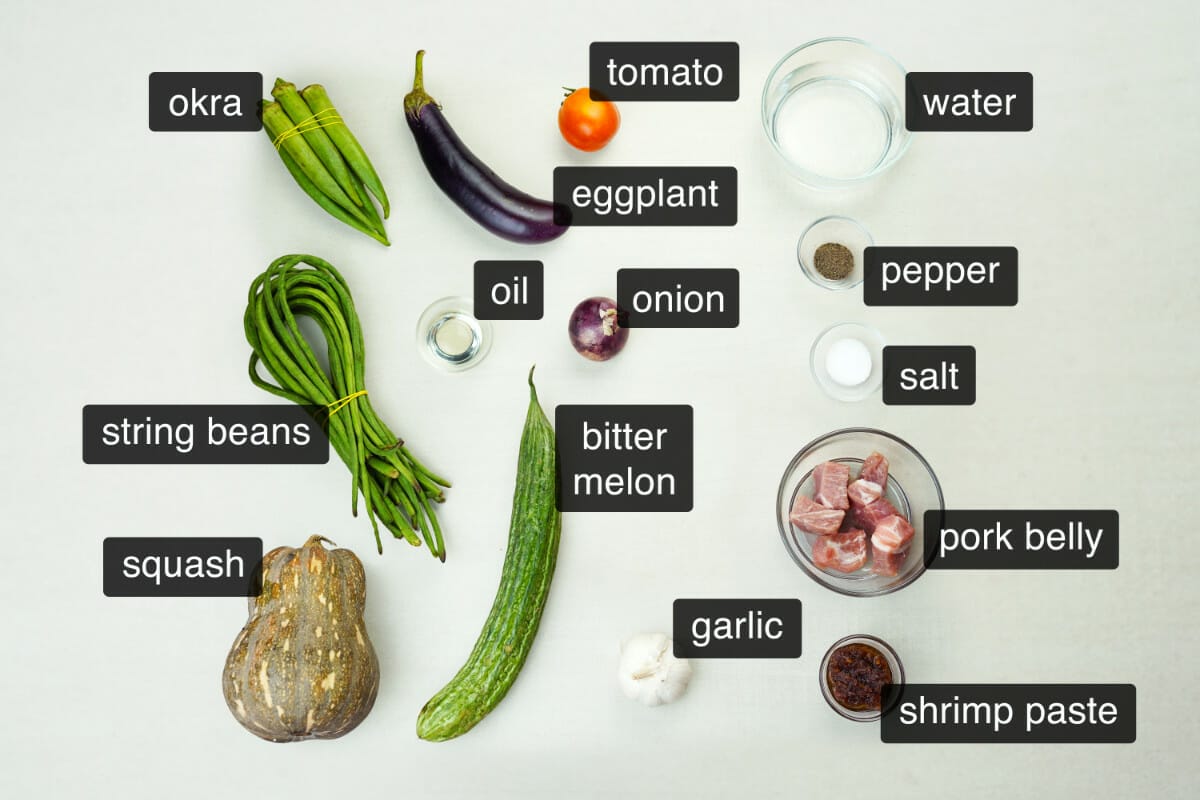 Quick tips
Check the butternut squash when it's simmering. Mix often and add more water if necessary to prevent the bottom of the pan from burning.
When you cook the squash, you can add more or less water, depending on the amount of sauce you prefer.
Since shrimp paste is already very salty, have a taste after cooking and add more salt and pepper as needed, or a bit of sugar if it tastes too salty.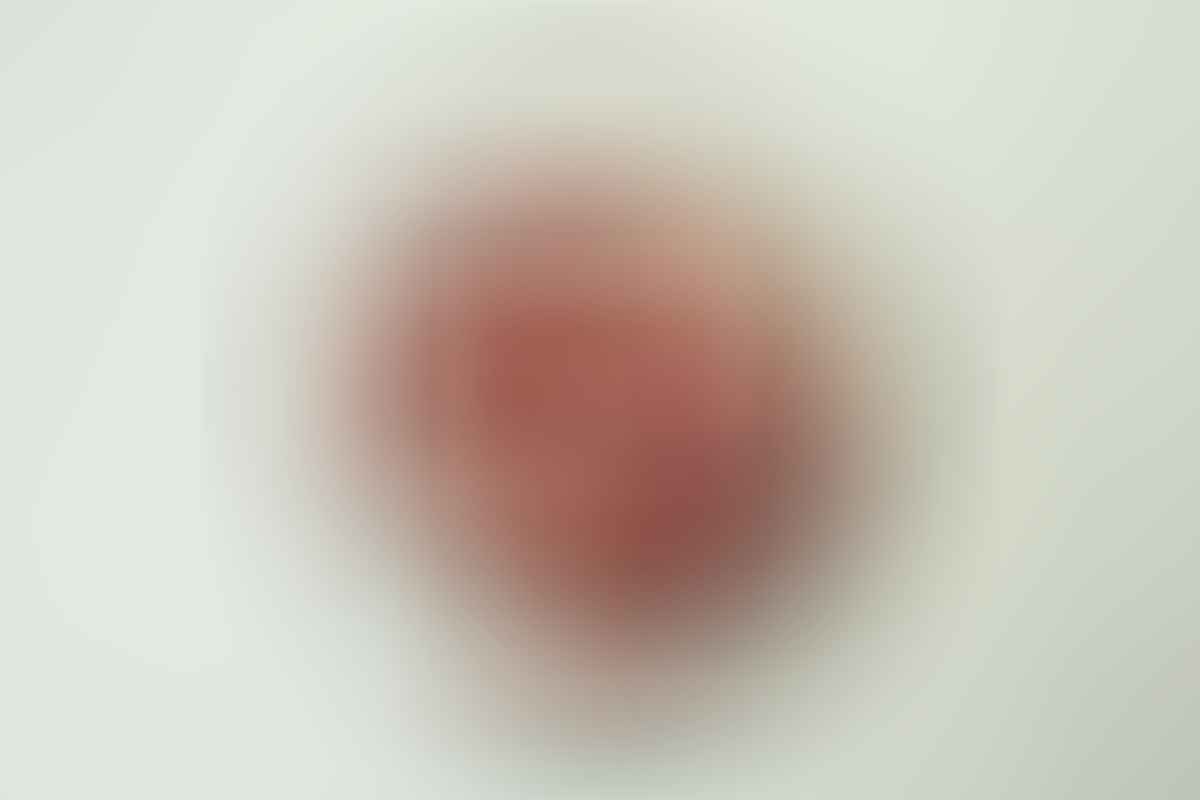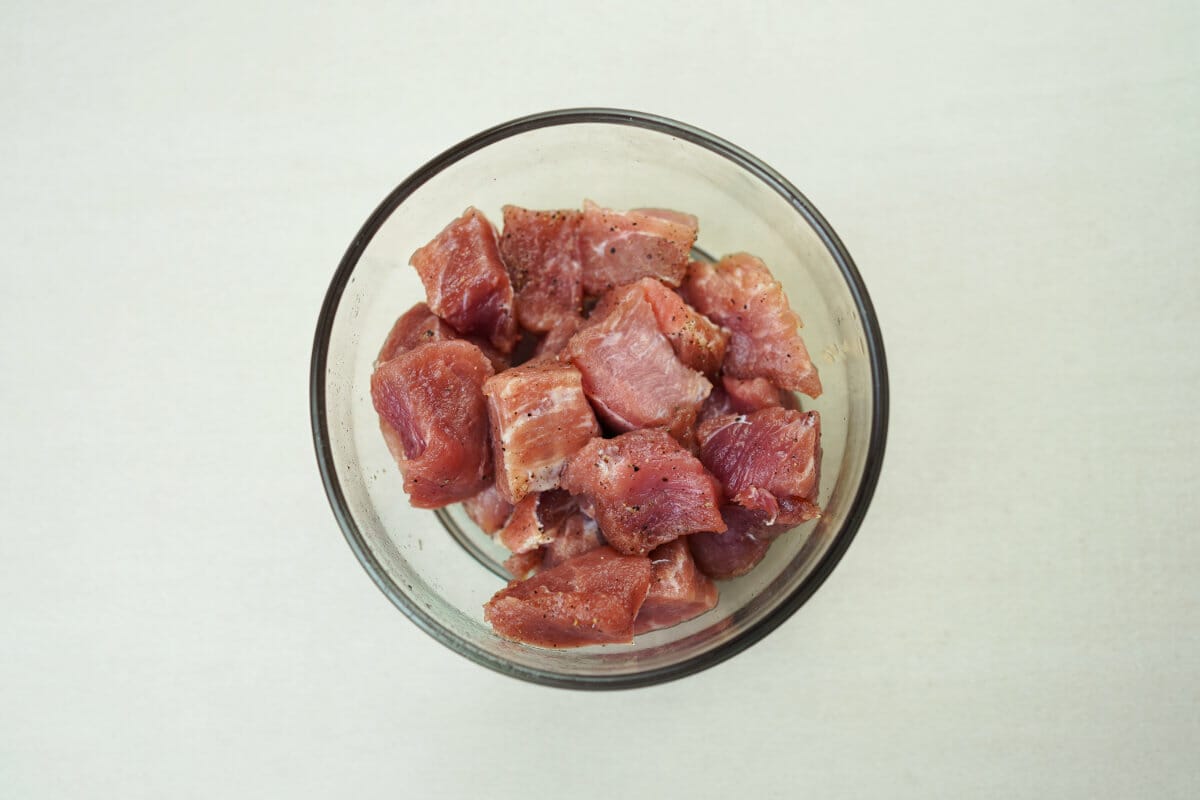 Frequently Asked Questions
Is pinakbet gluten-free?
Pinakbet is a gluten-free dish, but if you're using broth instead of water, be sure to check the ingredients.
Why add pork?
Adding a bit of pork in Pinakbet helps cut the bitterness of the vegetables, and adds a bit more flavor to the dish. The fats in the pork also help keep the vegetables juicy. In some Pinakbet recipes, bigger chunks of pork turn this vegetable side dish into a main dish.
How to cut the okra for pinakbet?
Many people slice okra diagonally to improve its appearance; this can also be done with eggplants and other vegetables.
Pinakbet isn't your average stew. It is mildly sweet but savory, creamy and filling yet healthy. Made with an assortment of fresh local vegetables, pork belly and shrimp paste, this dish is very popular and easy to make.
Ingredients
1 tablespoon oil
½ teaspoon salt
½ teaspoon pepper
100 – 150 grams pork belly (chopped to ½ inch)
2 small onions
5 big cloves garlic
2 pieces tomatoes
½ a small butternut squash
1 & ½ cup water or pork broth
1 cup string beans
1 bundle of okra
1 piece eggplant
1 piece bitter melon
2 tablespoons shrimp paste
Instructions
In a bowl, mix together the pork, salt, and pepper. Set aside.
In a pan at medium heat, add oil and cook the pork till all the sides have browned.
Slice the onions and tomatoes, roughly chop the garlic, and slice the string beans into bite-sized pieces.
Chop the squash and eggplant into small pieces, slice the okra melon gourd into half, and then slice this diagonally.
In the same pan, cook the onions, garlic, and tomatoes with the remaining oil till aromatic.
Add in the butternut squash and pork broth. Bring to a boil, cover, and simmer for 5 – 7 minutes or till the squash has softened and can be easily pierced by a fork.
Mix in the string beans, okra, eggplant bitter melon, and shrimp paste. Cover and let this cook for 3 – 5 minutes.
Once the eggplants have softened, serve hot with steamed rice