The ultimate crispy pork belly lechon experience
Lechón, a whole roasted pig, is often a centerpiece of special occasions in the Philippines, holiday meals, and even buffet tables. It's hard to beat a whole roasted succulent piglet that fills the whole table. But there's a scaled-down version, a simplified, but still delicious alternative called lechon pork belly. Using the juiciest, most tender meat of the animal, roasted pork belly is always a hit.
Lechón belly is a magnificent melange of meat, fat, and crackling skin. A crucial part of lechón's preparation is marinating the piglet in garlic, lemongrass, and soy sauce, among other aromatic ingredients.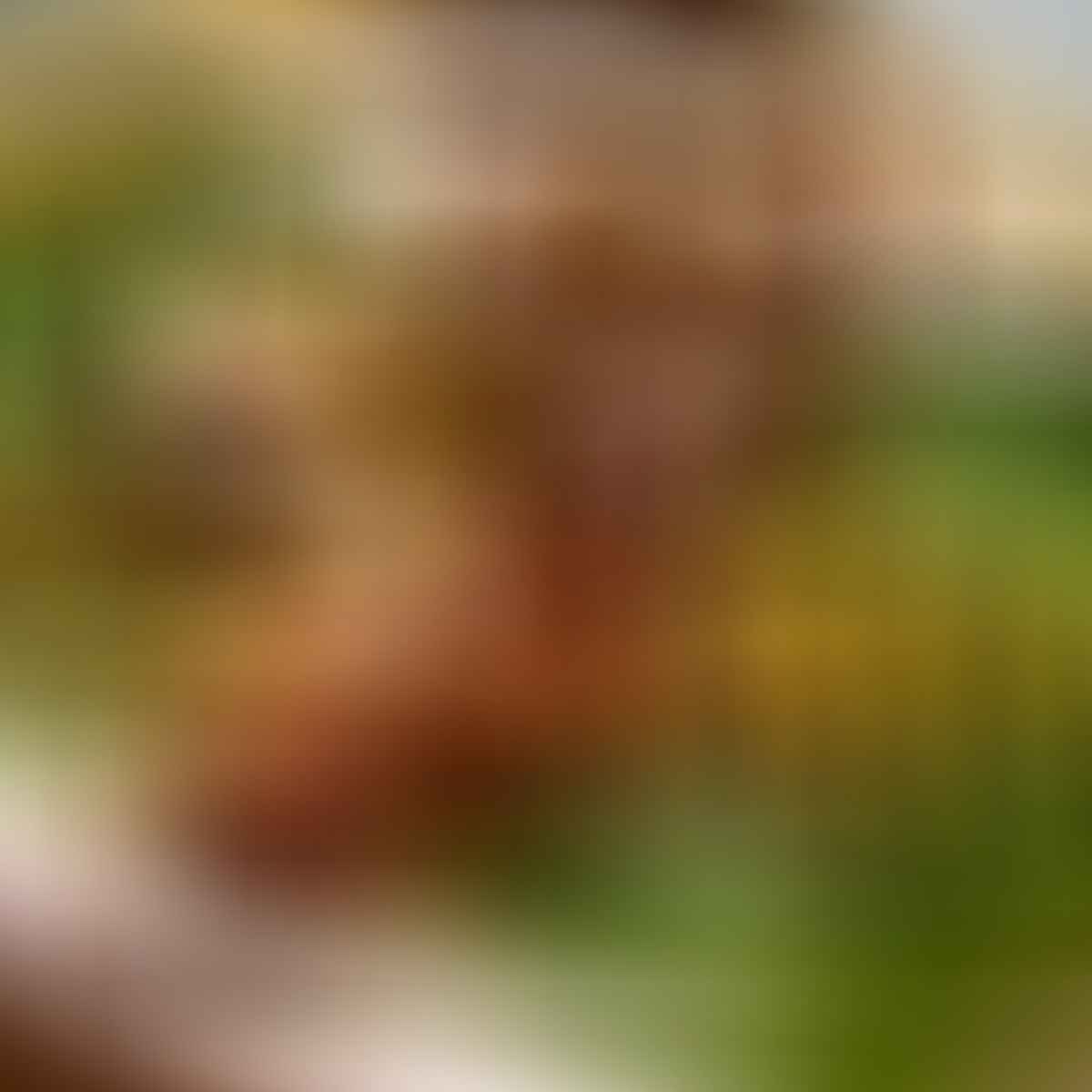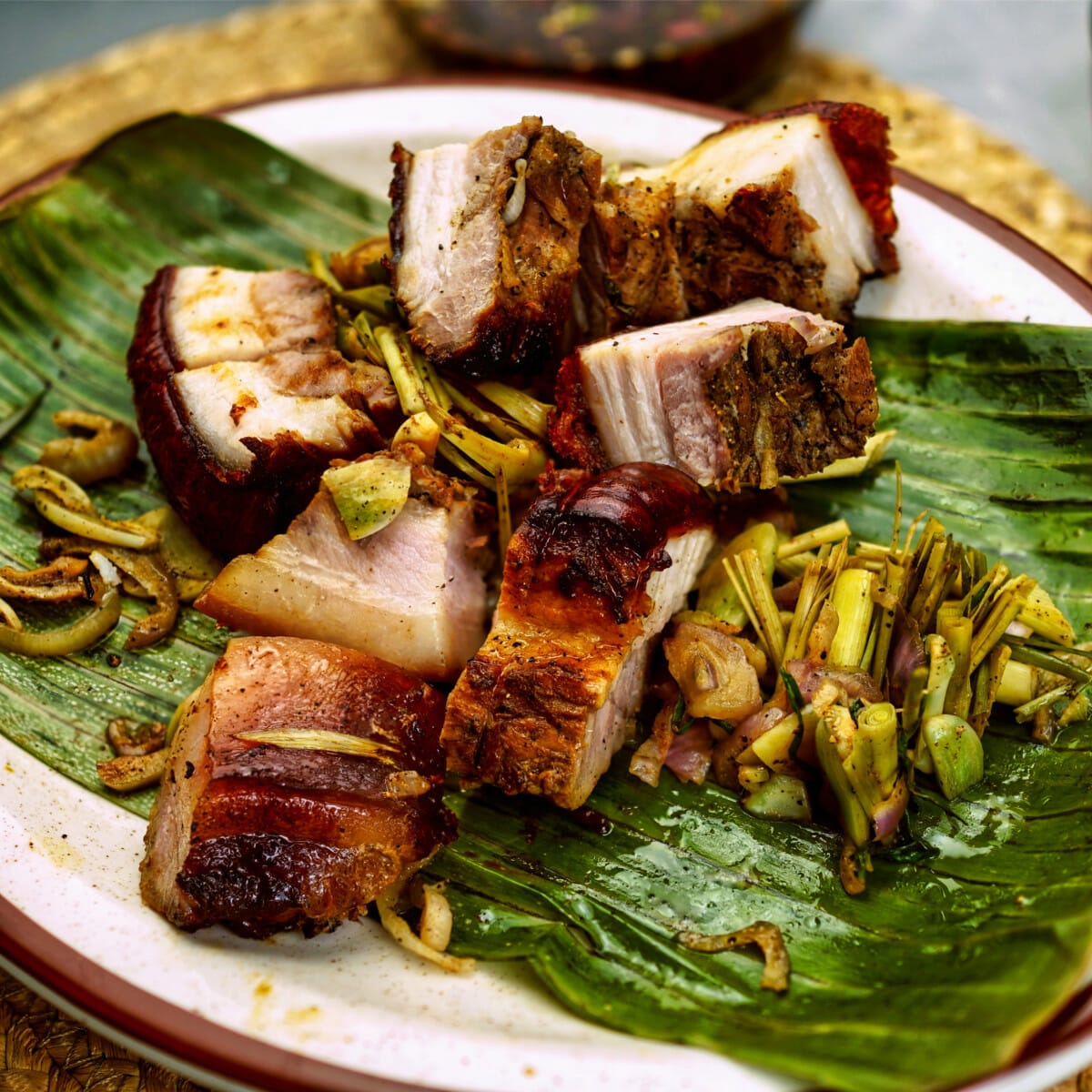 One highlight of traditional lechon is the texture of the skin. In order to achieve a crisp, golden crust, the pig is skewered and roasted over an open flame for hours. Pork belly lechon is popular because it's easier to produce than an entire roasted suckling pig. It's a dish with a lot of the charm and flavor, but with a fraction of the fuss.
This dish features the pork belly slab (boneless pork belly from the underside of the pig), marinated in a flavorful blend of garlic, onions, soy sauce, vinegar, salt, and pepper, with additional aromatic ingredients like lemongrass and scallions added in the middle. The pork belly slab is rolled back up again (ingredients intact) and marinated overnight or longer, then cooked in an oven, grill, or turbo broiler, and basted frequently for an irresistibly crispy skin.
Here's how to create a delicious sauce to accompany the lechon.
Once the skin turns crispy, then you're ready to serve.
Although much smaller in scale than a full lechón, this dish is fantastic. Gather round the table with family and friends to indulge in the delicious combination of juicy, tender pork and crispy lechon skin (something Filipinos are experts at creating).
Try pairing slices of lechon belly with ice-cold beer, a tasty dipping sauce, and a huge helping of rice to enhance the experience.
I've used dark soy sauce in this recipe so it might appear slightly darker than you'd expect. But this is mostly aesthetic. There is a richer flavor but overall, the taste of this dish is what you might expect at some of the best Filipino eateries.
There are plnty of ways to cook pork belly. If you like this, try Inihaw Na Liempo or pork belly sisig. But this simple way to prepare one of the Philippines most loved meats is definitely one of my favorite pork dish recipes and I'm sure you will love it.
The ingredients list
Pork belly – without the ribs, the fattiest cut of the pork. In addition to keeping the meat juicy (and tasty), fat also prevents it from drying out, especially when it's broiled or baked.
Salt and black pepper – important seasonings to help enhance the overall flavor of the dish.
Vinegar – meat can absorb marinade more easily after vinegar breaks it down.
Dark soy sauce – adds color, saltiness and sweetness into the dish.
Garlic and Onion – typical Filipino aromatics.
Lemongrass – helps to remove gamey odors as well as add a fresh taste.
Scallions – adds a somewhat peppery and sweet flavor.
Quick tips
Make sure that the cuts in the meat are sufficiently deep. This lets those delicious flavors fully penetrate the flesh.
For optimal flavor, marinate the pork belly for at least 24 hours to allow the marinade to permeate the meat.
For cooking, you can use a turbo broiler or oven. You can also prepare the dish by slowly roasting the pork belly on a grill. Baste the meat and rotate it consistently until the skin puffs up and turns crispy. I recommend using a turbo broiler as it's easier to handle.
Transfer it to an airtight container or wrap it in foil once cooled. Refrigerate for up to a week or freeze for up to a month.
To reheat, place it in, covered with foil, in a 150°C or 175°C preheated oven for 30 minutes or untill it's warm.
Allow the pork belly to thaw from frozen for 30 minutes, or until slightly softened, before reheating in the oven.
Step by step photos
Step 1: With a fork or knife, puncture the skin of the cleaned pork belly slab, ensuring even coverage.
Step 2: Turn the slab over, carving ½ inch crisscross patterns on the meaty side.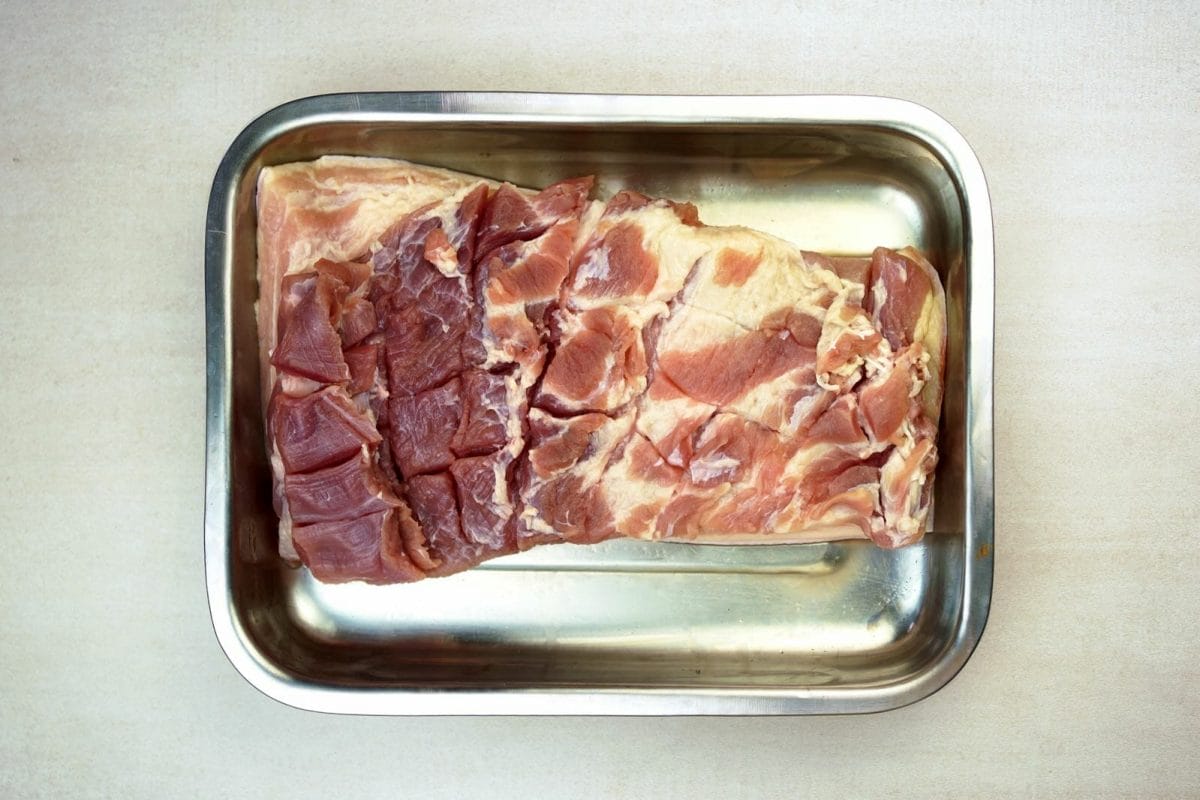 Step 3: Generously sprinkle salt and black pepper on both sides, followed by a blend of vinegar and dark soy sauce. Leave the slab skin side up.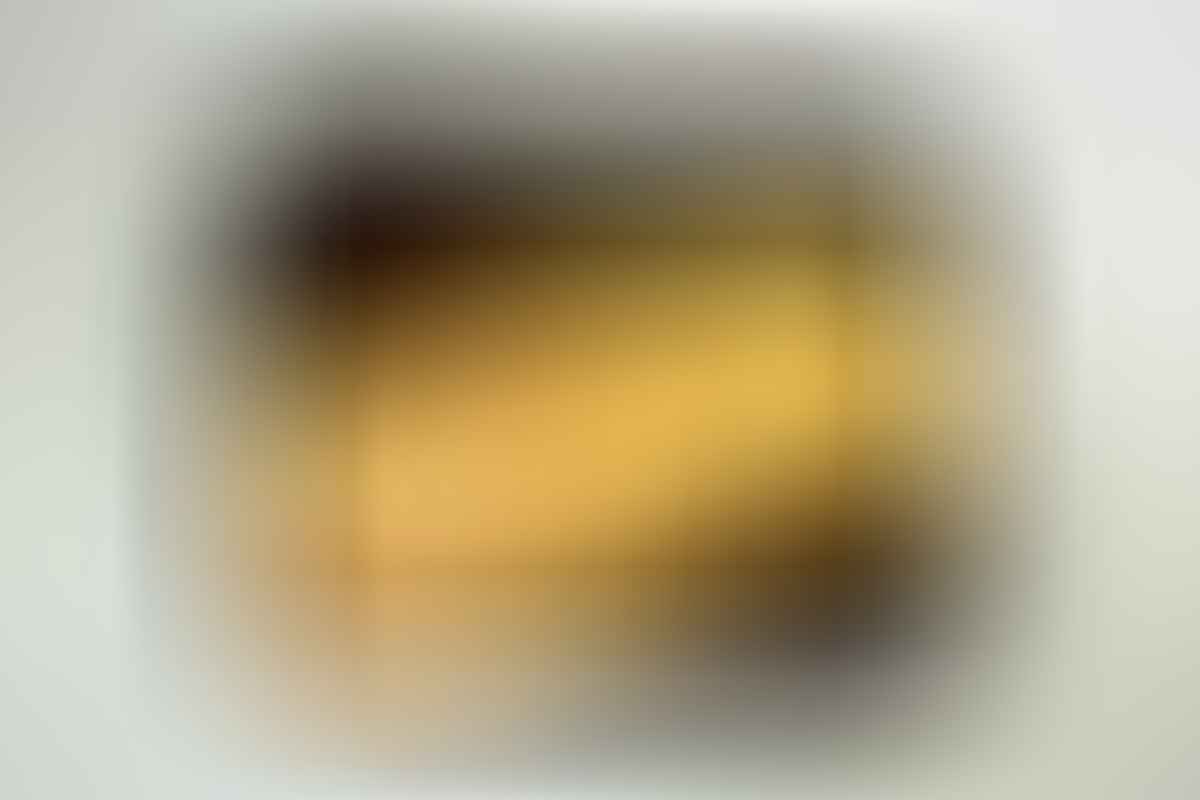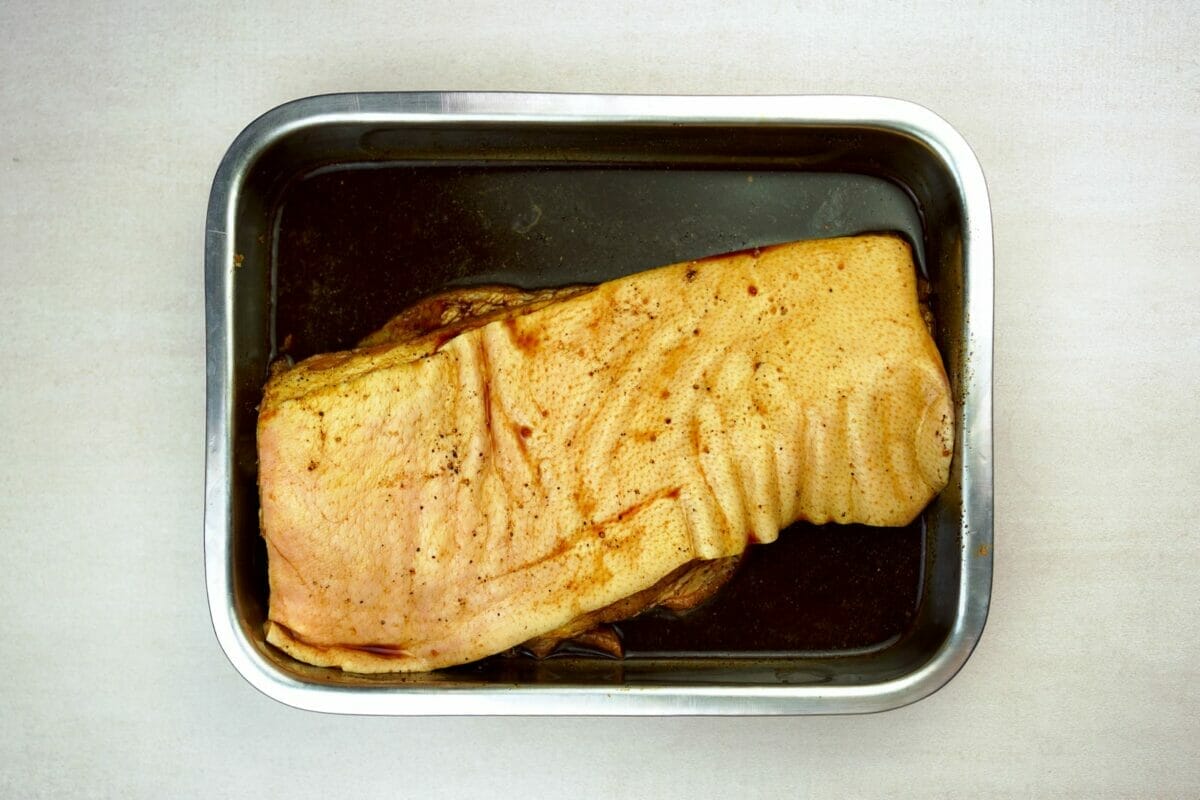 Step 4: Slice red onions and garlic lengthwise, and give the lemongrass a twist, mashing the root end.
Step 5: Insert the red onion and garlic slices into the slits and around the meat, then tuck the lemongrass and scallions in the center or at one end.
Step 6: Gently roll the pork belly from one end to the other, and tie it with kitchen or butcher twine. Should any garlic or onions fall out, tuck them back in.
Step 7: Seal the meat in a plastic or ziplock bag, and refrigerate for a minimum of 12 hours, and up to two days. Remember to turn the roll midway through marinating.
Step 8: Remove the roll, pat dry with a kitchen towel, and roast in an oven preheated to 180°C (350°F) or under a turbo broiler for 1-2 hours, rotating every 30 minutes, until the center changes color.
Step 9: Keep any remaining sauce for basting, and brush it onto the pork belly each time it's rotated.
Step 10: Apply a final basting before raising the temperature to 225°C (430°F) for 25-30 minutes, crisping the pork skin.
Step 11: Allow the roll to cool for 10-15 minutes before carving into slices.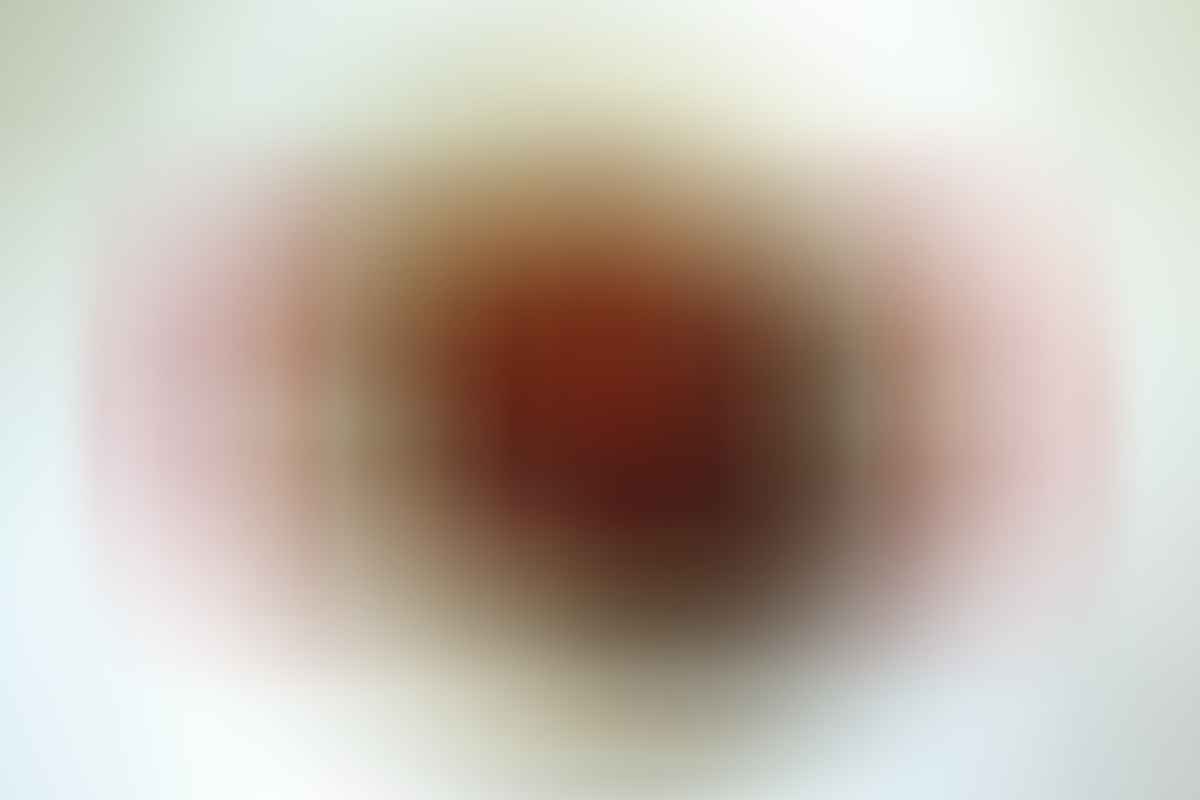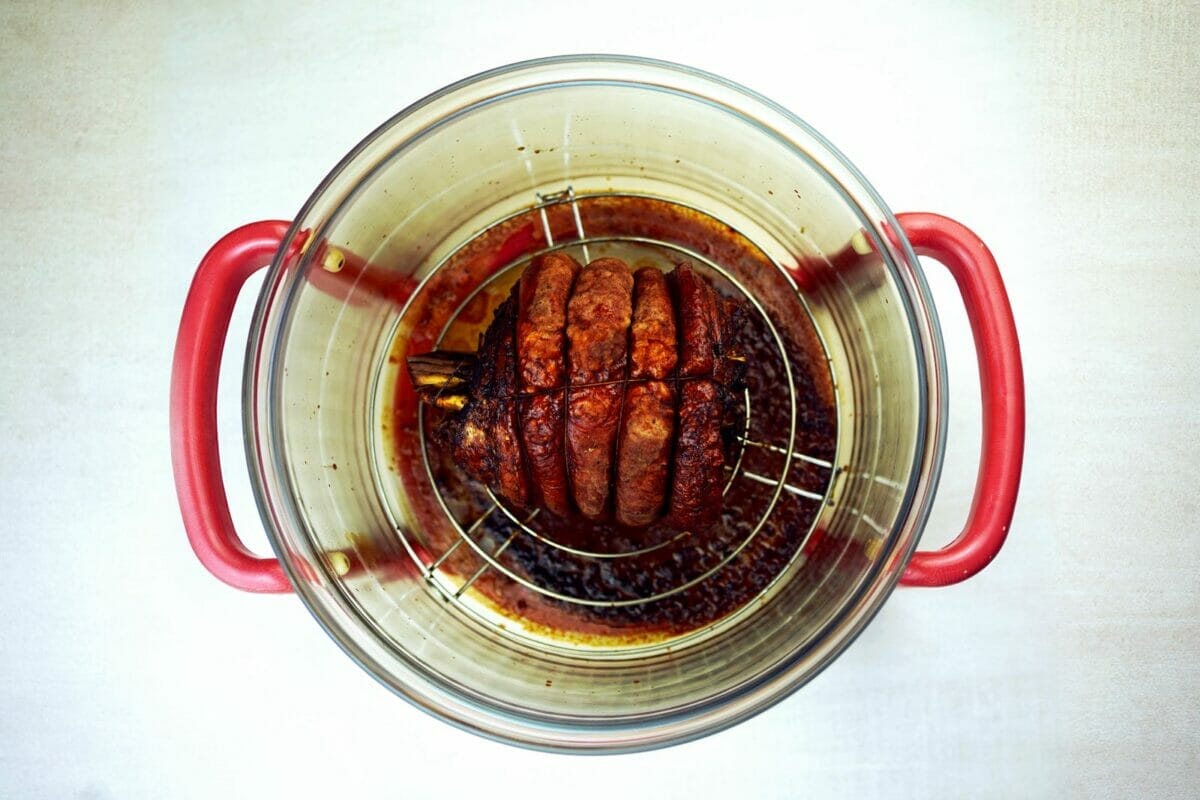 Step 12: Present the mouthwatering, crispy-skinned slices of Filipino lechon belly and watch them vanish in no time.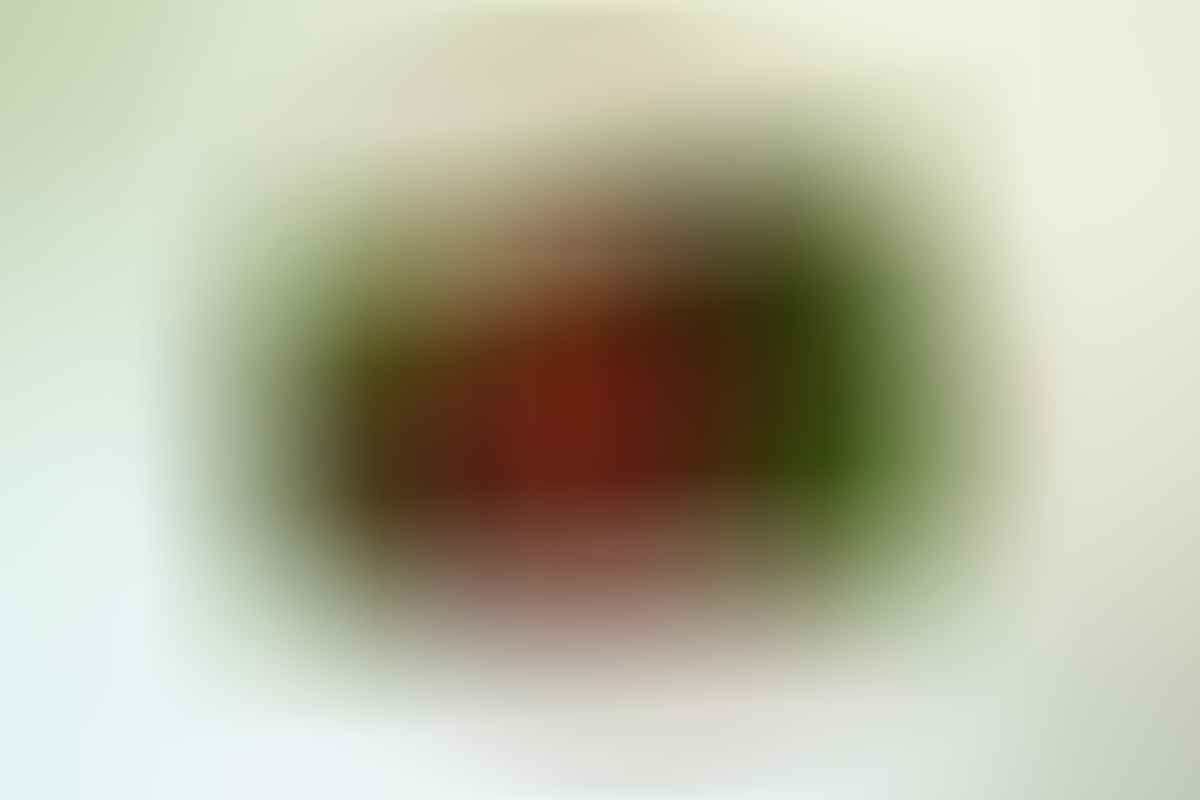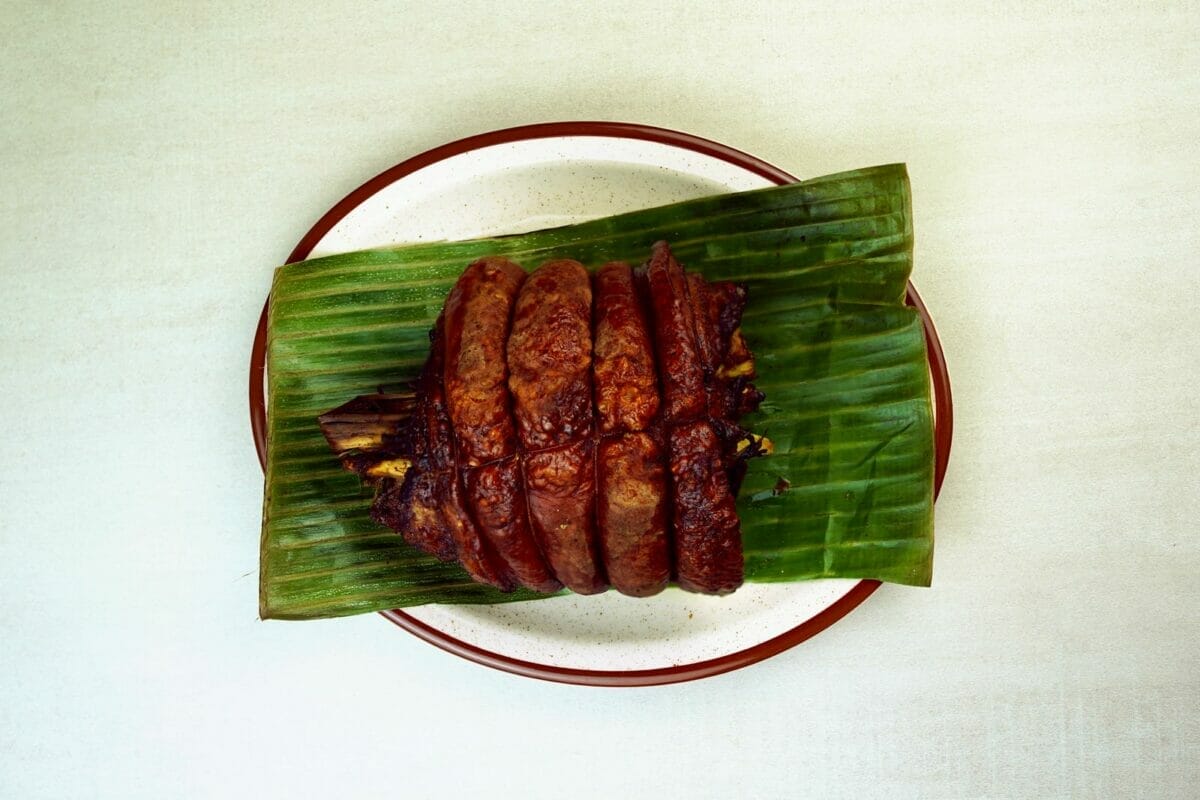 How to make sure the pork is completely cooked?
If the pork belly appears to be too thick in the center, use a thin-bladed knife or fork to gently pierce the meat from the side. Observe the color of the juices that are released – they should be clear rather than pink. For added assurance, consider extending the cooking time by an additional 30 minutes prior to broiling.
It's okay if the meat has a slight pink color. The USDA recommends cooking it at 145°F, which may result in it looking pink, but it is still safe to consume.
How to get crispy skin consistently?
To ensure crispy skin each time, thoroughly pat the meat dry before baking or placing it in a turbo broiler. Minimize opening the oven or broiler door, only doing so when necessary for flipping or basting the meat. This will help maintain consistent heat and promote even cooking for the perfect crispy skin.
What's a good alternative to onions in this recipe?
If you don't have green onions on hand, consider substituting them with leeks or scallions. Leeks have a sweeter flavor, while scallions have a mild, sweet-peppery taste. Both can serve as a suitable replacement, but keep in mind that onions have a more potent flavor compared to leeks and scallions.
Can I substitute the spices with powdered spices?
Yes, you can use garlic and onion powder for garlic powder and onion powder, respectively. Raw garlic and onions are just stronger in taste, while the powdered version is often saltier.
Cook Time:
2 hours
30 minutes
Total Time:
1 day
2 hours
41 minutes
Master the art of Pork Belly Lechon with our comprehensive, easy-to-follow recipe. Get the secrets to crispy skin and tender meat, complete with practical tips and flavorful marinades. Explore this Filipino classic.
Ingredients
1 kilo pork belly, without the ribs
3 - 4 tablespoons rock salt
1 tablespoon black pepper
½ cup vinegar
⅓ cup dark soy sauce
3 - 4 red onions (sliced)
1 head garlic (sliced)
3 - 4 stalks lemongrass
A handful of scallions (optional)
Instructions
Prepare the cleaned slab of pork belly by poking the skin with a fork or knife.
Flip and make ½ inch crisscross indents on the meat side.
Season with salt and black pepper (both sides), before mixing in the vinegar and dark soy sauce. Set aside skin side up.
Prepare the red onions and garlic by slicing them lengthwise. Twist the lemongrass into a knot, crushing the root (the ends).
Add the sliced red onions and garlic in the slits and around the meat side. Then place the lemongrass and scallions in the middle or at one end.
Carefully roll from one end of the pork belly to the other. Tie it with kitchen twine or butcher twine. Ensure that the ties are tight and secure. Make sure you put back any garlic or onions that might have fallen out.
Place in a plastic or ziplock bag and keep in the fridge overnight, or maximum 2 days. Flip it halfway through marinating.
Take out the belly roll and pat the surface with a paper towel. Place in a preheated oven at 180 °F or 350 °C or under a turbo broiler for 1 - 2 hours until the middle changes color. Flip every 30 minutes.
Keep the leftover sauce to use for basting. Brush over the pork belly every time it's flipped.
Brush one last time before turning the heat to 225°C or 430°F for 25 - 30 minutes so that the pork skin turns crispy.
Let cool for 10 - 15 minutes before slicing.
Serve with dipping sauce or side dish such as steamed rice.
For fans of crispy skin pork recipes, we also have a very popular lechon burger recipe. And variations on lechon include a chicken dish called lechon manok