Chicken Lechon or Lechon Manok is an iconic chicken dish in the Philippines. You'll see variations of this dish, like Chicken Inasal, in fast food chain restaurants all over the country. Mang Inasal, Andoks, and Chooks-to-go are just some of the restaurants serving this super popular roast chicken dish.
Lechon manok is also popular street food and is sold in small hole-in-the-wall type eateries all over the Philippines where the irresistibly aromatic chicken is cooked on a rotisserie.
If you don't have a spit roaster, you can use a convection oven, grill or turbo broiler to prepare this easy-to-prepare dish.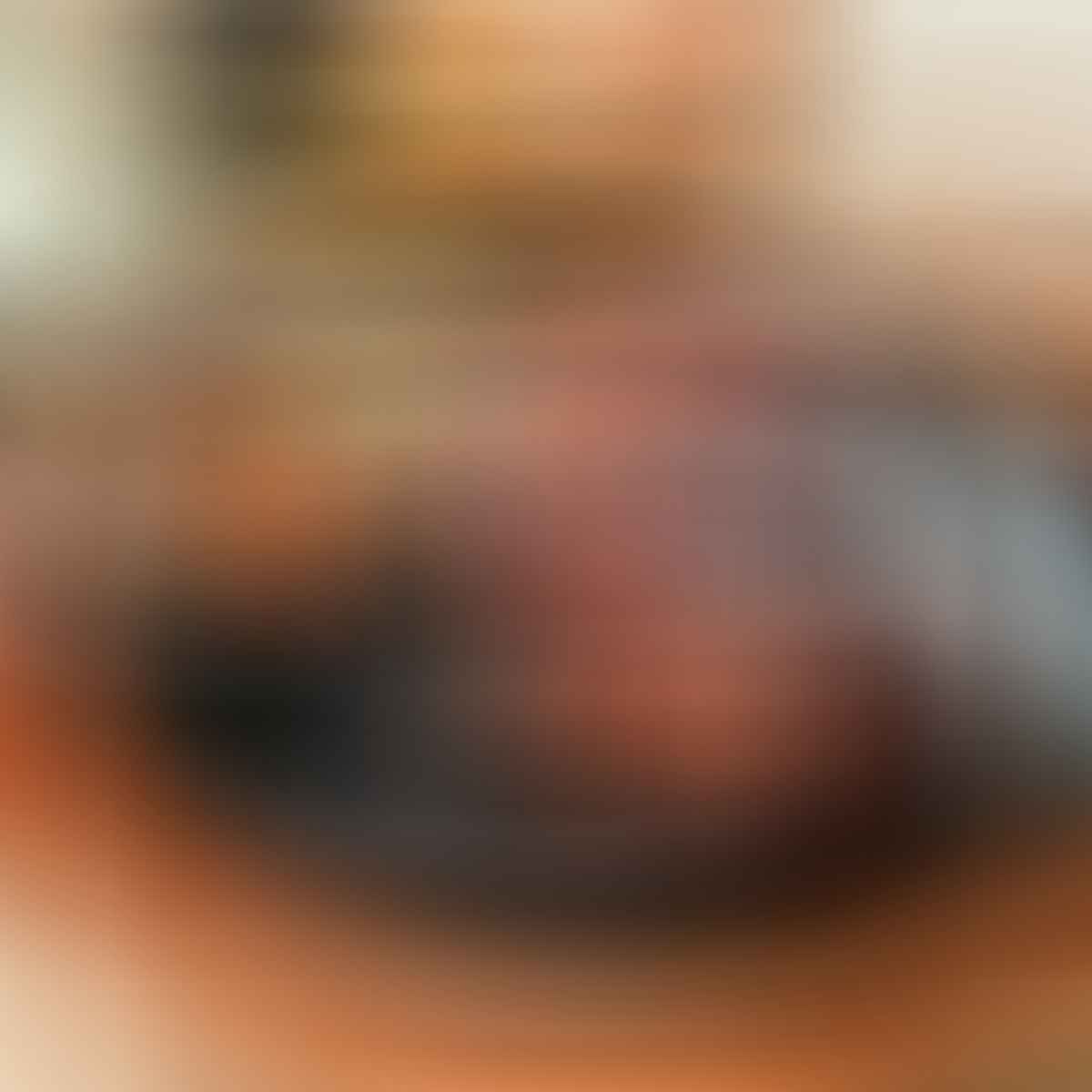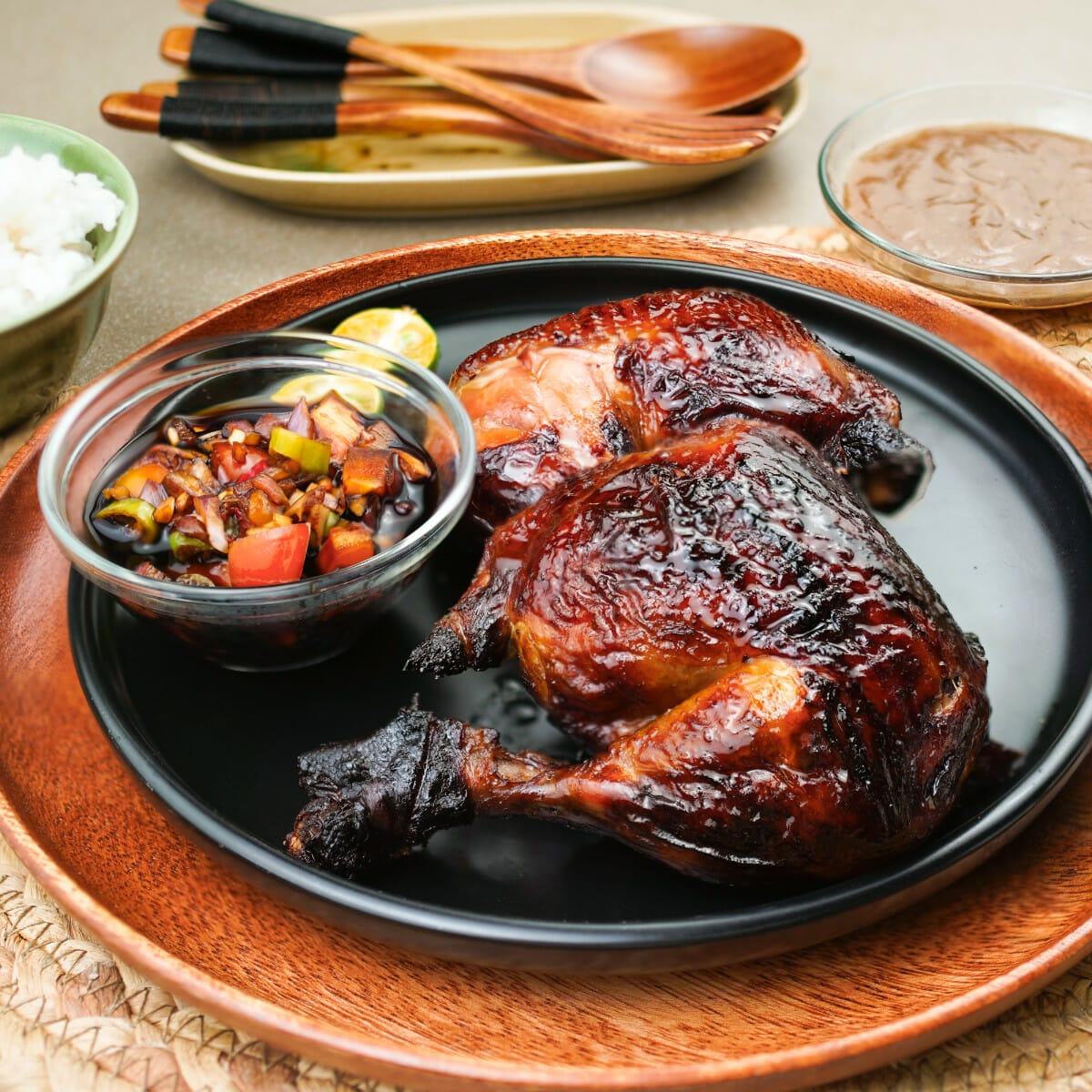 While the city and province of Cebu are well known for lechon, the iconic Filipino roasted suckling pig, it's also known for roast chicken (according to urban legend, this method of roasting chicken was popularized in the 1980s when a cyclist used bicycle gears to roast a whole chicken over charcoal).
After taking the Philippines by storm, the craze slowly died down but lechon manok had made its mark, and to this day is a go-to for many Filipinos looking for a quick lunch or something to take home as a dish to eat for celebrations.
This deliciously aromatic and tender chicken dish is made by soaking and stuffing a whole chicken with lemongrass, garlic, onions, and dark soy sauce to give the taste a typical Filipino twist. Using a butter soy sauce mix, the meat is then cooked until the distinctive golden brown skin forms.
Serve with a side of soy sauce with calamansi, and loads and loads of rice. You can also serve it with a lechon sauce.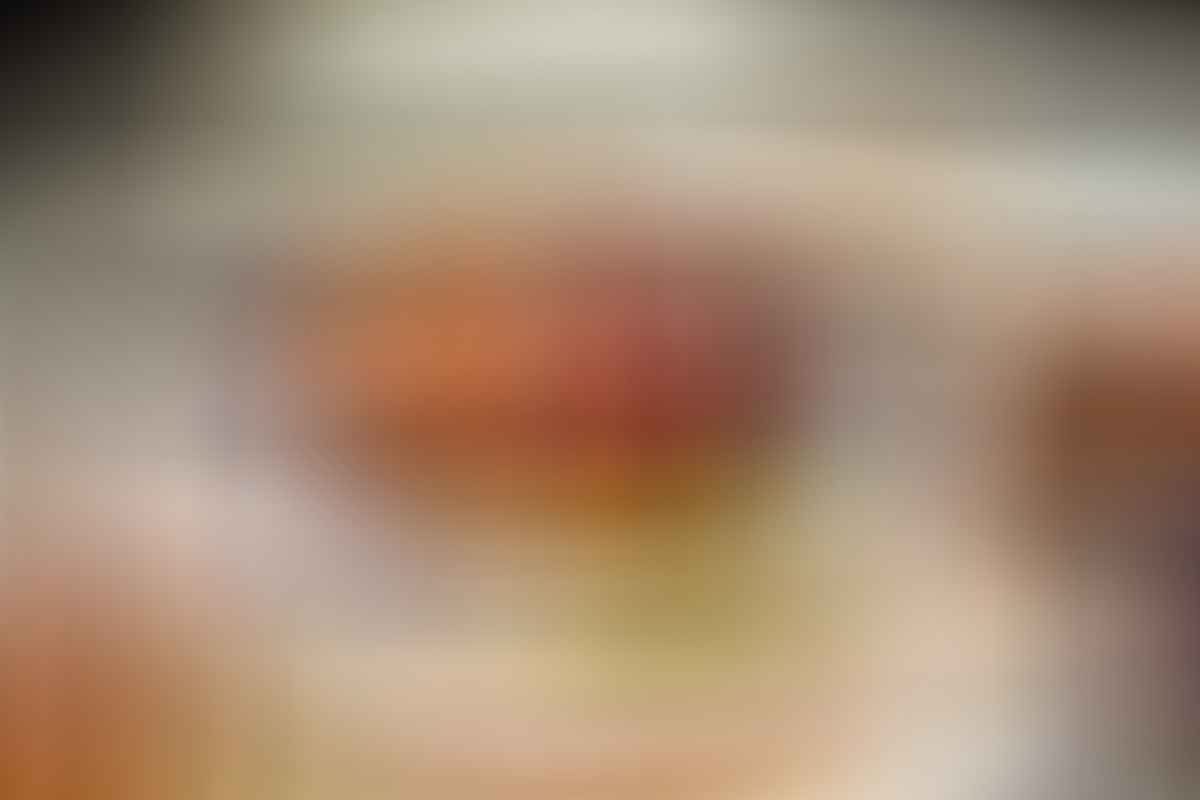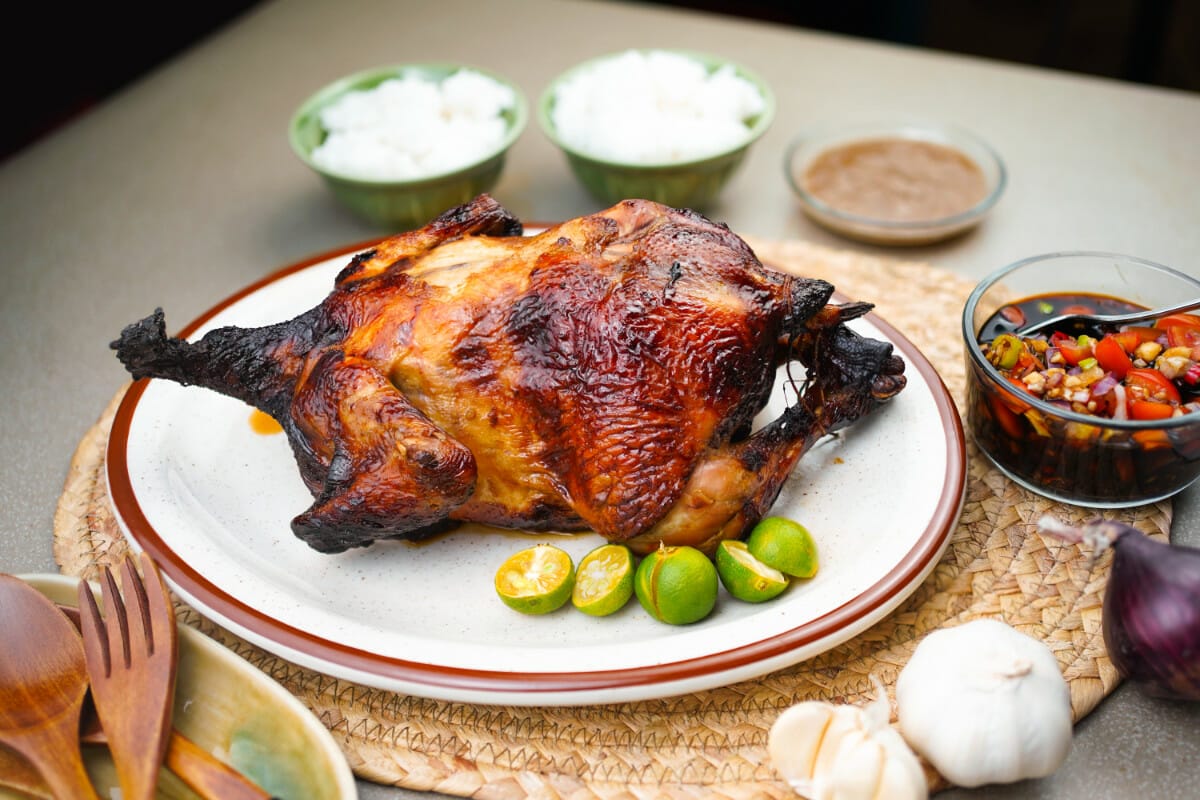 Alternatives
What can I use instead of soda in the recipe?
In most cases, you can replace sodas with sparkling water. However, adding soda helps to make the dish tender and keeps the meat moist. Sprite or 7-Up are the best choices as they have a sweet, lemony taste that won't clash with the marinade. Coke can make the dish bitter, and sparkling soda will make the dish tender but won't add flavor.
Dark soy sauce vs. regular soy sauce?
Soy sauces can be interchanged, but there are certain things to consider when choosing which one to use. Regular or light soy sauce is salty and thin; it can be used in any dish to enhance the flavor. Dark soy sauce is aged longer and is mixed with a bit of cornstarch or molasses to make it a bit sweeter, thicker and darker which makes it the best choice if you'd like to add a bit of color.
What is a good lemongrass substitute?
You can use lemon zest, lime and mint leaves, or Kaffir lime leaves instead of lemongrass.
The ingredients list
Chicken – The most common way to make Chicken Lechon is using the whole chicken, but you can also use chopped-up parts like leg quarters.
Salt, brown sugar, garlic, onion, bay leaves, and ginger – Filipino dishes are commonly seasoned with these ingredients.
Lemon or calamansi juice – enhances the flavor and helps remove gamey odors.
Lemongrass – has a similar effect to the calamansi and lemon. The taste of lemongrass is lemony with a hint of mint.
Dark soy sauce – provides saltiness but is mostly used for color.
Sprite, Coke, or sparkling water – adds sweetness and helps tenderize the meat dish.
Butter – helps thicken the sauce and makes it glossy.
Garlic powder – added flavor to the chicken skin.
Step by Step Photos
Step 1: Pat the cleaned chicken dry with a kitchen towel, then place it in a large pot. Season the chicken with salt and brown sugar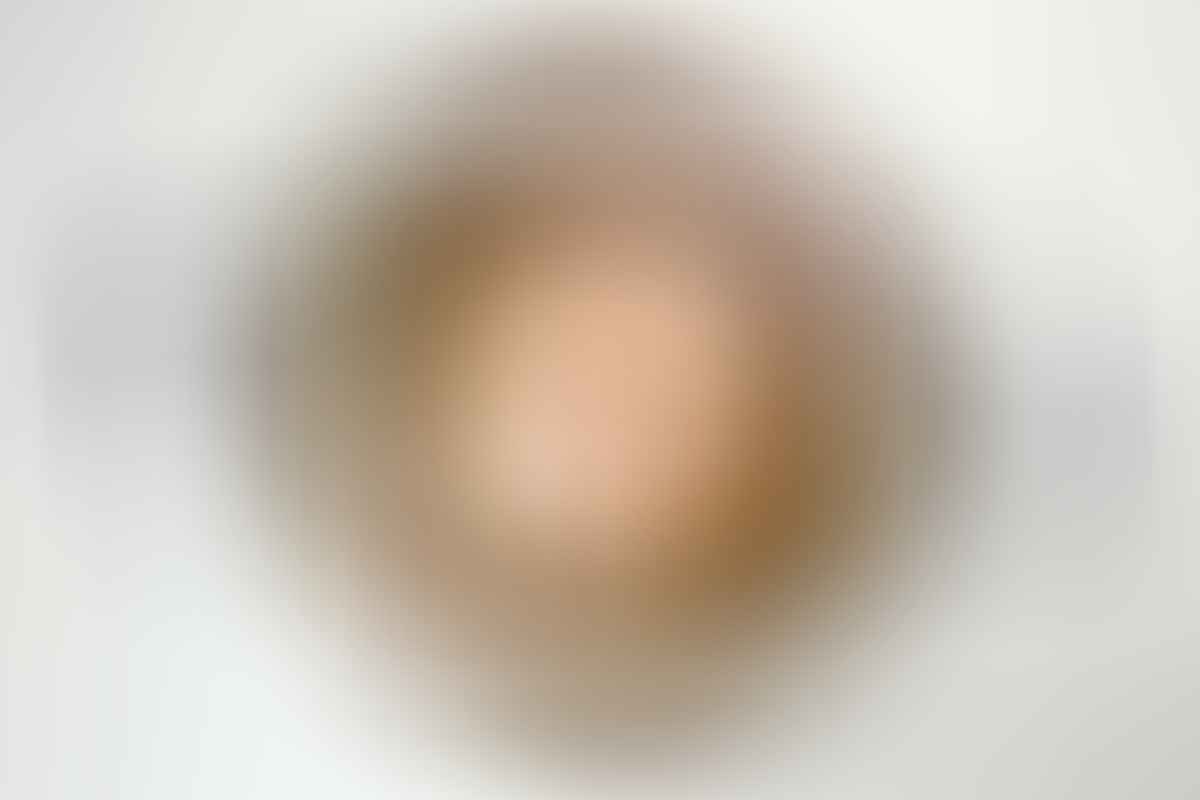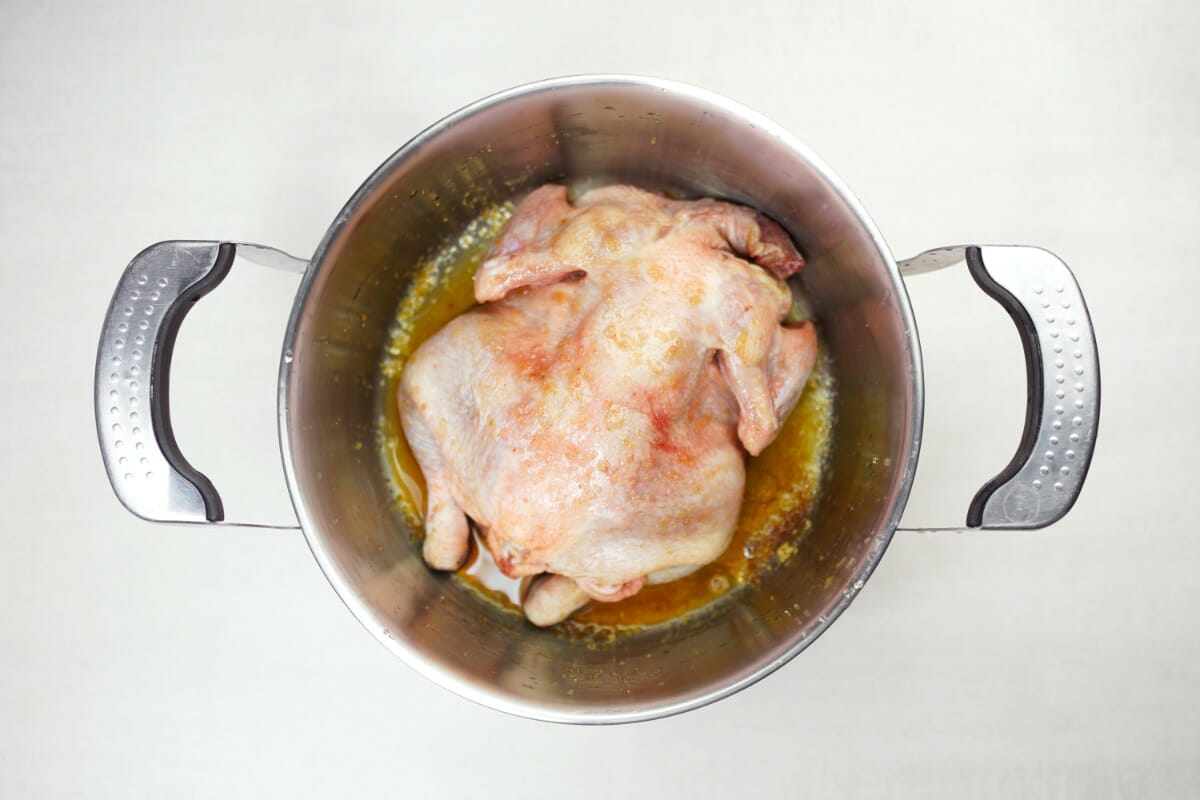 Step 2: In a large pot or bowl, mix together garlic, onion, lemon or calamansi, ginger, bay leaves, tied and crushed lemongrass, and dark soy sauce. Add enough Sprite or Coke to cover the chicken. Cover and refrigerate overnight.
Step 3: Remove the chicken and stuff it with the garlic, onion, lemongrass, ginger, and bay leaves. Tie the bottom end of the chicken with twine
Step 4: In a saucepan over medium heat, cook 2/3 cup of sauce, stirring in the butter until it melts. Set aside to cool.
Step 5: Add oil to the rack in the Turbo Broiler. take your chicken and brush it with the butter-chicken sauce before placing it on the rack. Roast for 30 minutes at a 325°F or 250°C.
Step 6: Turn the chicken over, re-coat it with the sauce, and cook for another 30 minutes.
Step 7: Flip the chicken over again and brush it with the sauce. Cook for another 20-30 minutes or until the top has browned.
Step 8: Serve with calamansi or soy sauce, and plenty of steamed white rice.
Quick tips
Before grilling chicken, oil the wire mesh and cook for a few minutes before turning it over. Similar to a turbo broiler, cook for a few minutes on each side before flipping.
To check if the chicken is fully cooked, poke the thickest part of the chicken with a fork or knife. The juices should run clear (and not red or pink).
Allow the leftover chicken lechon cool to room temperature before placing it in an airtight container. Refrigerate for one week or freeze for almost a month.
To reheat, place in a microwave for 2 – 3 minutes. Alternatively, place it in the oven at 120°C or 248°F, covering the chicken with foil, and bake for 25-30 minutes.
If frozen, thaw the dish before reheating it in the microwave or oven.
Frequently Asked Questions
Is chicken lechon gluten-free?
The dish is gluten-free, but to make sure check to check the label of whichever brand of butter you use.
What sauce can you pair with this dish?
Mang Thomas is a popular condiment for lechon. It looks like gravy and almost tastes like it.
Calamansi is the typical sauce choice. Some people like to mix soy sauce and calamansi to make 'toyomansi'.
For a sweet, salty, and spicy sauce, mix dark soy sauce, a bit of brown sugar, and any amount of diced tomatoes, onions, garlic, calamansi (or white vinegar), and a helping of bird's eye chili.
Why is the lemongrass tied in this recipe?
Besides fitting it into the chicken, tying it enhances the aroma and flavor of the chicken. Once you have twisted this into a knot, don't forget to crush the bulb part, as this is where most of the flavor is.
What to do with the leftover marinade?
Here's what you can do with leftover marinade if there's too much:
Use it to marinade another batch of chicken whole or certain parts, and cook them how you'd like.
Clean and season chicken feet with salt and pepper, sauté for a few minutes then pour in the leftover chicken marinade, simmering for 1 hour until the meat is tender. Remember to stir often. Add salt or soy sauce to balance if the taste is too sweet.
Keep the leftover marinade in an airtight container in the fridge for 3 days to a week or 2 weeks in the freezer. Then thaw out when needed.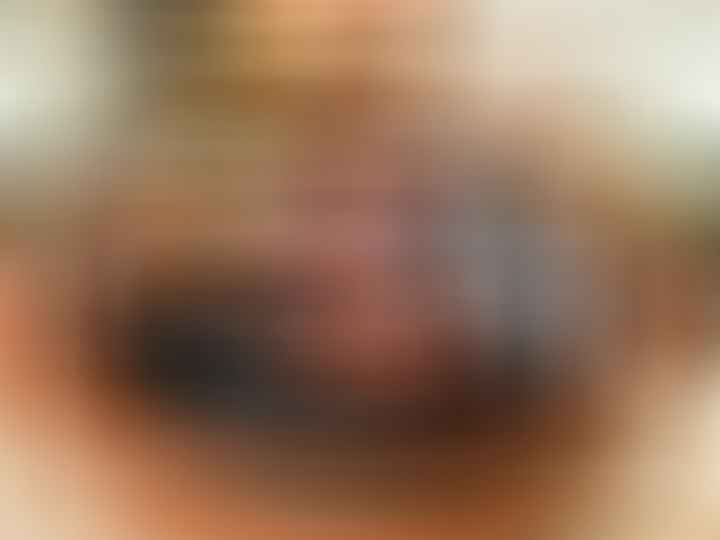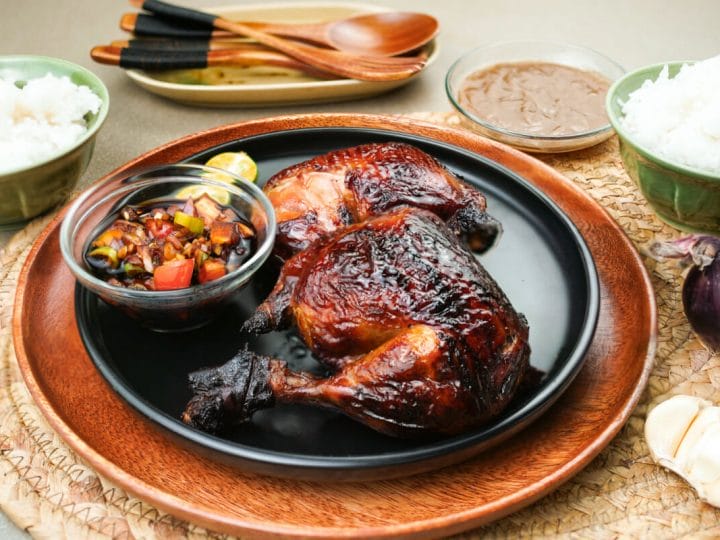 Yield:

6
Filipino Chicken Lechon Manok
Cook Time:
1 hour
30 minutes
Marination time:
12 hours
Total Time:
13 hours
40 minutes
This recipe will teach you how to make authentic Filipino Roast Chicken. It's easy to cook and needs only simple ingredients for a delicious meal.
Ingredients
1 whole chicken (around 1 kilo)
1 tablespoon salt
¼ cup brown sugar
5 – 7 garlic cloves (minced)
1 medium onion (sliced)
¼ cup lemon or calamansi juice
1 tablespoon ginger (minced)
3 bay leaves
3 stalks lemongrass (with the ends crushed)
1/3 cup dark soy sauce
1 bottle of sprite, coke, or sparkling water
1/3 cup butter melted
¼ cup garlic powder (optional)
Instructions
Pat the cleaned chicken with a kitchen towel. Place this in a big pot and season this with salt and brown sugar.
Mix in garlic, onion, lemon or calamansi, ginger, bay leaves, tied and crushed lemongrass, and dark soy sauce. Pour in enough Sprite or Coke to cover the chicken. Cover and keep in the fridge overnight.
Take the chicken out and fill it with all the ingredients except the sauce. Place the garlic, onion, lemongrass, ginger, and bay leaves in. Tie the bottom end of the chicken with twine. If you like you can twist the wings upwards for presentation.
For the remaining sauce, pour 2/3 cup of sauce into a pan at medium heat and mix in the butter till it melts. Set aside to cool down.
To prepare the turbo broiler, place a rack in the middle, and brush it with oil before placing the chicken above it. Brush with the butter-chicken sauce and roast for 30 minutes at a 325°F or 250°C.
Flip the chicken, brush it again with the sauce, and cook this for another 30 minutes.
Flip it back and brush it with the sauce. Cook this for another 20 – 30 minutes or till the top has fully browned.
Serve with a side of calamansi or soy sauce, and a lot of rice.
Nutrition Information:
Yield:
6
Serving Size:
1
Amount Per Serving:
Calories:

517
Total Fat:

24g
Saturated Fat:

10g
Trans Fat:

0g
Unsaturated Fat:

11g
Cholesterol:

115mg
Sodium:

2040mg
Carbohydrates:

46g
Fiber:

1g
Sugar:

28g
Protein:

31g
This information is automatically calculated by third party software and is meant as a guideline only. This website is written and produced for informational purposes only. Statements within this site have not been evaluated or approved by the Food and Drug Administration
Recipe Card