Lechón, from the Spanish language, means roasted suckling pig. The meat of lechon is tender, juicy, and most importantly, very flavorful. It's considered one of the top delicacies of the cuisine of the Philippines. What sets the ultimate Filipino lechon burger apart from a lean cuisine is the tender, succulent pork belly that's been simmered in a marinade of garlic and vinegar.
Our Lechon burger is stacked with two slabs of crispy pork liempo (pork belly), a palm-sized juicy burger patty, melted cheese, and pickles.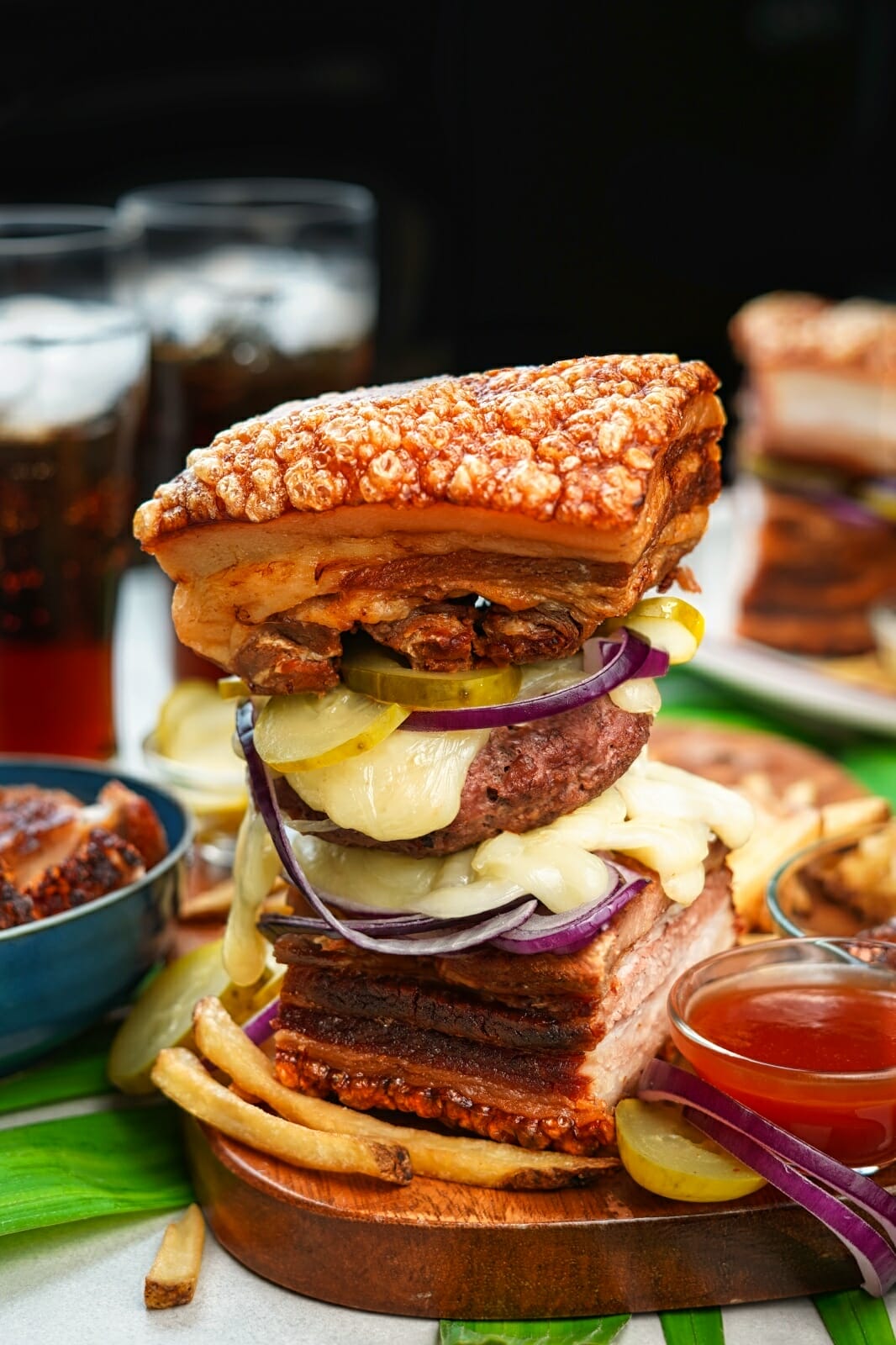 There are a lot of variations of the lechon burger but we've tried to create a more "universal" version here.. You can also enjoy this dish in a 'healthier way by chopping the liempo into bite-sized pieces, slather them with cheese, relishes, covered by two burger, brioche buns, or even packed rice formed as a bun.
Inspiration for this masterpiece came from Mate burger in Sydney, Australia. This restaurant also created the ube bun burger, a purple-colored bun made with Filipino purple yam flavoring. And there's also an ensaymada burger, which uses sweet cheese buns or a chicken Inasal burger flavored with soy sauce, lemongrass, and other popular Filipino flavors.
Accompany this dish with Chicken Adobo fries – chicken slow-cooked in an adobo marinade topped over freshly fried fries with some shallots, aioli, peri-peri, chilies, and pork crackling.
A great dessert to follow up is Halo-halo, a popular shaved ice dessert decorated with colorful sweet beans, nata de coco, and more colorful fillings hidden by the ice soaked in evaporated milk. And this is all topped with leche flan, a milky, caramel-like egg pudding-custard, and coconut or ube ice cream.
The ingredients list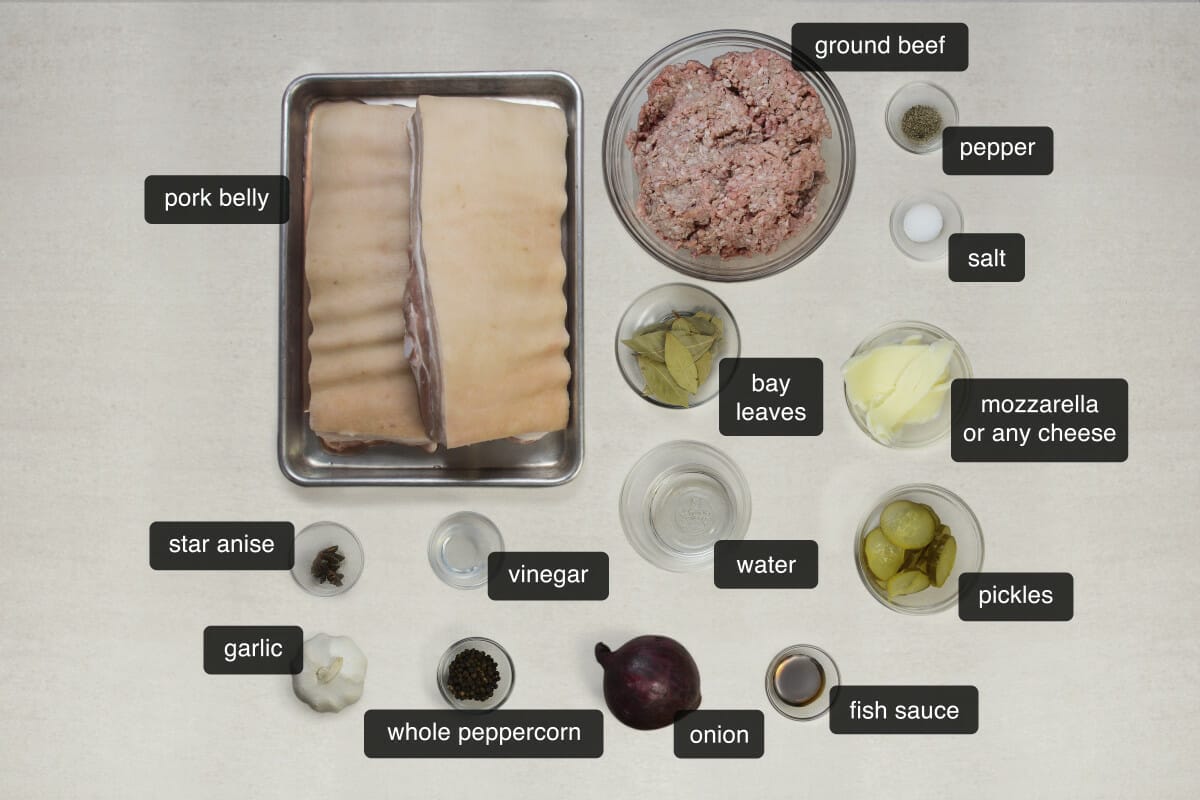 Pork belly – the main ingredient. Choose nicely-shaped rectangular slabs,
Keeping in mind that the meat will contract when cooked. It may appear thinner but it will also grow in height. Each slab will be cut into squares to make the bun.
garlic – a typical Filipino aromatic that add flavor and help remove any gamey smell.
vinegar – an acidic ingredient that tenderizes the protein and makes it juicy.
whole peppercorn – gives the dish a hint of spicy heat.
onion – red onions have a sharper note while white onions have a sweeter taste.
water
bay leaves – have a beautiful fragrance and a bitter slightly floral taste.
fish sauce – this sauce is tangy and practical, with an umami savory taste that masks any pungent smells the pork may have.
ground beef – Alternatively, ground chuck can be used for the patty, ground chuck has 80% lean meat and 20% fat – the fat helps to prevent the patty from drying out. (ground beef may crumble depending on how it's shaped or bound)
salt and pepper – to release the flavors.
mozzarella or any cheese – mozzarella can be aesthetically pleasing but you can also use cheddar for a bit more color and a sharper taste.
pickles – for an extra crunchy bite and to give a clean taste to contrast nicely with the pork buns.
star anise – usually added in savory soups or broths to give a peppery licorice-like flavor.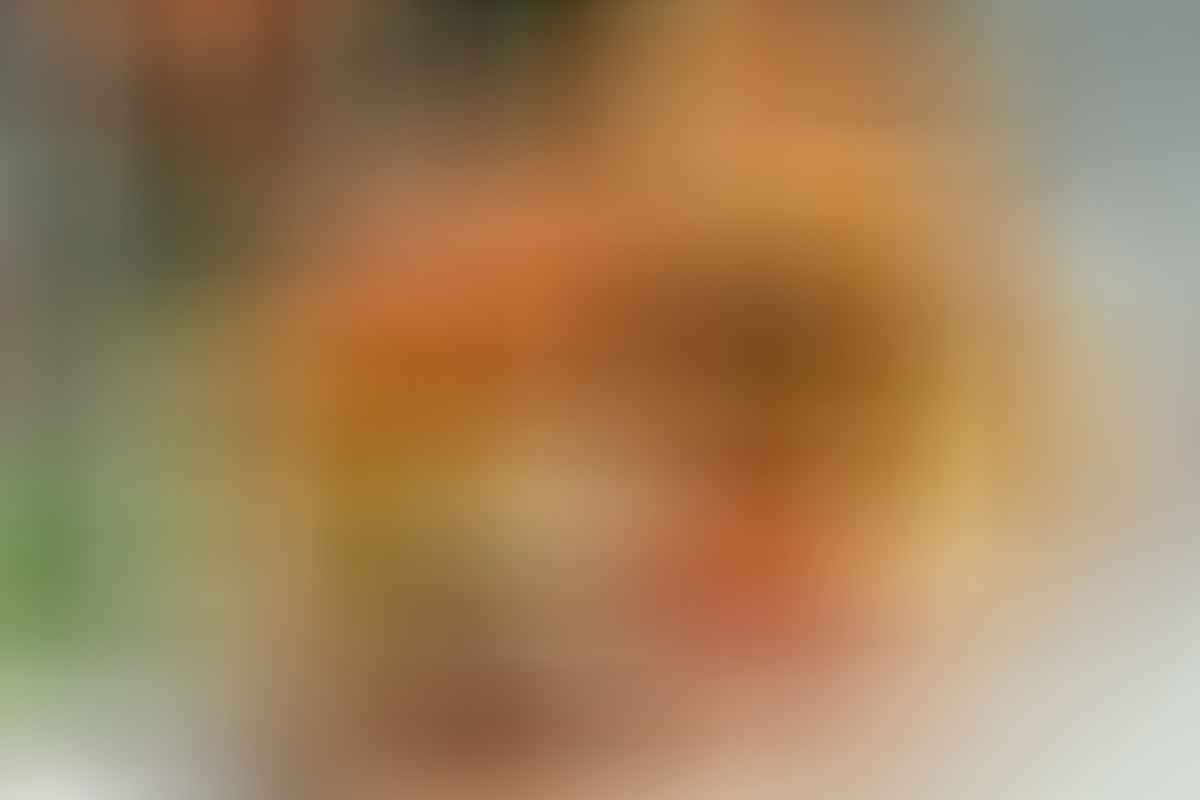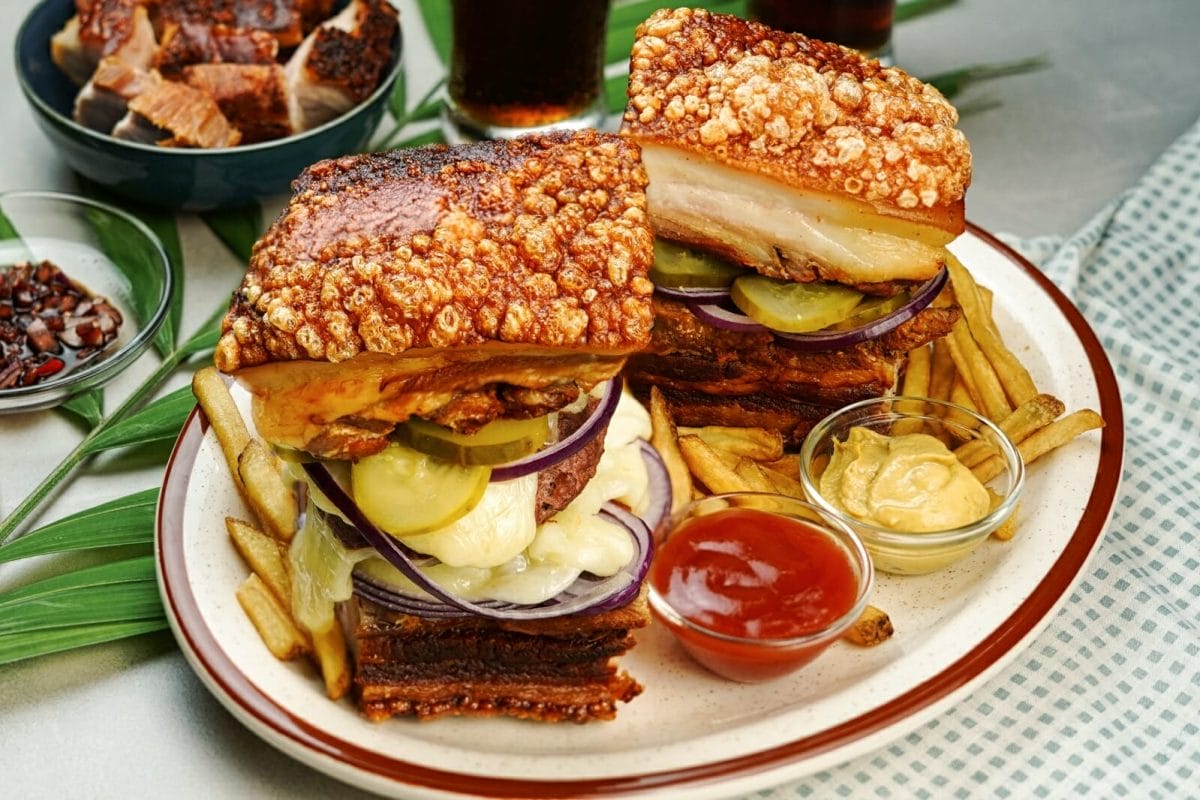 Ingredient alternatives
You can add replace the beef patty with chicken, fish, or shrimp patty. You can also exclude the patty altogether and just enjoy the thick lechon cuts together. You can also fill the middle with broiled rice for that charred taste that'll level up this lechon burger even more.
Garlic is considered the backbone of many Filipino dishes. But you can replace this ingredient with red, yellow, or white onions. Some chefs even use the white part of leeks as a garlic alternative.
You can use pork broth instead of water when boiling the lechon. In addition to the deeper flavor, you may also notice a little MSG flavor if you use pork cubes or packaged pork broth.
Spices such as thyme and oregano can be good alternatives to bay leaves. If star anise is not available, 1/4 teaspoon fennel can be substituted for 1 whole star anise. Fish sauce can be substituted with soy sauce, coconut aminos, or oyster sauce.
Mozzarella and cheese can be substituted for their vegan counterparts or simply excluded. You can use ground beef or ground chuck for the patty, but you can also use non-meat options. As a flavoring ingredient, aromatic star anise is optional but can be substituted with 1/4 teaspoon of fennel.
Quick tips
Rub salt on the pork after it has dried to ensure it will retain all its flavor when fried. Frying takes away the saltiness and can affect the taste of the dish.
When frying the pork, make sure the oil is very hot. This helps to avoid cooking too long which can lead to over-absorption of oil. Use a toothpick or a wooden chopstick to dip in the oil. The oil is hot enough when it starts to bubble around the toothpick or chopstick.
Always make sure to cool the pork down over a rack or paper towel to remove the excess oil. This also helps to make sure that once you bite into the liempo it won't ooze excess oil.
Instruction Steps Images
Beef Patty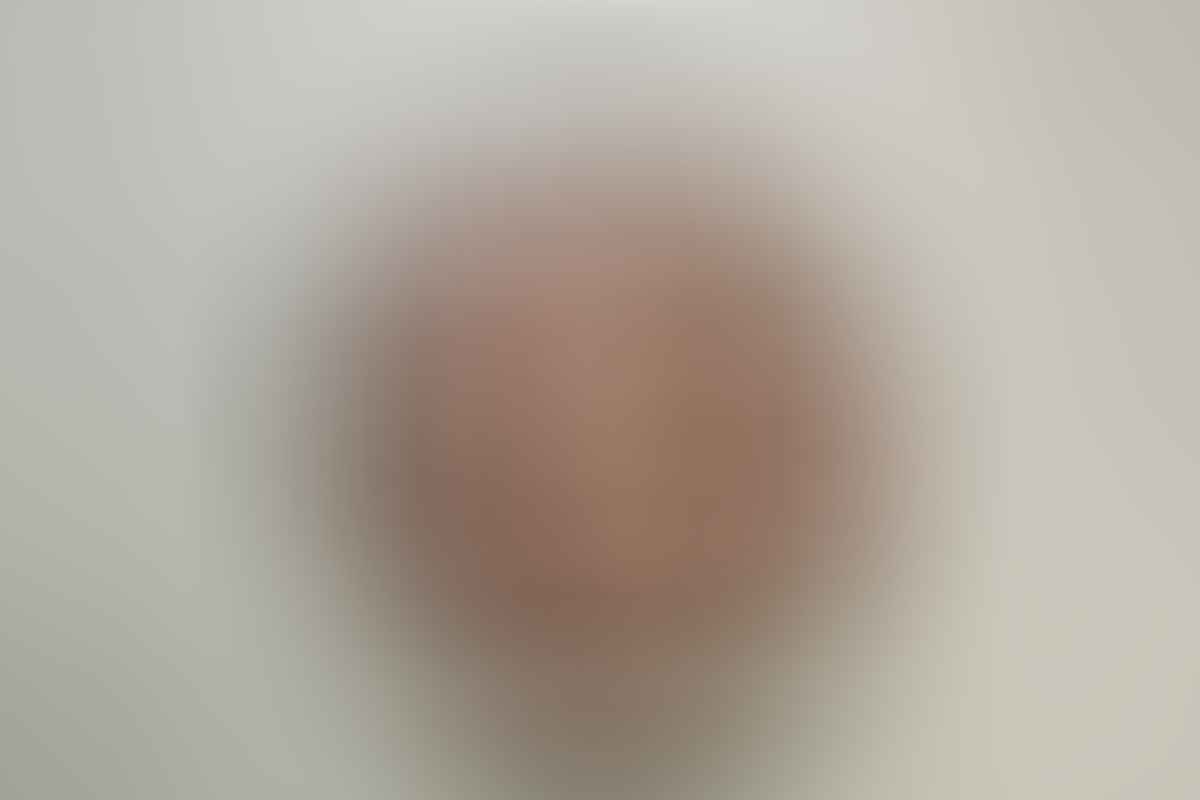 Pork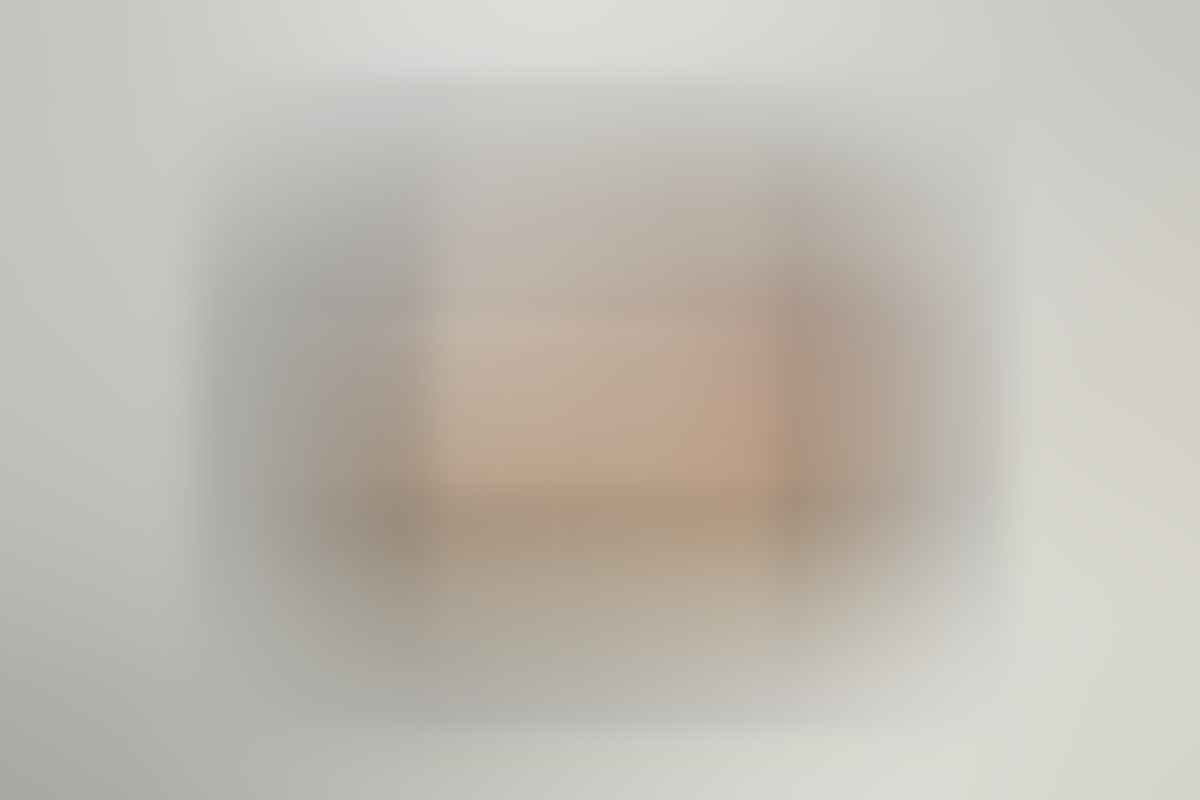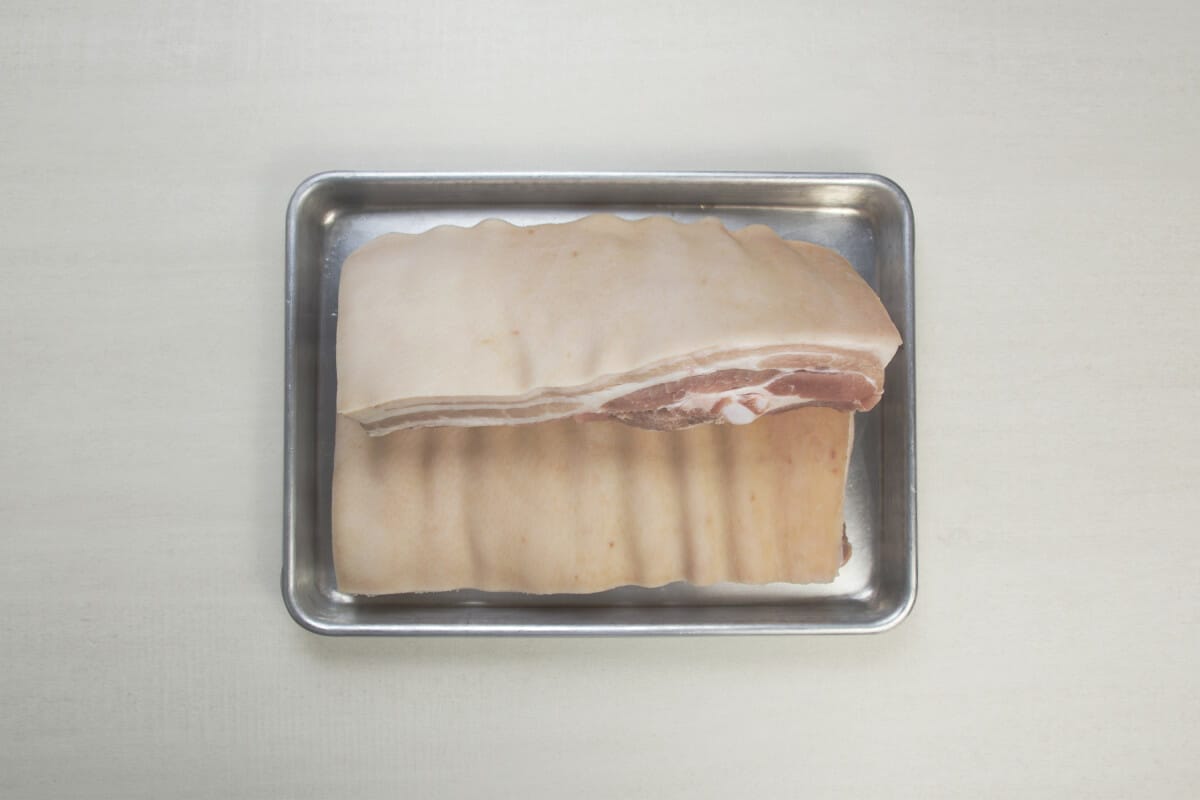 Bun assembly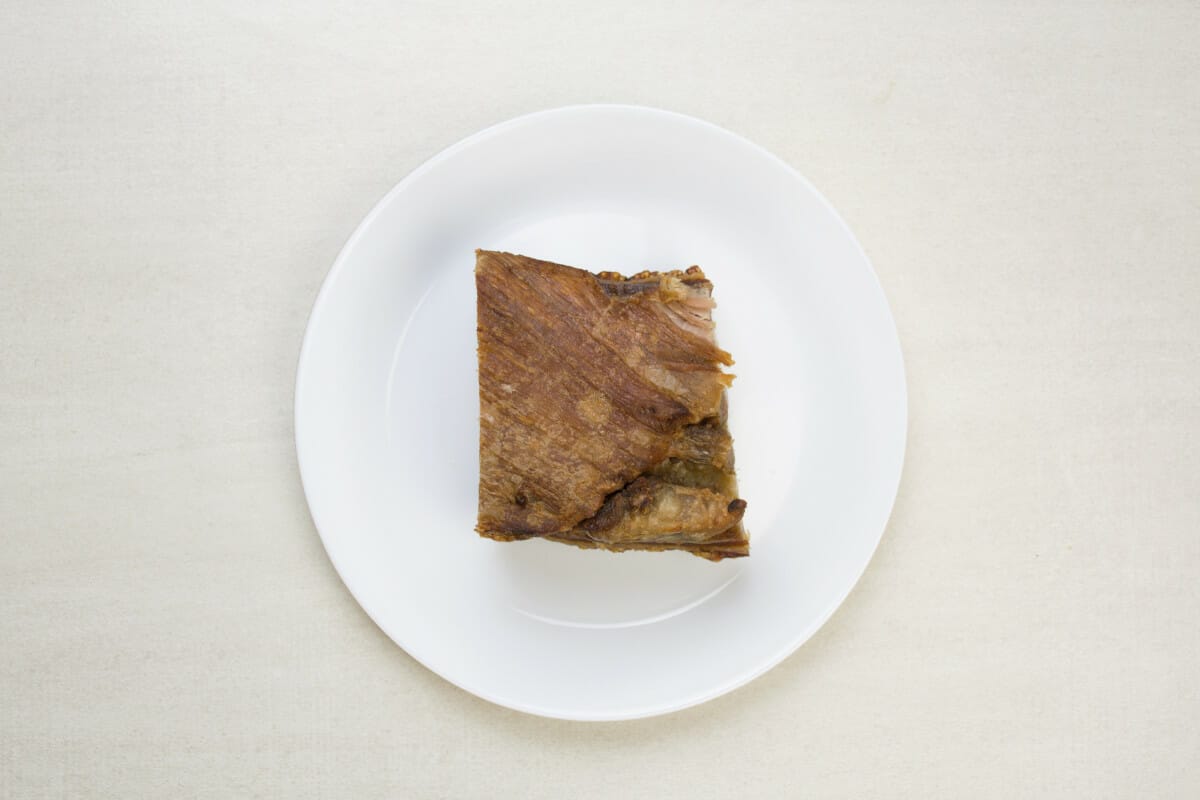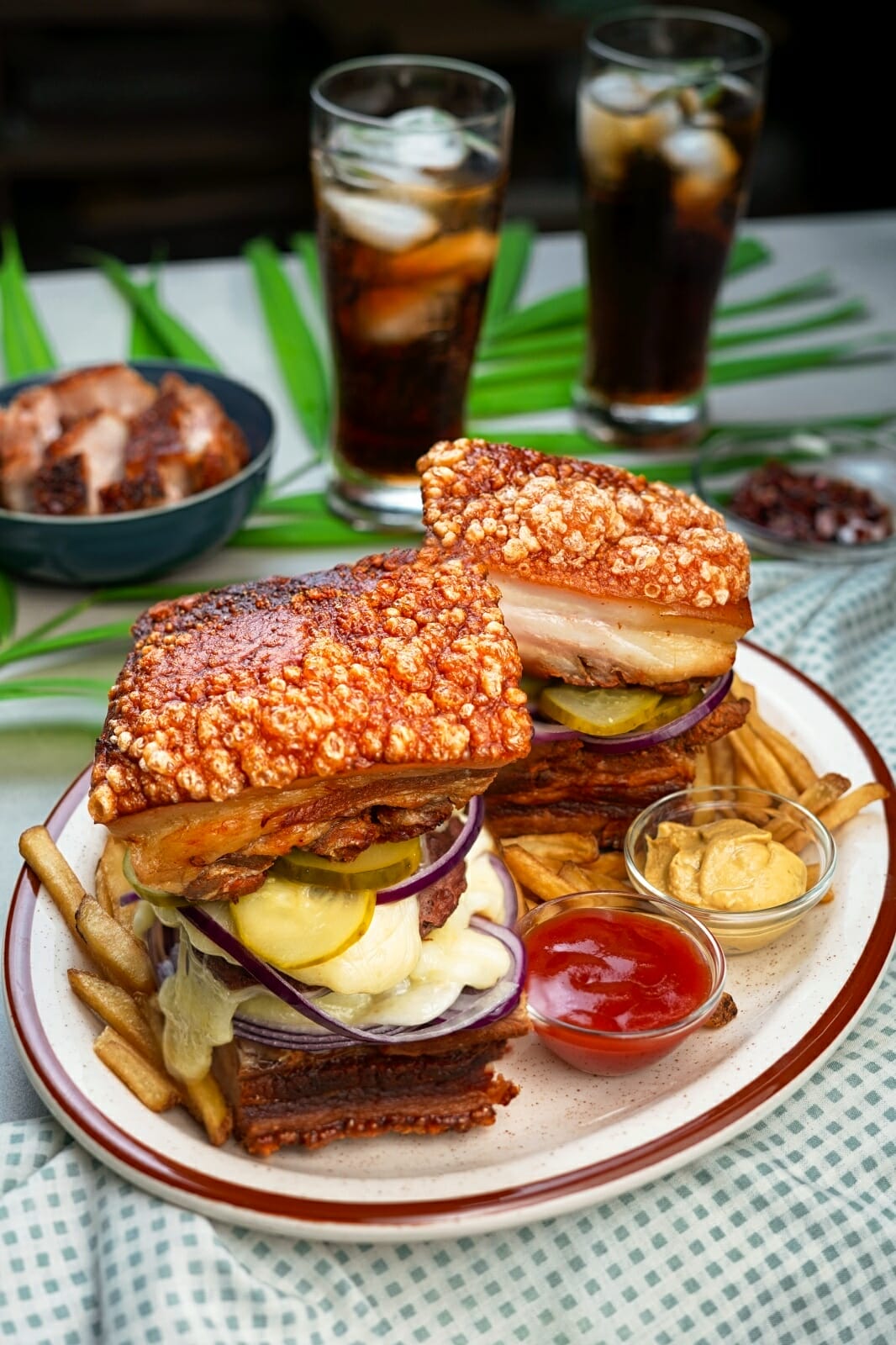 Frequently Asked Questions
What can you do with the simmered broth?
The simmered pork broth can be used to make other dishes. Just make sure to strain with a sieve to make remove the surface scum. You can store the broth in a sealed container in the fridge for a week, and in the freezer for a month and a half. You can also use it as a side dish to the pork belly. If you like a spicy broth or pork belly, add some sili or chili peppers for that extra kick while simmering or after the pork has been removed. Taste after 10 minutes to adjust the heat/spiciness.
How to store any leftover Lechon burger parts?
When storing leftovers, separate the patties from the 'buns' to avoid having the bread absorb moisture from the beef patties. Place each in a sealed container where they can last a week in the fridge and 2 weeks to a month in the freezer.
How to reheat the lechon or beef burger?
Thaw before thawing and re-frying the pork to avoid splatters. You can also place the pork in a pan and bake in the oven at low heat for 30 minutes or so, making sure it's covered with foil to avoid over burning the skin. Test the heat of the pork after 30 minutes by piercing the middle of it with a fork and carefully touching the metal.
The beef burger could easily be baked with the pork or heated in a pan for a few minutes.
How to make the pork liempo extra crispy?
To ensure the skin is extra crispy, or to 'crispify' the skin again, some people let the pork rest and cool completely after it has been fried. It can then be placed skin-side down in the oil and fried for a few minutes. Checkoften to avoid burning.
Prepare to be amazed by the medley of flavors and texture with a satisfying crunch in every bite.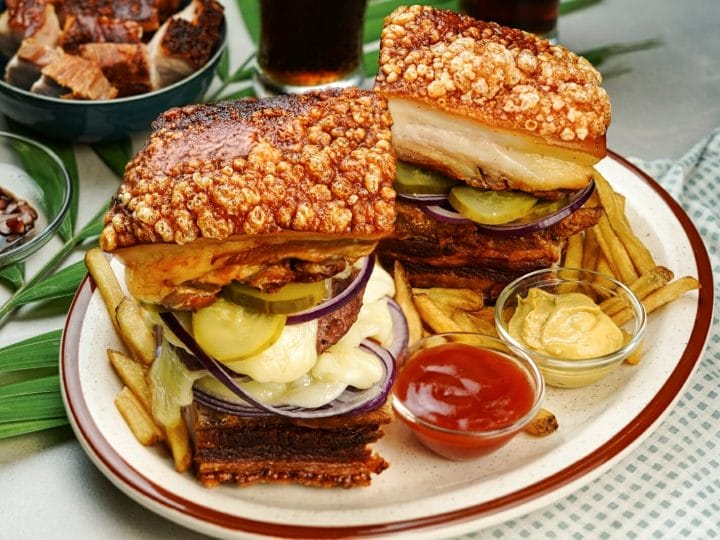 Yield:

7
Lechón Burger - Filipino roasted suckling pig and beef patty sandwich
Cook Time:
2 hours
40 minutes
Total Time:
2 hours
47 minutes
Our Lechon burger is stacked with two slabs of crispy liempo (pork belly), a palm-sized juicy burger patty, melted cheese, and pickles.
Ingredients
Beef Patty
1 kilo ground beef or beef chunk
1 teaspoon salt
1 ½ teaspoons pepper
Pork Liempo or Pork buns
1700 grams pork liempo or pork belly
3 to 4 tablespoons salt
2 heads garlic (11 to 15 large cloves, crushed)
1 tablespoon whole peppercorn
1 tablespoon vinegar
5 to 7 bay leaves
1 tablespoon fish sauce
2 to 3 pieces star anise (optional)
2 medium sized onions (quartered)
water for boiling
extra salt for rubbing
oil for frying
Instructions
For the Beef Patty
In a bowl, mix the ground beef, salt and pepper altogether. Mix until a paste forms.
Take ½ cup portions of beef, rolling them into a ball and flattening till they're as big as your palm (or half an inch in height). Press them down thinner than you'd like since they will grow in height even if they shrink in diameter.
Using a spoon, make a well or depression in the middle of the patties.
Cook in a pan on medium heat or grill them for 5 to 7 minutes each side.
When they have browned and juice comes out clear when poked with a toothpick or knife, the patties are ready. Remove from the heat and set aside..
For the Pork Liempo or Pork buns
Clean the pork belly. If you'd like a thinner burger, you can also remove fat or meat at this point.
In a bowl on medium heat, mix and boil salt, crushed garlic, whole peppercorn, vinegar, bay leaves, fish sauce, star anise, onions, and enough water to cover the meat. Simmer for 15 to 30 minutes.
Carefully add in the pork belly, cover and let simmer for 30 to 45 minutes, flipping halfway if needed. Try not to exceed 45 minutes since we want it to be tender but not too soft that it will be difficult to handle when fried.
After simmering the pork belly, remove and cool on a rack or pan at room temperature for a day, or place it in a 150°C or 300°F for 50 to 60 minutes. You can also place them in the fridge to cool down.
Oven-dried pork belly can appear darker. In addition, oven-dried skin may have larger air bubbles, while air-dried and refrigerated pork belly will have smaller air bubbles.
Heat the oil in a pot or wok. Once the oil is hot enough, carefully add the pork belly one at a time, skin down. Check every 5 to 7 minutes to see if the skin has browned.
Once the skin has browned and looks crispy, flip the pork and cook the meat for 5 to 7 minutes or till its lightly browned. This will also turn darker once it cools.
Place it over a rack to remove any excess oil. Set aside to cool down for a bit.
Slice to 'bun-sized' pieces.
Assembly
Place the bun skin side down.
Place onions over.
Microwave or heat up the mozzarella or cheese in a pan. Pour over the onions.
Place the burger patty white the cheese is still hot to make it stick better.
Add more cheese and onions to taste.
Add some pickles for color and a clean acidic taste.
Cover up with the top bun.
Notes
Extras and additional ingredients:
pickles (sliced to bite-sized pieces)
red onion
mozzarella
jalapeno (optional)
mayo
mustard
egg fried
soy sauce (mixed with onions, white vinegar or apple cider vinegar, and garlic)
Nutrition Information:
Serving Size:
1
Amount Per Serving:
Calories:

1058
Total Fat:

64g
Saturated Fat:

23g
Trans Fat:

1g
Unsaturated Fat:

33g
Cholesterol:

355mg
Sodium:

4495mg
Carbohydrates:

7g
Fiber:

1g
Sugar:

1g
Protein:

108g
This information is automatically calculated by third party software and is meant as a guideline only. This website is written and produced for informational purposes only. Statements within this site have not been evaluated or approved by the Food and Drug Administration