A delectable rich and hearty tomato-infused chicken stew dish
Caldereta, which can also be written as kaldereta, is a tomato-based stewed dish that Filipinos often eat for dinner, reheat for lunch the next day, or enjoy with a glass of beer. The name 'caldereta' comes from the Spanish term caldera, meaning 'cauldron', the vessel in which it was originally cooked. The dish was inspired by meat stews from the Iberian Peninsula and brought by Spanish colonists to the Philippines. It's now a popular Filipino food dish but retains the essence of Spanish cuisine.
In the traditional preparation, goat meat is stewed with colorful vegetables such as bell peppers, olives, carrots, and potatoes. Everything is cooked with the usual Filipino aromatics like garlic and onions. In this recipe, we're using chicken thighs (also called chicken drumsticks)
A creamy texture is also added to caldereta by using liver spread (a type of Filipino canned spread made from liver). The ingredients are simmered until the vegetables are soft and the meat is tender.
Serve with steamed rice and a cold drink.
Various changes have been made to the Caldereta recipe to accommodate dietary needs or to use meats that are easier to obtain, like chicken, pork, or beef.
Filipino food places, restaurants, and bars serve caldereta on special occasions, like fiestas and parties, or you can make it at home and reheat it through the week for lunch or dinner.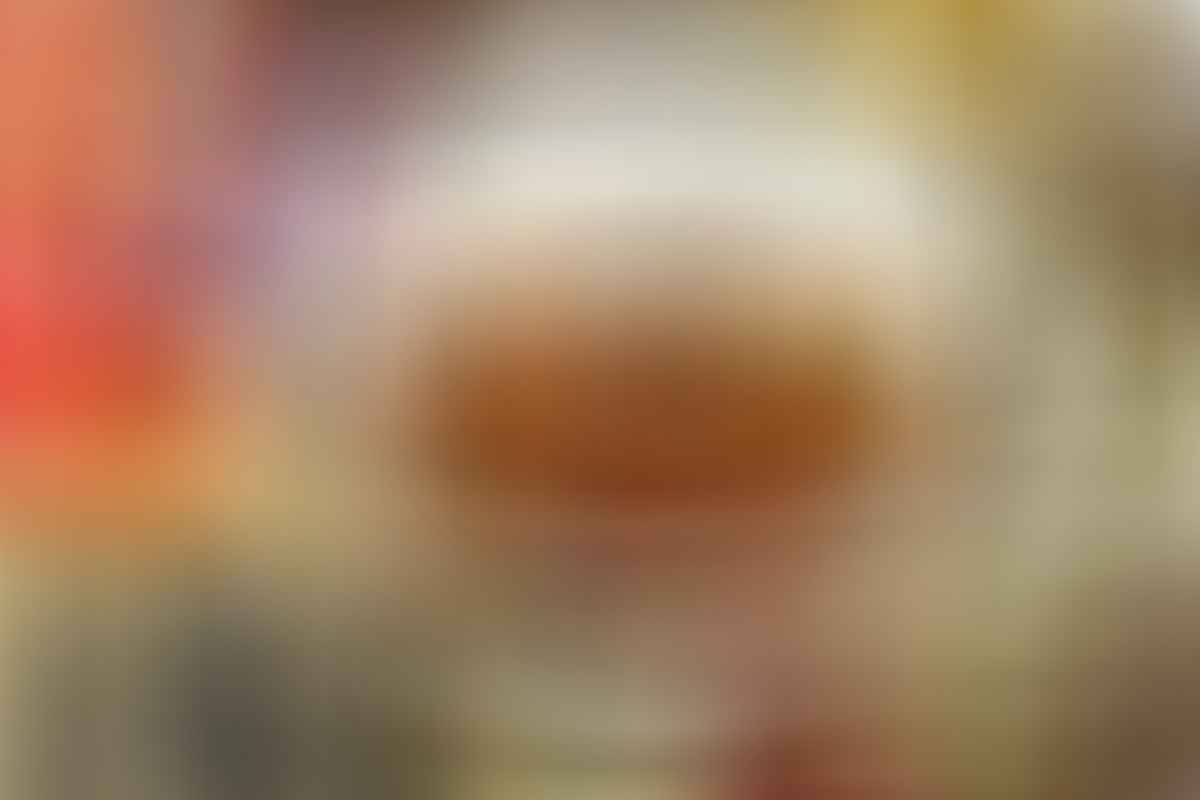 Alternatives & Substitutions
Can you use other meats for the caldereta?
Calderetas come in many forms with meats ranging from pork, goat, beef, which is the most popular, and fish, with some even including tofu as a meat substitute.
Can tomato paste be replaced with tomato sauce?
Yes, while tomato paste is more of a concentrated version of tomato sauce, you can use tomato paste and add more broth to keep it more 'saucy' or use tomato sauce instead. Depending on how liquid your caldereta should be, you can use either pantry staple.
Is there an alternative to liver spread?
Liver spread is used in the dish to thicken and make a really creamy and savory sauce. You don't really notice the liver taste once it blends into the sauce, but if you'd to use a substitute, try peanut butter, which also works great for people who love a nuttier taste.
The ingredients list
Chicken thighs – the main ingredient, but you can also use any part of the chicken
Salt and black pepper – to season the chicken.
Soy sauce – darkens the color of the sauce, helps season the chicken.
Bell peppers, green peas, carrots and potatoes – add color to the dish.
Red chili pepper – adds a bit of spiciness.
Onion and garlic – usual aromatic ingredients found in Filipino dishes.
oil – to sear the chicken
Liver spread – makes the sauce even more savory and creamy.
Chicken broth – helps simmer the chicken and vegetables and keep them from burning.
Tomato paste – can be interchanged to tomato sauce.
Olives – adds color, saltiness, and sweetness from the brine.
Quickmelt cheese – a type of processed cheddar. You can use other forms of cheese if preferred.
Recipe step photos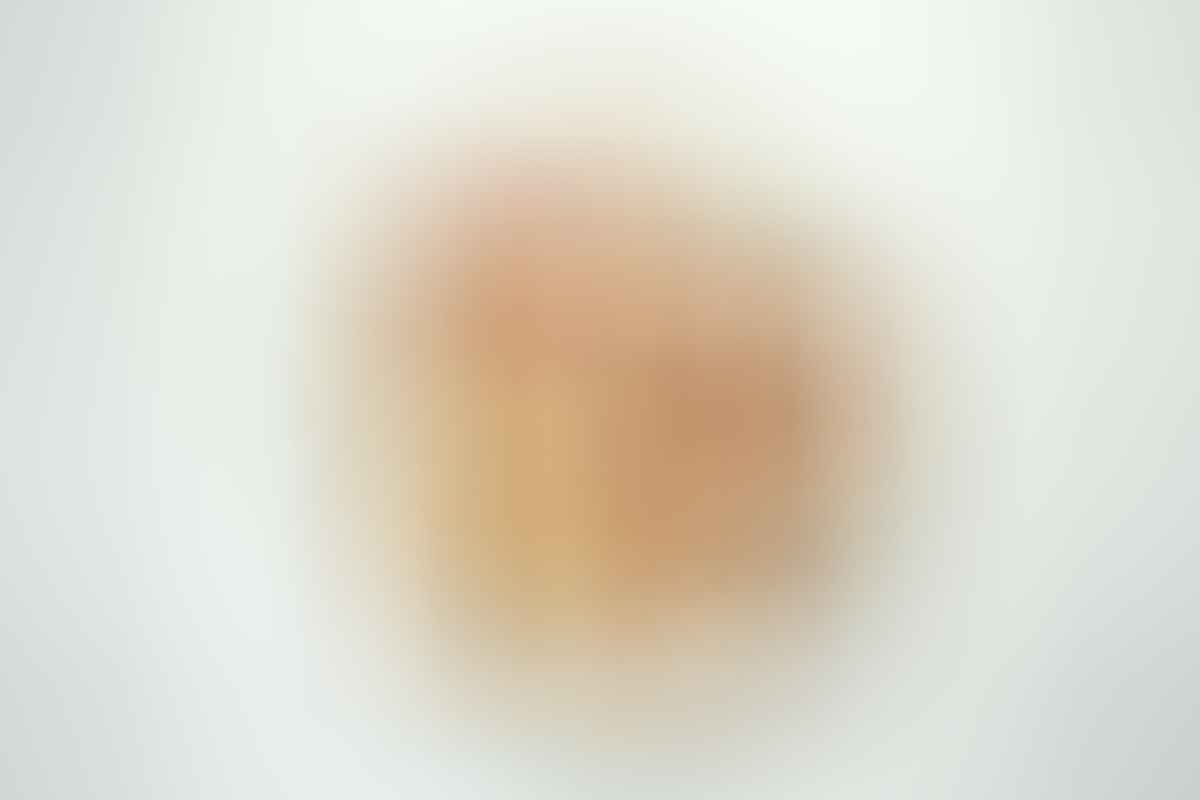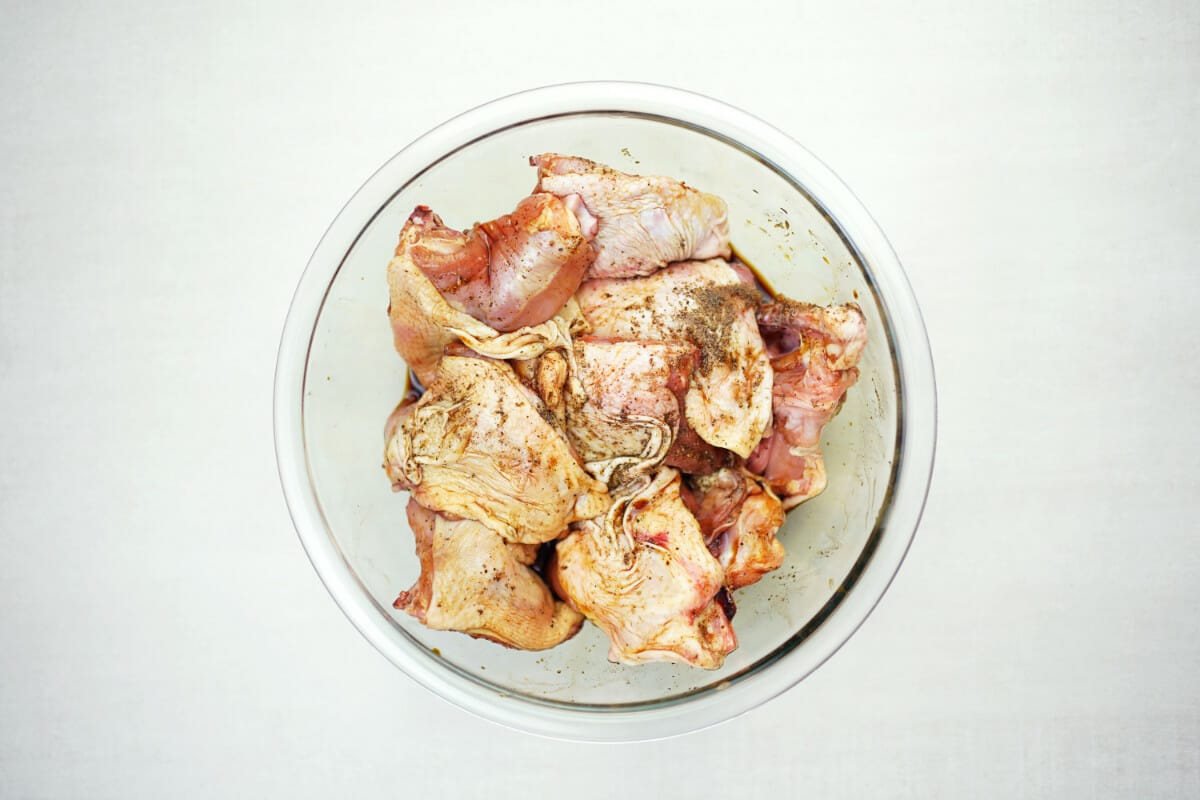 Quick tips
– Make sure to sear the chicken skin first as this adds more flavor into the dish. But if you use skinless chicken parts, simply brown the top and bottom.
– Depending on your preference, use tomato sauce instead of tomato paste to make the dish 'saucier'. Replace the 1/3 cup of tomato paste with 1 cup of tomato sauce.
– When storing leftovers, place them in an airtight container or resealable bag, and allow them to cool to room temperature before refrigerating.
– The leftovers can last in the fridge for a week and in the freezer for almost a month.
– To reheat the dish, thaw out the chicken before placing them in the microwave for 2 – 3 minutes, or place this in a pot at medium-low temperature. With a fork or knife, poke the chicken easily; the utensil, once removed, should feel warm or hot.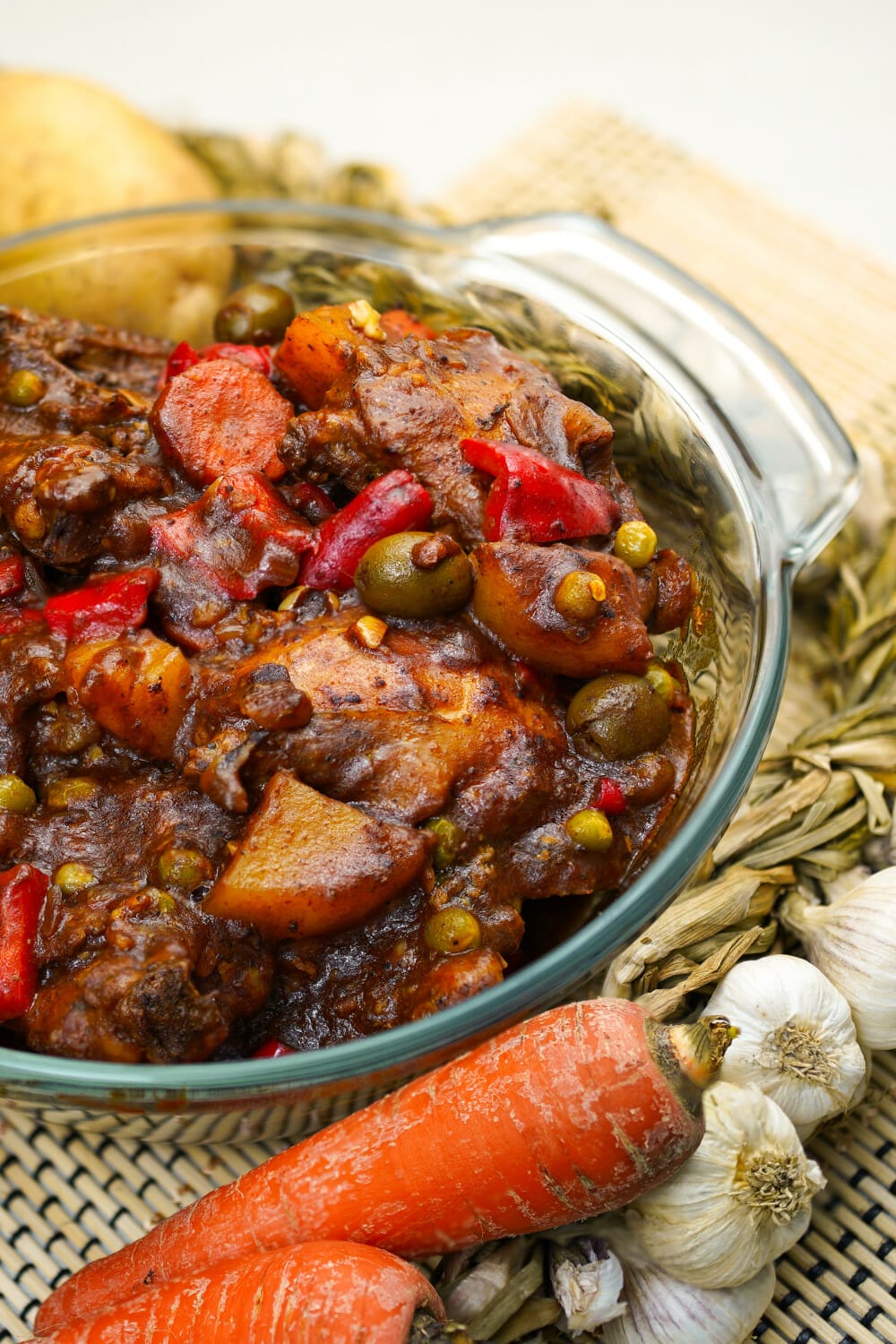 Frequently Asked Questions
Is Chicken Caldereta gluten-free?
Chicken Caldereta is, in theory, a gluten-free dish. Just to be sure, check the ingredients in your chicken broth, liver spread, tomato paste or tomato sauce.
How do I thicken the sauce?
To thicken the caldereta sauce, combine around 1/3 cup of the sauce with 1 tablespoon of all-purpose flour, gluten-free all-purpose flour, or rice flour in a small bowl. Once this turns into a paste, mix it back in the dish and simmer till it thickens. Repeat with another tablespoon of flour if needed.
How to know if the chicken is fully cooked?
With a fork or knife, poke the middle of a chicken piece or two, usually the largest one. Juice should run clear, not red or pink.
Why use cheddar or parmesan cheeses in this dish?
A common cheese used for thickening up and adding flavor to the caldereta is Magnolia's 'Quickmelt cheese' or cheddar, which adds a tangier taste. You can also use this quickmelt cheese from Amazon. In the recipe below, parmesan is added to give it a richer, sharper, and nutty taste.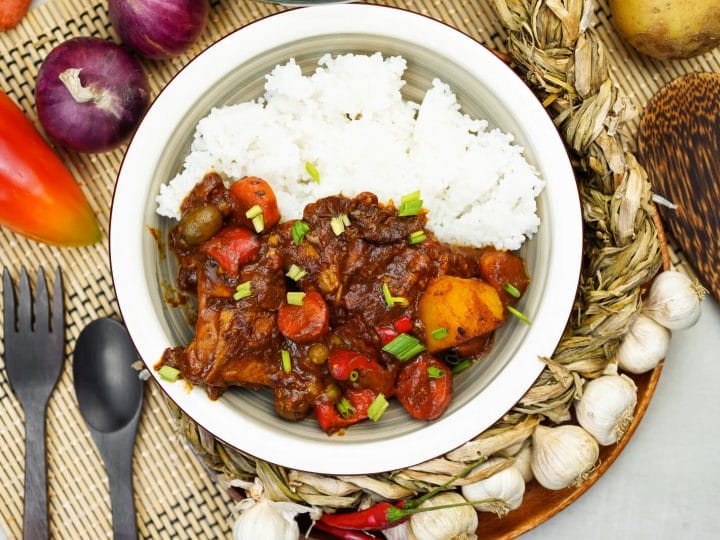 Yield:

7
Chicken Caldereta
Cook Time:
1 hour
30 minutes
Total Time:
1 hour
38 minutes
Chicken Caldereta is a variation on the traditional recipe. It a delectable rich and hearty tomato-infused chicken dish from the Philippines.
Ingredients
1 kilo chicken thighs (or any part of the chicken)
1 teaspoon salt
1 teaspoon black pepper
¼ cup soy sauce
2 pieces medium-sized carrots
2 pieces medium-sized potatoes
2 – 3 pieces red chili pepper
1 piece medium onion
4 – 5 big garlic cloves (chopped)
2 tablespoons oil
1 can (85grams) liver spread
½ cup chicken broth
1/3 cup and 1 tablespoon tomato paste
1/3 cup olives
2 pieces bell pepper
1/3 cup Quickmelt cheese, cheddar or parmesan cheese (grated)
1/3 cup green peas
Instructions
In a bowl, mix together chicken pieces, salt, pepper, and soy sauce. Set it aside to marinade for 25– 30 minutes.
While waiting, chop-up the carrots and potatoes to bite-sized pieces. Leave them soaking in water to avoid it from discoloring.
Chop the bell peppers and onions, and mince the garlic. Set aside.
In a pan at medium heat, heat oil, add the chicken, cooking skin down to render the fats. Do these by batches to cook it faster.
Flip once the skin browns, after the bottom also browns. Take them off the pan.
Strain the potatoes and carrots. Place them in the same pan with the remaining oil, brown the vegetables by mixing it for 5 – 7 minutes or till it looks a bit charred, set aside.
In the same pan, cook the onions and garlic till fragrant, mix in the liver spread for 5 – 7 minutes.
Pour in the chicken broth, and tomato paste, simmer for 10 minutes. Mixing often.
Add in the carrots, potatoes, red chili peppers, and olives. Cover and simmer for 10 – 15 minutes.
Add back the chicken, mix well and simmer for 15 – 25 minutes, covered, till the chicken is cooked. To know if it's cooked, poke the chicken with a fork or knife, the juices should come out clear, not pink. Mix often.
Mix in the bell peppers, cheddar or Parmesan cheese, and green peas. Mix till the cheese melts, cover and simmer for 5 – 7 minutes.
Serve fresh out of the pan. This dish goes well with steamed rice
Nutrition Information:
Yield:
7
Serving Size:
1
Amount Per Serving:
Calories:

441
Total Fat:

27g
Saturated Fat:

8g
Trans Fat:

0g
Unsaturated Fat:

19g
Cholesterol:

190mg
Sodium:

1225mg
Carbohydrates:

15g
Fiber:

2g
Sugar:

4g
Protein:

38g
This information is automatically calculated by third party software and is meant as a guideline only. This website is written and produced for informational purposes only. Statements within this site have not been evaluated or approved by the Food and Drug Administration