Atchara also spelled achara and atsara, is a Filipino pickled side dish usually paired with grilled food such as chicken barbeque, lechón, lechon burgers (yum) and even a side dish for Tapsilog (Filipino breakfast that consists of fried garlic rice, egg, and cured meat). Usually a combination of grated unripe green papaya, tangy ginger, crunchy carrots, garlic, onions, and a solution of vinegar, salt, and sugar. The fermentation process usually takes 1-2 days in the fridge to maintain its flavor.
Cleanse your palate with this all-natural umami taste. Atchara: The picked sidekick to oily food.
If you like this, try this delicious kimchi recipe which also uses fermented vegetables as the base ingredient.
The Story Behind Atchara
Atchara was influenced from India, with the dish Achaar ( a dish with varieties of fruits and vegetables) which means "pickle". The Pickling process was used as a solution to preserve excess food for seasons when there was a lack of food production.
This dish is made by the pounds at festivals and can be easily made at home with just a cheesecloth, grater and sterilized jars. Different regions in the Philippines have different combinations of atchara. Some households even make their own twist such as adding raisins, pineapple or replacing the grated papaya with radish. The laborious and time-consuming part of the dish would be the preparation, which sometimes needs the ingredients to be julienned, grated and sliced longer and thinly as possible. But rarely, depending on the home some atchara would have chunkier bits or shorter cuts.
Atchara is usually found in many Filipino households to use as a side dish or palate cleanser for fried, grilled and roasted dishes. This fermented dish keeps well for more than a month's time in the fridge.
Notes & Tips
Using ripe papaya will make the dish mushy since we'll be cooking it with heat from the syrup.
Substitute the unripe papaya with unripe radish.
Add raisins to make the dish sweeter.
Substitute the sliced onion with whole shallots. It pairs well with the syrup and gives a nice crunch.
It takes 1-2 days in the fridge before severing to make the flavors blend together, and give that sharp note that Atchara is well known for.
Recipe Steps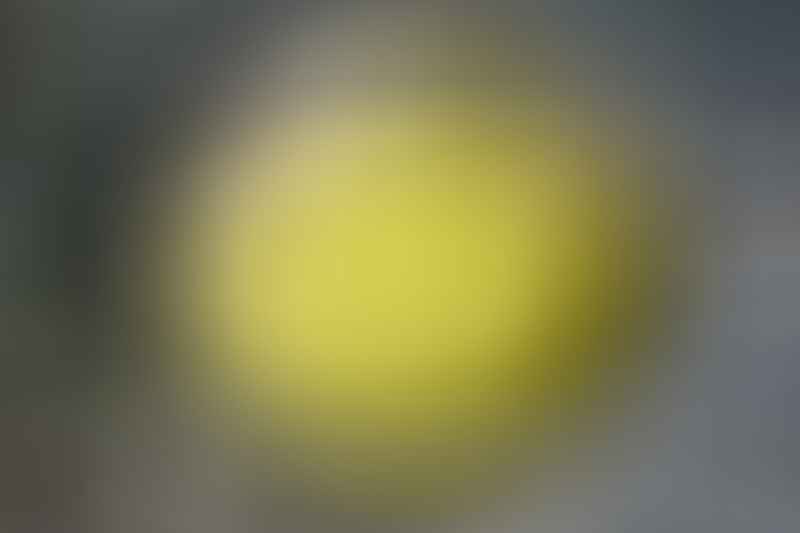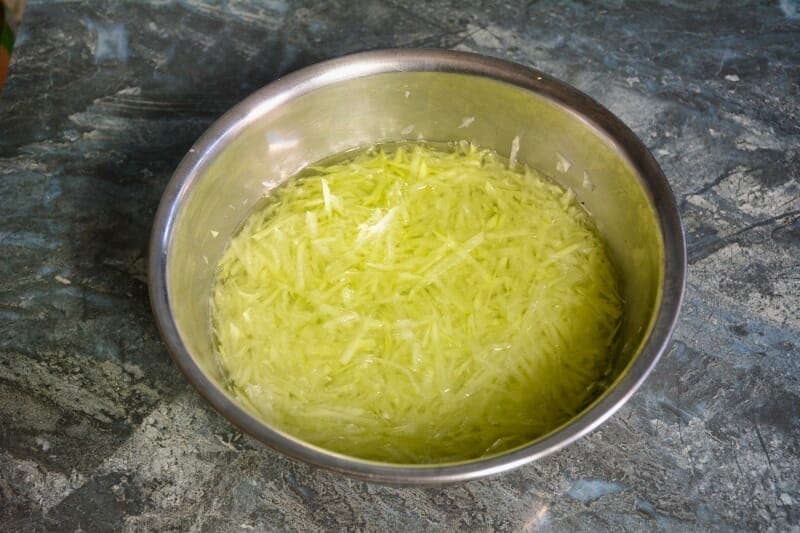 Equipment
For this dish, you will need:
Sterilized Jars
Cheesecloth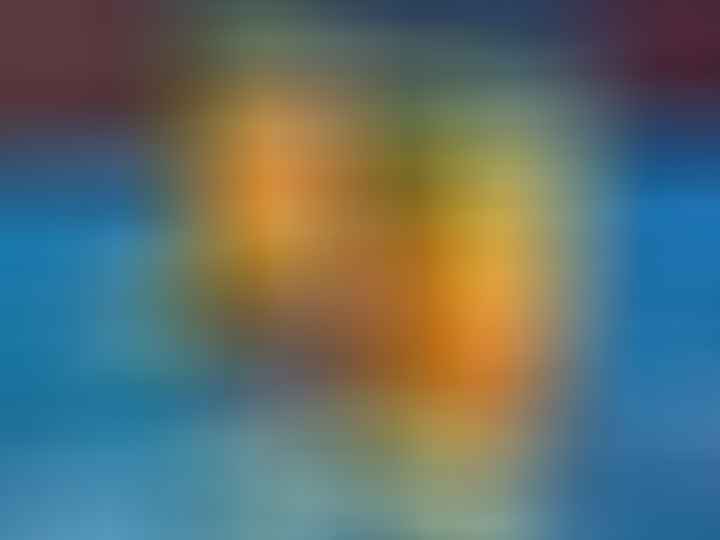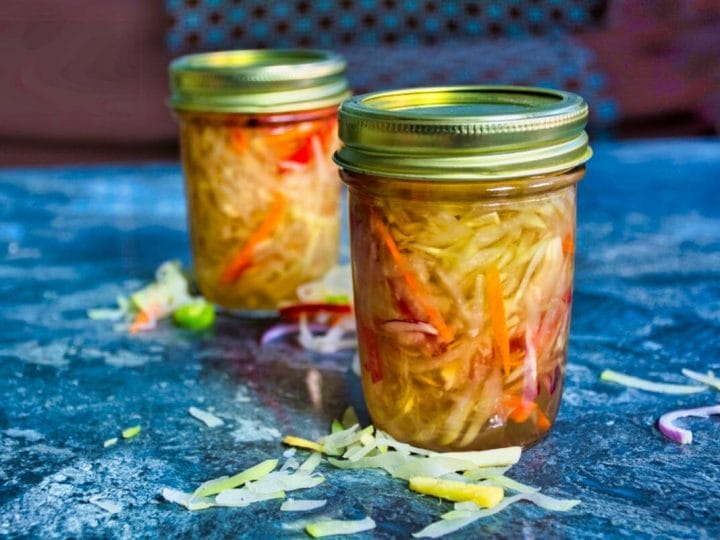 Yield:

8
Atchara - Filipino Pickled Papaya Side-Dish
Total Time:
1 hour
50 minutes
Cleanse your palate with this all-natural umami taste. Learn how to prepare this classic pickled papaya recipe from the Philippines.
Ingredients
5 cups unripe shredded green papaya
6 cups water
4 tsp salt
1 carrot thinly sliced
1 red bell pepper julienned
4 thumbs of ginger julienned
2 cloves of garlic sliced thinly
1 medium-sized onion sliced thinly
1 tsp whole black pepper
1-2 green chili peppers sliced to thin rings
7 cups of white vinegar
1 1/2 cup granulated white sugar
1 tsp salt
Instructions
Soak the papaya in 6 cups of water with 4 tbsp salt. Mix and soak for an hour. Rinse, and using a cheesecloth, squeeze the papaya juices out completely.
In a bowl, add the green papaya, carrot, red bell pepper, ginger, garlic, onion, black pepper, and green sili. Mix well and set aside.
In a pot. On medium heat, add 7 cups white vinegar, 1 1/2 cup granulated sugar, and 4 tsp salt. Mix well till the sugar fully dissolves.
Add the papaya-vegetable mix to the sterilized jars. Leave some space for the vinegar syrup
Pour the vinegar syrup into the jars one by one. Closing the lid quickly to keep the heat inside. This will help 'cook' the papaya mix. Cool the Atchara to room temp. Refrigerate for 1 to 2 days before using.
Frequently Asked Questions
Why is atchara fermented?
During the process of fermentation, nutrients become more available for the body to absorb and digestive enzymes are released. Additionally, lactic acids are produced which protect against the growth of undesirable bacteria, creating a more favorable environment for probiotic organisms (the good bacteria). Fermentation also increases the savoy flavor of archaea.
What is atchara called in English?
Atchara doesn't have a direct translation to English bit is also known as atsara. One way to describe the dish in English is fermented pickled green papaya.
How many days to ferment atchara?
Ferment atchara for at least 24 hours. The longer the ferment, the more nutrients are released and the more savory the flavor. 5 days is a good length of time for the ferment but you can also ferment as long as 1-2 weeks.