Pork Ginataan is a delicious, hearty Filipino dish that pairs perfectly with a scoop of rice.
Also called "Ginataang Baboy", this easy to prepare, rich and savory dish uses a distinct thick cream that comes from "gata" or coconut milk. This popular Filipino dish uses pork belly, coconut cream and milk, garlic, red onions, fish sauce to give the dish a bit of tang and sili or chili pepper for a bit more heat.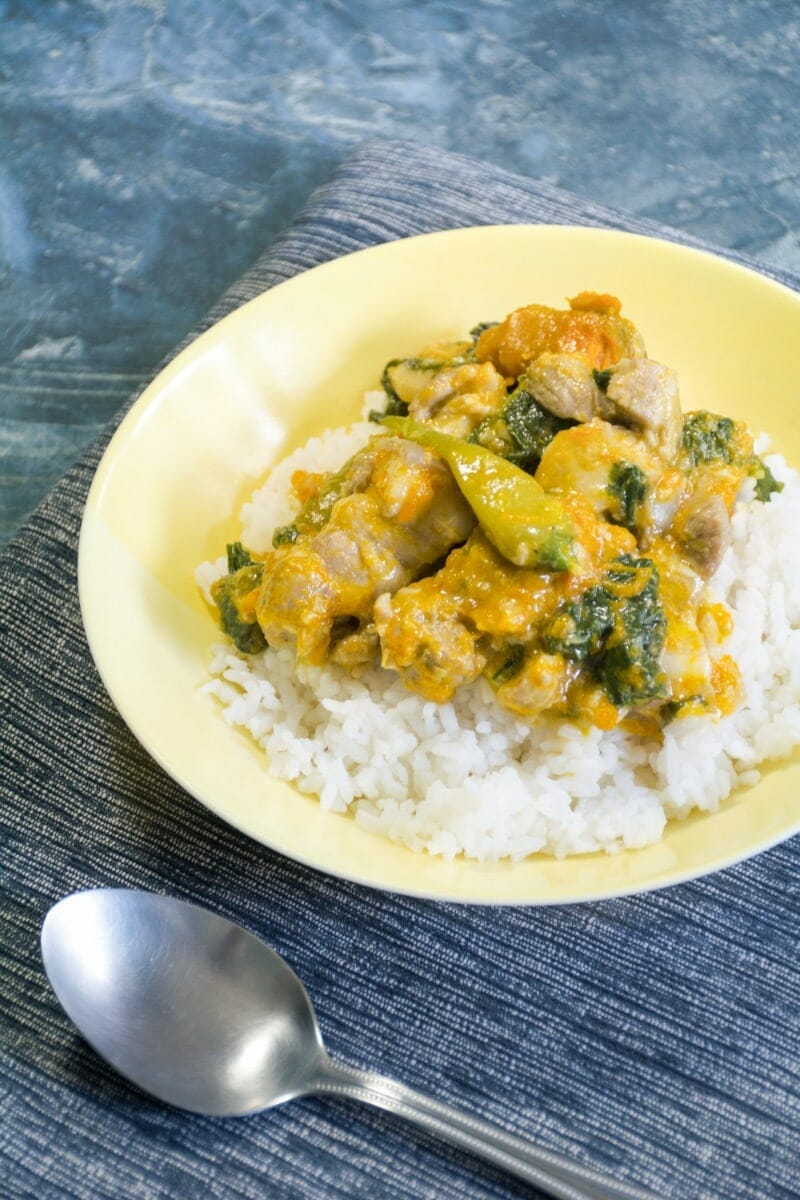 Tasty Variations and How To Identify the Dish
Ginataan is a term for Filipino dishes that use coconut milk. It can refer to a number of dishes that all differ in ingredients and preparation. The term is also used for various desserts such as Ginataang Mais, a dessert made of sweet corn and rice gruel boiled with coconut milk. It can also refer to adobo recipes when coconut milk is added – called adobo sa gata "Adobo boiled with coconut milk."
Some recipes use coconut milk but are not called "Ginataan". An example is Bicol Express, a dish similar to Ginataan Pork. Bicol express is a signature dish from Bicol, Philippines with the same creaminess and almost similar ingredients as Pork Ginataan. This Bicolano styled dish has a more distinct spicy flavor and has a stong taste of shrimp paste and lots of sili peppers. Pork Ginataan, on the other hand, is milder and creamier.
There are many variations of Pork Ginataan. Some cooks and chefs replace the pork with shrimp, squid, crab and other seafood or other types of meat. Some dishes are served with thicker cream while others with a lighter, soupier texture. Some even serve it the day after to fully infuse the cream and spices.
This beloved dish is enjoyed any day of the week and doesn't need a special occasion. The base usually calls for ginger and fish sauce – for a bit of tang while removing the porky smell. Another alternative to the fish sauce and ginger combinations that most families use is bagoong, a Filipino condiment made of fermented fish, often eaten with mango. Bagoong gives the dish a more complex umami flavor. Some also use shrimp paste "Bagoong Alamang" for the seafood version.
Recipe Steps
Tips & Preparation Notes
You can replace 2 cups of coconut milk with 2 cups of coconut cream as well.
If you prefer a thicker consistency omit the coconut milk and just use coconut cream.
You can use all kinds of vegetables to replace squash and spinach. Some use string beans, eggplant, malunggay, and other green-leafed vegetables.
If pork broth is not available, replace with vegetablea, beef, or any broth.
Pork Ginataan is a delicious, popular Filipino dish that pairs perfectly with a scoop of rice. Easy to make and full of flavor and richness.
Ingredients
1000 g Pork Belly
Salt and Pepper to season
Cooking Oil for sautéing
4 cloves Garlic (minced)
2 medium Red Onions (chopped)
2 thumbs Ginger (julienned)
4 tbsp Fish Sauce
2 cups Coconut Milk
1 cup Coconut Cream
1 cup Pork Broth ( optional )
2-3 cups of Squash
Half a bundle of Spinach
5 pieces of Sili or Thai chili pepper
Instructions
On a pan or cooking pot. Heat oil and sauté 4 cloves minced garlic till fragrant. Add 2 chopped red onions and 2 thumbs julienned ginger. Cook till onions turn translucent.
Add in 1000g chopped pork belly and season with salt and pepper. Cook till pork changes in color.
Mix in 4 tbsp fish sauce and 2 cups coconut milk. Let it boil.
Mix in 1 cup pork broth, 1 cup coconut cream, 2-3 cups of squash. Cover and leave till the squash softens.
Add half a bundle of spinach and 5 pieces of sili. Let it boil to incorporate the spice before serving.
Nutrition Information:
Yield:
4
Serving Size:
1
Amount Per Serving:
Calories:

1366
Total Fat:

95g
Saturated Fat:

53g
Trans Fat:

1g
Unsaturated Fat:

38g
Cholesterol:

210mg
Sodium:

1904mg
Carbohydrates:

63g
Fiber:

5g
Sugar:

48g
Protein:

67g
This information is automatically calculated by third party software and is meant as a guideline only. This website is written and produced for informational purposes only. Statements within this site have not been evaluated or approved by the Food and Drug Administration