Hugely popular (especially with kids) in the Philippines, Polvoron is a sweet powdery candy-like snack food. Usually gifted as a souvenir (the Filipino term is "pasalubong") to friends and colleagues by people on their return from a trip. Polvoron is also enjoyed as a snack any day of the week.
Filipino Polvoron is made from flour, sugar, powdered milk, butter or margarine. The recipe sometimes includes crushed cashew nuts or toasted glutinous rice.
You might also find the candy with powdered and liquid flavorings such as ube, Filipino chocolate powder, and buko pandan. Polvoron ingredients are then compressed and shaped using an oval-shaped mold. Finally, each sweet is wrapped in cellophane or wax paper.
The Sweet Details & Cool Facts
Polvoron came from the Spanish word "Polvo" which means powder or dust. The Spanish Polvoron or Polvorones is an almond cookie that closely resembles the Filipino version. Here's an interesting fact: the original cookie was made with pork fat. And despite the Filipino love of pork, this fat is replaced with shortening, margarine or butter these days.
Usually sold by street vendors, in Sari-sari stores, groceries, and bakeries. But you can make them yourself with our chocolate polvoron recipe.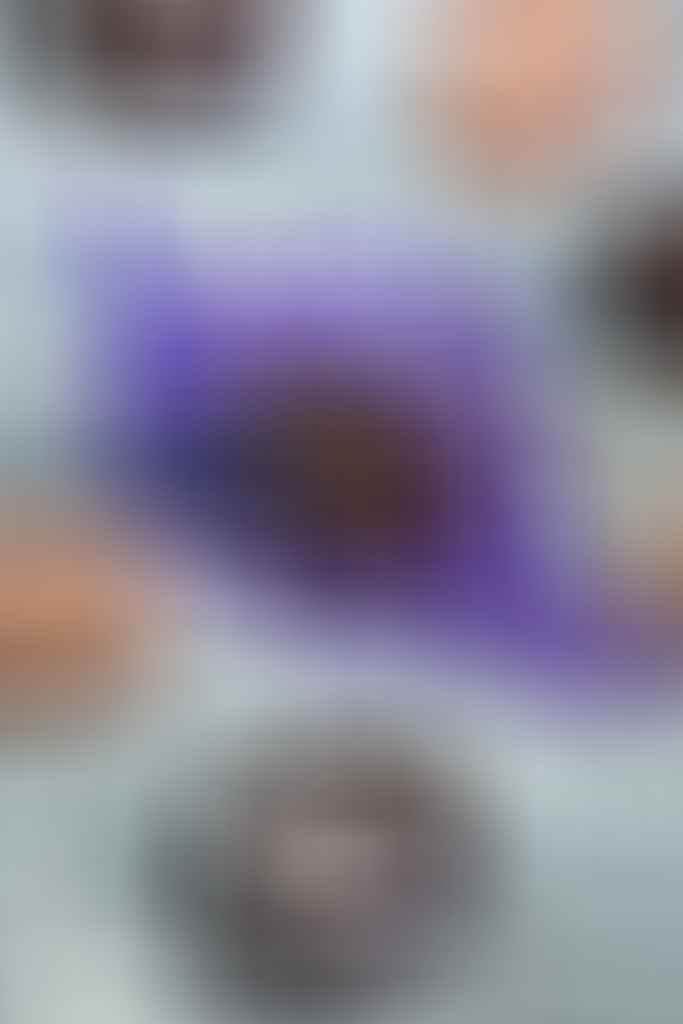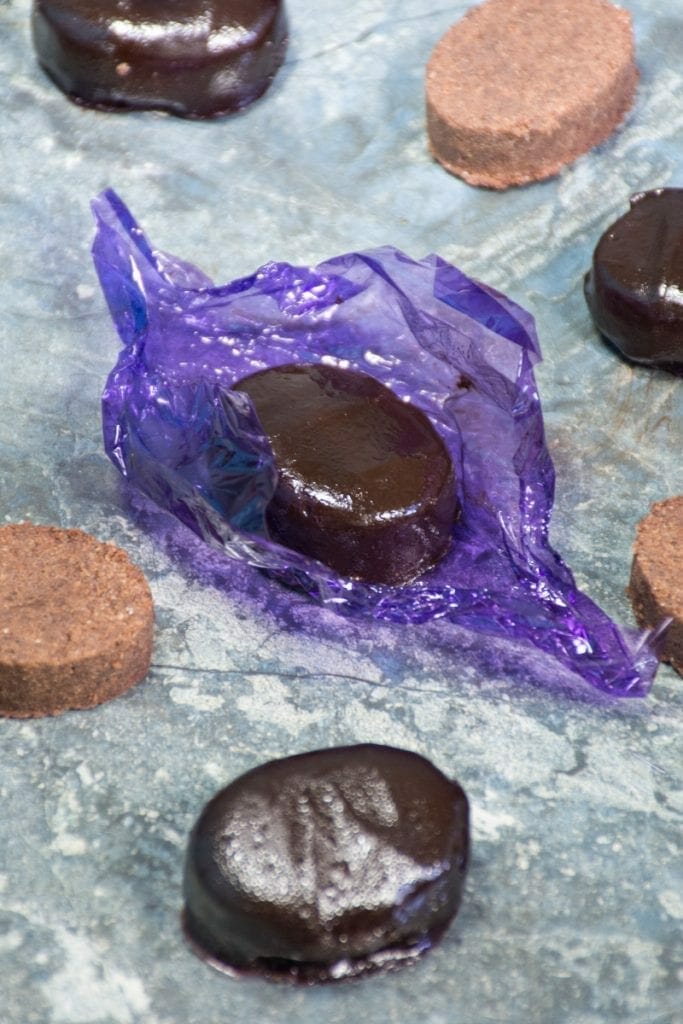 How To Make Polvoron
This "holiday" cookie is a delicious combination of easy-to-find ingredients like flour, raw whole almonds, butter, granulated sugar, and cinnamon. Toast the flour and almonds in an oven and grind them using a food processor until the almonds have a flour-like texture themselves. Next, cream and mix the butter, sugar and cinnamon into the flour and almond mix. Form the dough into a ball, flattened with a rolling pin. Cut with a round cookie cutter into pieces and bake!
Toast the flour till it turns slightly brown. Use the melted butter or margarine as a binder for the dry mixture. An oval shaped hollow stamp or a stamp with "scallop" trimming gives the treat its distinctive shape. Of course, you can use any shape you like and it's not uncommon to find circle, heart, or star cookie cutter designs.
Once the polvoron candies have their shape, leave in the fridge for a few minutes to cool and harden. Douse with chocolate and wrap in a square cellophane paper with the sides twisted so they resemble pieces of candy (which they are, of course) The modern versions typically use flavorings such as crushed Oreos, ube, buko pandan liquid flavoring, cocoa powder, chocolate milk powder and a lot more besides.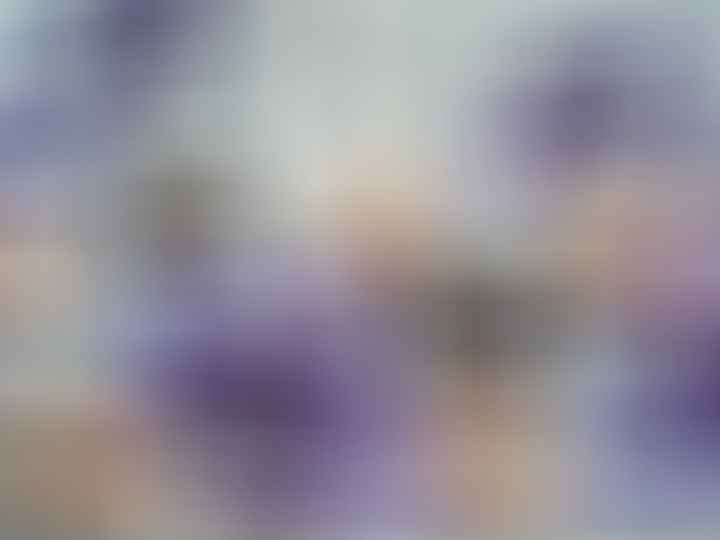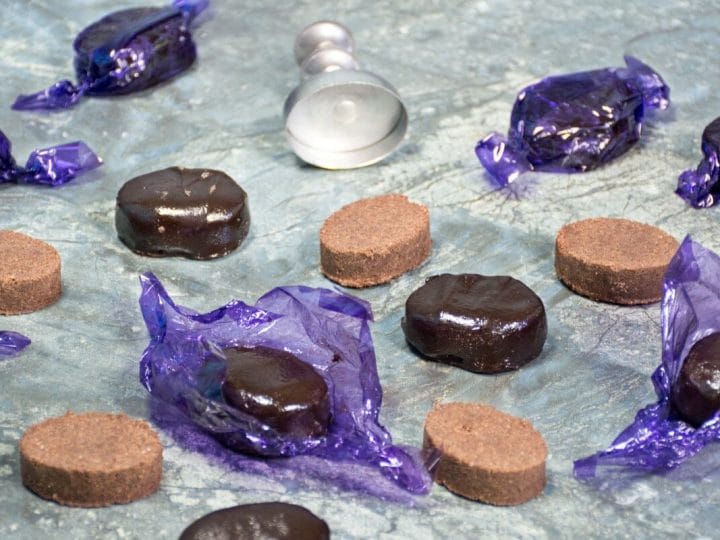 Yield:

25
Chocolate Polvoron Dessert Recipe
Sweet chocolate-sprinkled milk candy snack from the Philippines. Check out our delicious, easy-to-make Chocolate Polvoron Recipe.
Ingredients
Polvoron
1 cup sifted All purpose Flour
1 cups Powdered milk
1/3 cup refined white sugar
1/2 cup Butter (melted)
3 tablespoon cacao powder
Chocolate Coating:
1cup Dark chocolate
2 to 3 tablespoon Unsalted butter
Instructions
Toast 1 cup of all-purpose flour on a pan at medium heat. Stirring till the flour turns light brown, this will make it safe to eat. Set aside to cool.
Place the toasted all-purpose flour, 1 cup of powdered milk, 1/3 cup refined white sugar, 3 tablespoon cacao powder in a bowl and mix well.
Add ½ cup melted butter. Mix till you get a texture like wet sand.
Using a mold, scoop enough mix to fit inside the mold. Press the mold on a flat surface, putting pressure to keep the powdered mix compact. Remove the excess material as you do so. Pop out the compressed piece and leave this in the fridge for 5-10 minutes to harden.
For the chocolate coating, melt 1 cup of chopped dark chocolate and 2 tablespoons of unsalted butter in a microwave-safe bowl for 35 seconds. If the chocolate is too thick, add another tablespoon of butter to get a smoother consistency.
Using a fork, dip the polvoron piece in the melted chocolate. Carefully place the chocolate-covered polvoron on parchment paper. Set aside in the fridge for 5 to 10 minutes.
Place each serving in the middle of a square food safe or food-grade cellophane paper. Angle the square 90° to turn into a diamond.
Connect both ends to the middle.
Fold the tips 1-2cm at a time till it reaches the middle.
Twist both ends to seal.
Notes
If a polvoron mold is not available, you can substitute for a cookie cutters. Placing the cookie cutter on a flat surface and spreading the mix in the cutter, press the mix down, making sure everything is shaped and compressed well before removing the cookie cutter.
Make sure to buy food-grade cellophane paper as a wrap as normal cellophane paper has a strong smell and can transfer the smell and sometimes color to the food.
Polvoron keeps at room temperature or in the fridge for a month or more without the chocolate coating.
To give the treat more texture, add more ingredients such as toasted rice flakes, sprinkles, nuts and sometimes-desiccated coconut.
Nutrition Information:
Yield:
25
Serving Size:
1
Amount Per Serving:
Calories:

136
Total Fat:

8g
Saturated Fat:

5g
Trans Fat:

0g
Unsaturated Fat:

3g
Cholesterol:

15mg
Sodium:

47mg
Carbohydrates:

14g
Fiber:

1g
Sugar:

8g
Protein:

2g
This information is automatically calculated by third party software and is meant as a guideline only. This website is written and produced for informational purposes only. Statements within this site have not been evaluated or approved by the Food and Drug Administration