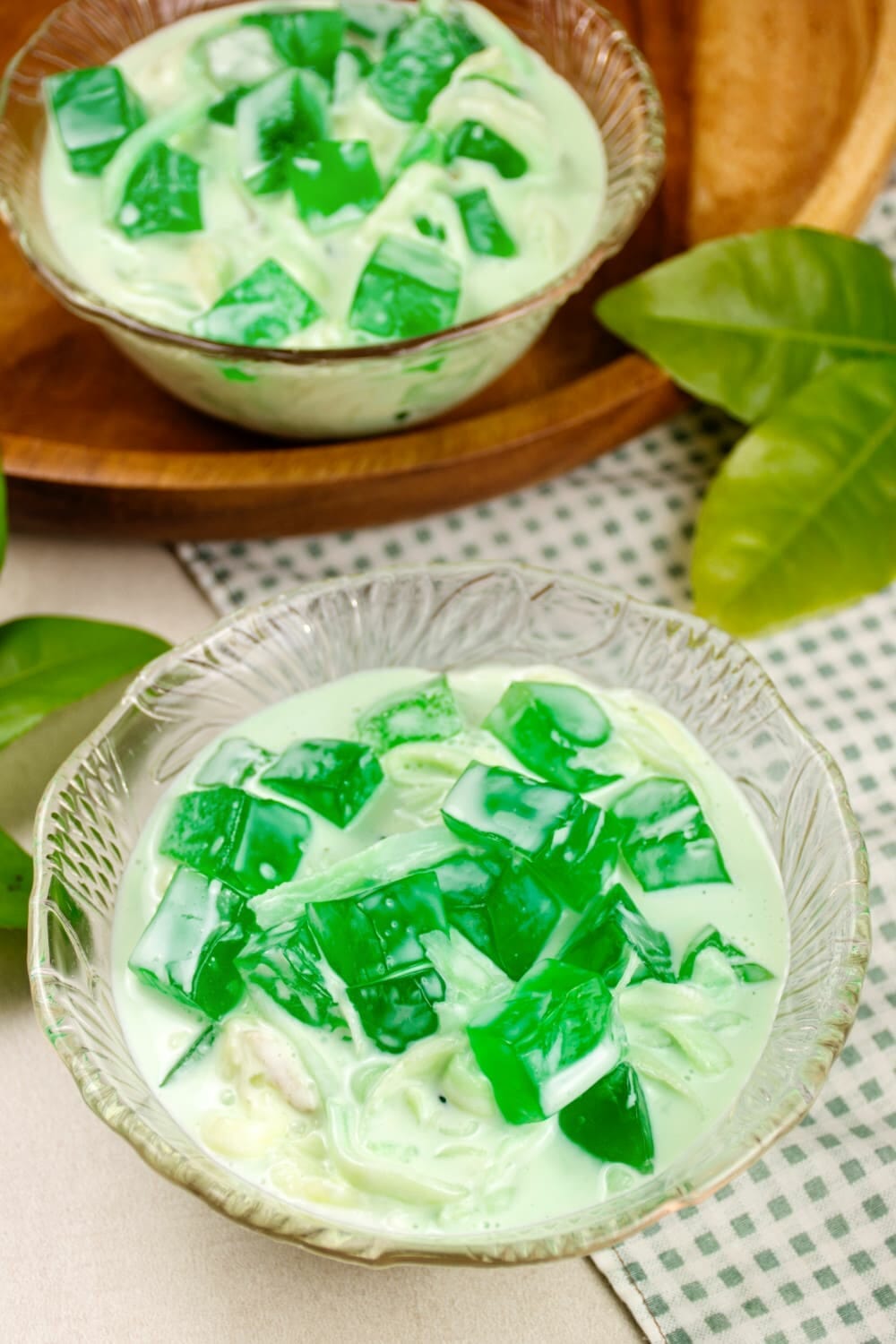 Buko Pandan is a refreshingly creamy Filipino dessert, known best for its sweet earthy aroma and vibrant green hue. No baking required, and with a few easy steps and ingredients, you will make something impressive and delicious.
This simple dessert uses the sweetness of Nestle all-purpose cream (a little sweeter than usual table cream), condensed milk, pandan-flavored green gelatin, and another teaspoon of pandan flavoring to give the cream mixture a certain richness. Mix these ingredients with shredded buko (young coconut meat) and nata de coco (a chewy sweetened cubed coconut gel) for texture.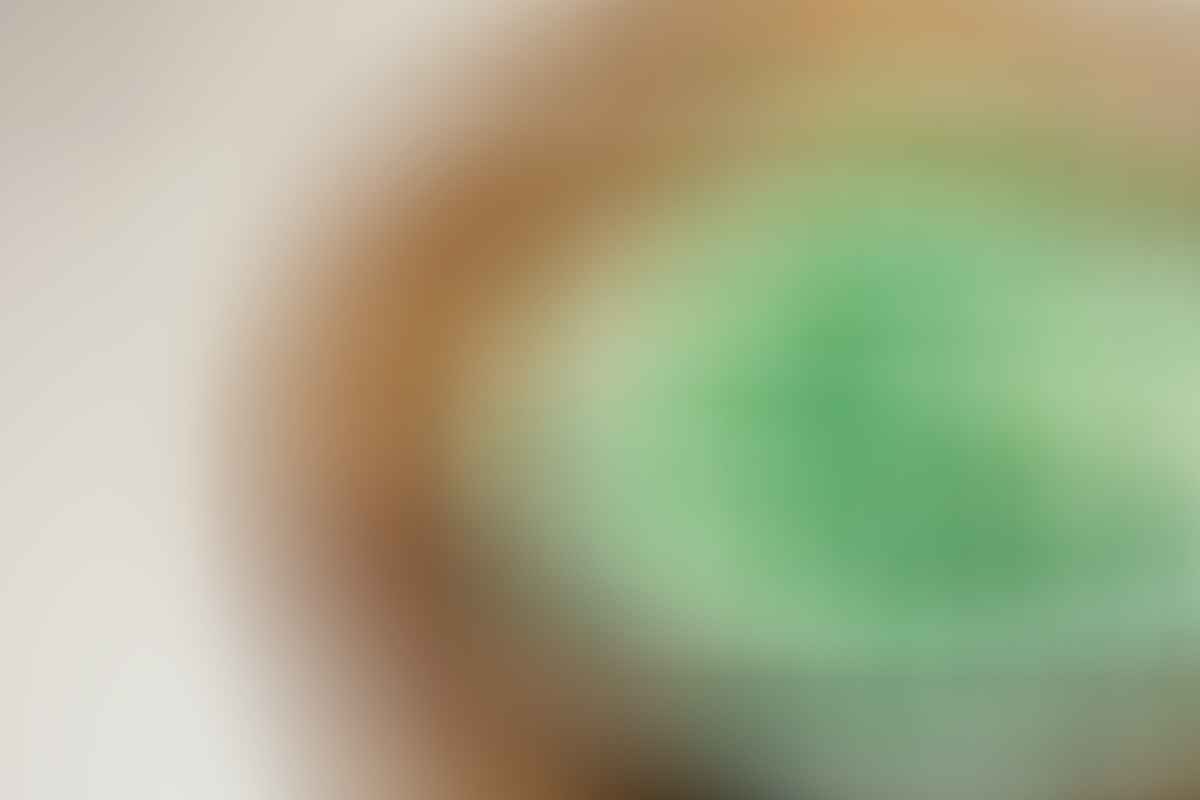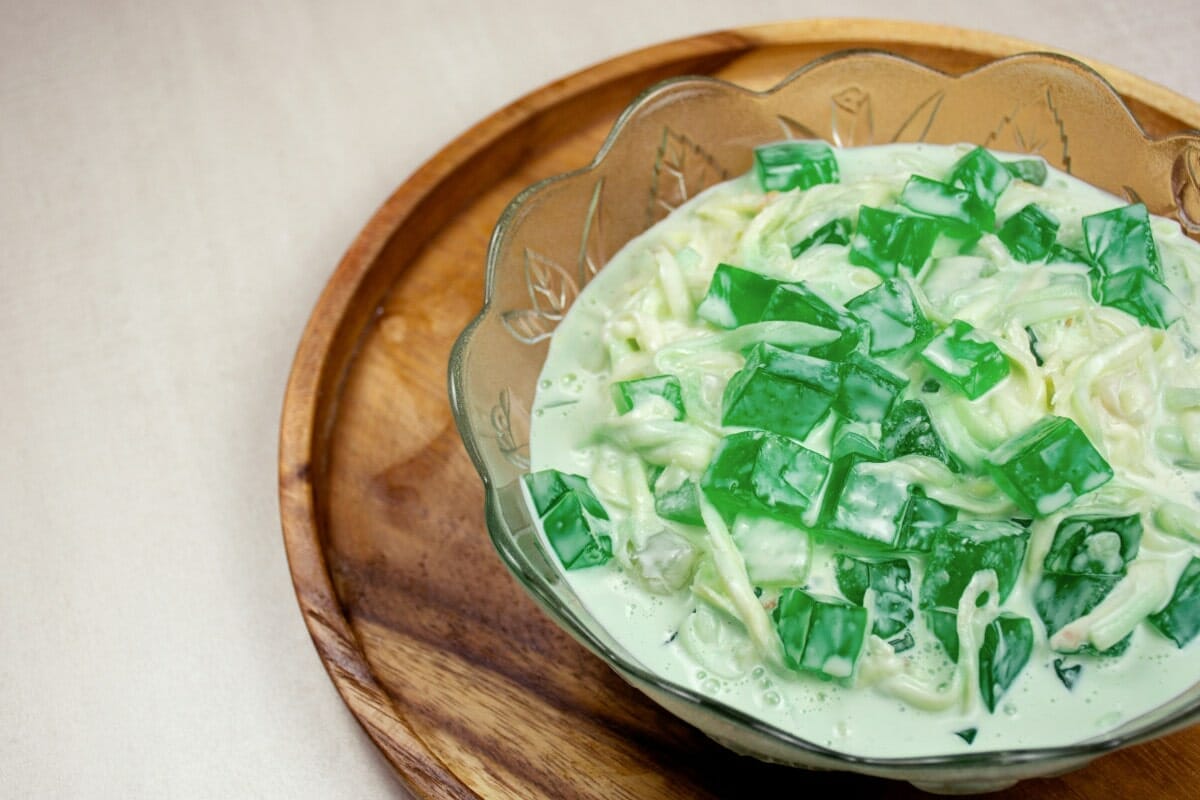 Uniquely Filipino
One of the easiest and tastiest no-bake desserts, this dish is sold everywhere: groceries, malls, and street stalls. And it's versatile. Turn it into homemade ice cream by adding more condensed milk and cream and freezing overnight. Turn buko pandan into a nice summer drink by adding milk or coconut water, which creates a less dense, but sweet creamy beverage.
Buko Pandan can also be "customized" by the addition of ingredients like white sago or tapioca pearls, sugar palm fruit, corn, lychee. It can be sprinkled with pinipig (toasted glutinous rice), cornflakes, or even cheese. The latter is usually added to give an extra 'oomph' of flavor and texture on top before serving.
Some cooks also add shaved ice which removes the need for refrigerating overnight.
If you can't find pandan gelatin, look for gulaman or agar agar, two other names this ingredient goes by. The ingredients in this recipe can be a little tricky to find, but trust me, it's worth the effort.
The Philippines is one of the world's top suppliers of coconuts. And did you know that Filipinos refer to the Coconut tree as the "tree of life"? From the wood to the leaves, the fruit and its husk, each part has been turned into a commodity that is still seen and used till this day.
Pandan – The South Asian Vanila
Pandan or screw pine, is a tropical plant with an earthy, floral-sweet fragrance. It has been dubbed the "South Asian vanilla" and is used in lots of dishes in countries like the Philippines, Indonesia, Thailand and Sri Lanka. The plant is commonly used as flavoring for drinks, savory dishes and desserts. Best used in coconut-based dishes, as the coconut enhances the fragrance of the dish and adds a slight sweetness and tint of a green hue.
Pandan flavoring and essence sometimes replaces vanilla in cakes and other pastries. It also adds color and flavor to traditional dishes like puto, bibingka (baked rice cake), and suman (sweetened sticky rice snack). Pandan leaves can also be used as a wrap for cured meats like pandan chicken.
Buko Pandan is said to have originated in Bohol in the mid-200s. Enjoyed throughout the year by people of all ages, the dish is often served at fiestas, get-togethers, birthday parties and especially during Christmas and New Year's holidays. It makes a great alternative to the usual chilled fruit salad. Now let's learn how to make buko pandan salad.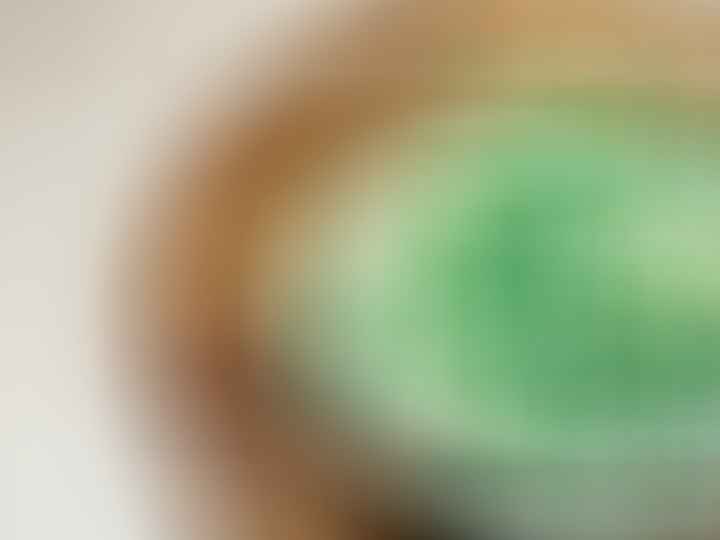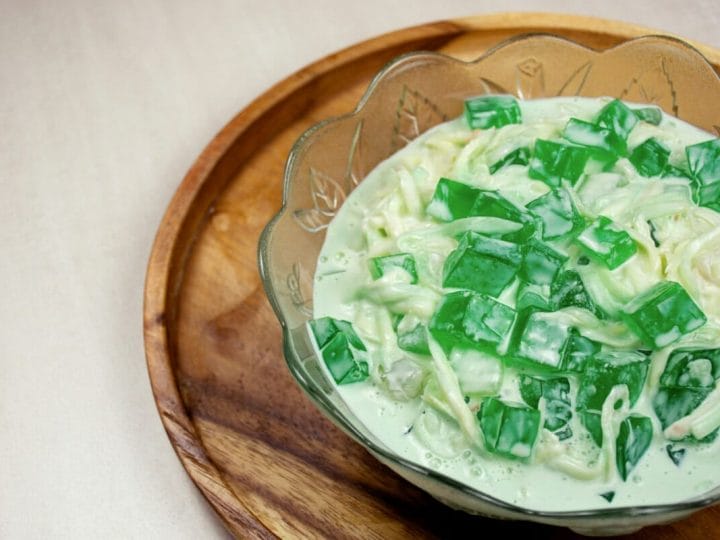 Yield:

12
Buko Pandan Recipe - Filipino Coconut Dessert
Additional Time:
2 minutes
Buko pandan is one of the most popular desserts in the Philippines. This easy-to-make creamy and unique dessert can still be found in many cafés and restaurants. A great alternative to regular frozen treats. Its creamy texture and coconut milk base make it less sweet than your typical ice cream. Plus, it's uniquely Filipino!
Ingredients
5 to 7 Pandan leaves or 3 teaspoons Pandan extract
1 pack of unflavored green gelatin or agar agar powder
1/3 cup white sugar
2 cups Nestle cream or table cream
1/2 cup condensed milk
4 cups shredded young coconut meat
2 cups Nata de coco
1 to ½ cup of coconut or buko juice (optional)
Instructions
For the Gelatin
Wash 5 to 7 pandan Leaves.
Fold these together to make a bundle.
Use one of the leaves' tip to circle around the bundle, and then tuck the tip into the circle to seal.
Follow the suggested amount of water from the packaging. Taking a cup off and add the leaves. Let this boil, then simmer for 10 to 15 minutes. For the extract, mix 1 teaspoon of Pandan extract in warm water.
Add the gelatin powder or agar agar powder and sugar in the pandan infused water, stirring till all the powder and sugar has dissolved.
Take the leaves out, pour the gelatin mixture into a tray, let this cool at room temperature before leaving this in the fridge to fully set.
Once the Pandan gelatin is firm and set, cut these into cubes. Set aside.
For the Salad
Drain the nata de coco and shredded young coconut meat.
In another bowl, mix together all-purpose cream, condensed milk, and 1 to 2 teaspoons of pandan extract. Taste before adding more condensed milk or extract.
Stir the shredded coconut meat and nata de coco. Add any additional ingredients you'd like here.
Carefully add the gelatin cubes, fold everything together. If the texture feels too thick, add 1 cup buko juice half a cup a time.
Keep this refrigerated overnight till ready to serve. Chill the dessert overnight helps all the flavors come together. Serve chilled.
Notes
The pandan-flavored gelatin can be made the day beforehand.
For step 2 and 3, tying the pandan leaves is optional; tying just makes it easier to remove.
To make stronger-tasting gelatin, use coconut water instead of plain water.
Artificial pandan flavoring or extract may taste a bit bitter. I recommend adding only a tablespoon or two on step 4 and 9.
It's best to prepare the jelly beforehand to ensure that the jelly has really hardened, and would not break apart when being mixed.
Most of the ingredients can be found at local Asian groceries. When buying frozen coconut meat, and other ingredients like kaong and nata de coco, or any additives doused with liquids, make sure to strain before adding to the salad mixture.
Buko pandan salad can be kept in the fridge for a week and more than a month in the freezer.
When adding tapioca pearls, note that the chewy texture may change to a more mushy consistency when defrosted.
if there are any leftover pandan leaves. You can cook these with rice to give this a fragrant smell, close to that of basmati rice, or infuse coconut juice with pandan leaves or extract overnight to make a refreshing summer drink.
Nutrition Information:
Yield:
12
Serving Size:
1
Amount Per Serving:
Calories:

348
Total Fat:

26g
Saturated Fat:

19g
Trans Fat:

1g
Unsaturated Fat:

5g
Cholesterol:

52mg
Sodium:

95mg
Carbohydrates:

27g
Fiber:

3g
Sugar:

23g
Protein:

4g
This information is automatically calculated by third party software and is meant as a guideline only. This website is written and produced for informational purposes only. Statements within this site have not been evaluated or approved by the Food and Drug Administration