A popular sweet, creamy and dreamy custard filled tart or pie, with a buttery cookie crust.
A popular sweet snack in The Philippines, China, Macau, Hong Kong, and Taiwan, egg tart has British and Portuguese origins. Some claim that the dessert originated in China's Guangdong province, where the fusion of a Cantonese steamed egg pudding and an English tart came to life. Others claim that Hong Kong high-end Western restaurants invented the treat in the 1940s.
The cuisine of the Philippines can't claim a deep connection with this dessert-like snack, but the pastry is very popular in local bakeries throughout the country. This Filipino egg tart closely resembles the recipe from Hong Kong. Though some variations use a biscuit-like crust and a charred top.
Pair this pastry with a hot cup of coffee or ice cold milk tea.
Alternative Flavorings
Flavors like milk tea, ginger, green tea, ube, chocolate, and many more can be found in egg tart specialty shops, more so on special holidays. Some stores and home cooks add lemon and other citrus flavors to give their own unique spin on the egg custard tart recipe.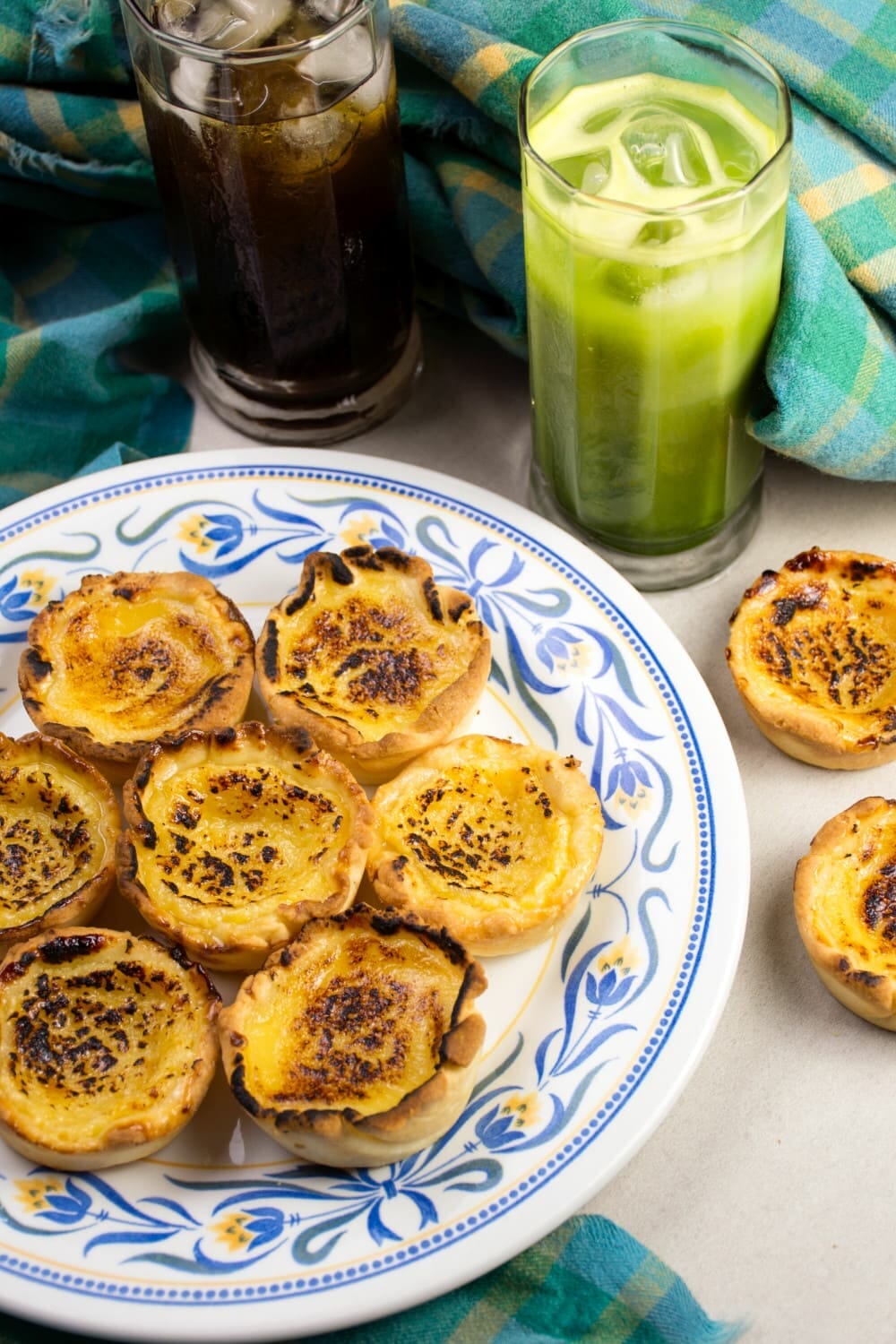 Quick tips
For a no-fuss crust. Use store-bought puff pastry as a substitute.
Put the dough back in the fridge if it gets too soft to handle.
If you're short on time, make the dough a day ahead. Keep in a sealed container in the fridge overnight, and continue to make the tarts the next day.
The Ingredient List
Confectioners' sugar – icing sugar can also be used for the crust. Both dissolve in the dough easily.
All purpose flour – aside from the crust, all purpose flour also helps act as the thickener for the filling. This can also be replaced with potato starch or cornstarch.
Unsalted butter – use unsalted butter to better control the salt input.
Cold water – cold water helps keep the dough from melting while being mixed. This also gives it more liquid to help smoothen the dough.
Egg yolks – only using egg yolks gives it its nice bright yellow color that egg tarts are well known for.
Full fat milk – gives the tart a rich texture, but also helps create the burnt-like topping when broiled.
Condensed milk – the main sweetener that helps give a smooth and thick texture.
Vanilla – gives the filling an aromatic flavor helps prevent an 'egg-y' taste.
Salt – an important ingredient that helps enhance the flavor.
Recipe Steps
Frequently Asked Questions
Are Hong Kong Tarts (and Filipino tarts) similar to Macau Tarts?
Hong Kong tarts were derived from British custards known for its smooth and glassy textured top. While Macau egg tarts have a distinctive caramelized charred top similar to Portuguese pastel de nata that they have been modified from.
Can you use whole eggs?
Yes, though using whole eggs may make the custard taste too 'egg-y'. To avoid this add ½ tablespoon of vanilla, lemon or orange extract into the mix. Remove the full fat milk from the recipe to avoid the filling from being too watery.
Can sugar substitute for condensed milk?
Condensed milk is preferred as its smoother and the milk in this also helps to give the dish it's charred top. Though using white sugar can also be used, make sure these have been dissolved well before straining. Likewise you can also use honey, maple syrup or any sweetener, just make sure to cool these to room temperature make sure the filling has solidified.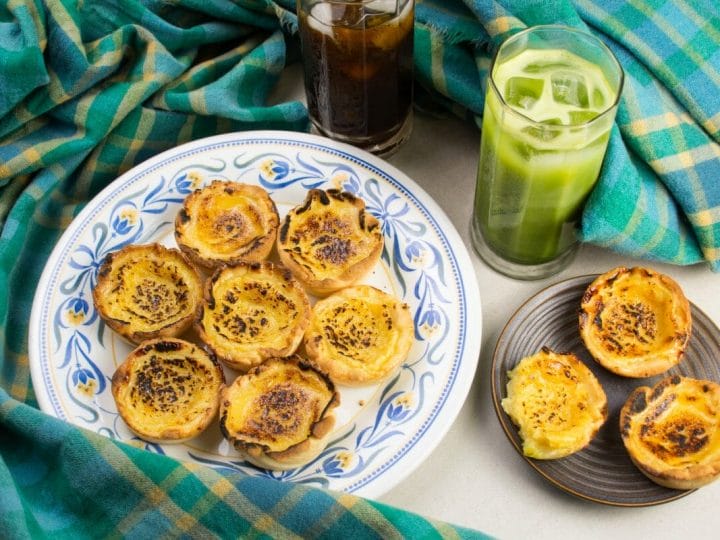 Yield:

15
Filipino Egg Tarts
Cook Time:
1 hour
50 minutes
Total Time:
1 hour
55 minutes
Filipino egg tarts are a delicious egg custard baked in a flaky pie crust. This dessert is easy to make and is sure to be a hit with your family and friends.
Ingredients
For the Crust
1/2 teaspoon salt
2 tablespoons confectioners' sugar
3 cups all-purpose flour
1 cup unsalted butter (cold, cut to cubes)
1/3 cup cold water (optional)
For the Filling
3 large egg yolks
1 tablespoon all-purpose flour
1/4 teaspoon salt
1 cup full fat milk
1 teaspoon vanilla
1 cup condensed milk
Instructions
For the crust
Mix salt, confectioners' sugar, and all-purpose flour together.
Add the cubed butter. Mixing these with your hands till you get a smooth dough.
Add 1/2 tablespoon of cold water at a time if the dough is too dry and crumbly.
Cover this with cling wrap and chill in the fridge for 1 to 2 hours to make this easier to handle.
Prepare a muffin or cupcake pan. You can also use egg tart or puto molds.
Once chilled, this will be easier to mold. Take a tablespoon of dough and roll this into a ball.
Using a rolling pin, flatten this as much as possible to fit the cupcake or muffin pan.
Place this in the cupcake or muffin pan and fold the edges to give a rustic feel or cut the edges and push them back to give it a cleaner look. Chill this back in the fridge while making the filling.
For the filling
Mix together yolks, all-purpose flour, and salt till you get a paste-like texture.
Mix in full fat milk, vanilla, and condensed milk.
To get a smooth filling, strain the mixture at least 3 times.
Pour the mixture into the crusts. Make sure to fill this till the tip.
Bake in a preheated oven at 250°C or 480°F for 20 to 25 minutes.
To get the charred look, broil the egg tart for 10 to 15 more minutes or, use a torch to burn the top. Let it cool over a rack before serving.