Puto is a usual Filipino merienda (snack) enjoyed by kids and adults alike. It can even pair it with the delicious dinuguan (pork blood soup) or pancit (noodles) as a replacement for pandesal (a Filipino bread). A familiar snack to munch on, this steamed delicacy is usually found at dry markets, street food vendors, and malls. It's a popular snack on occasions like birthdays, fiestas and other local gatherings.
Puto is traditionally white in color – the typical usual Filipino recipe uses flour or fermented flour by soaking rice with yeast overnight. This rice is then ground to dough, mixed with a beaten egg, milk, and sugar, and steamed with banana leaves.
The leaves are used as a cupcake liner to make the dish smell more fragrant. There's nothing like the taste of sweet freshly cooked rice thanks to the soft and moist texture. This steamed Filipino snack pairs well with other sweet and savory dishes.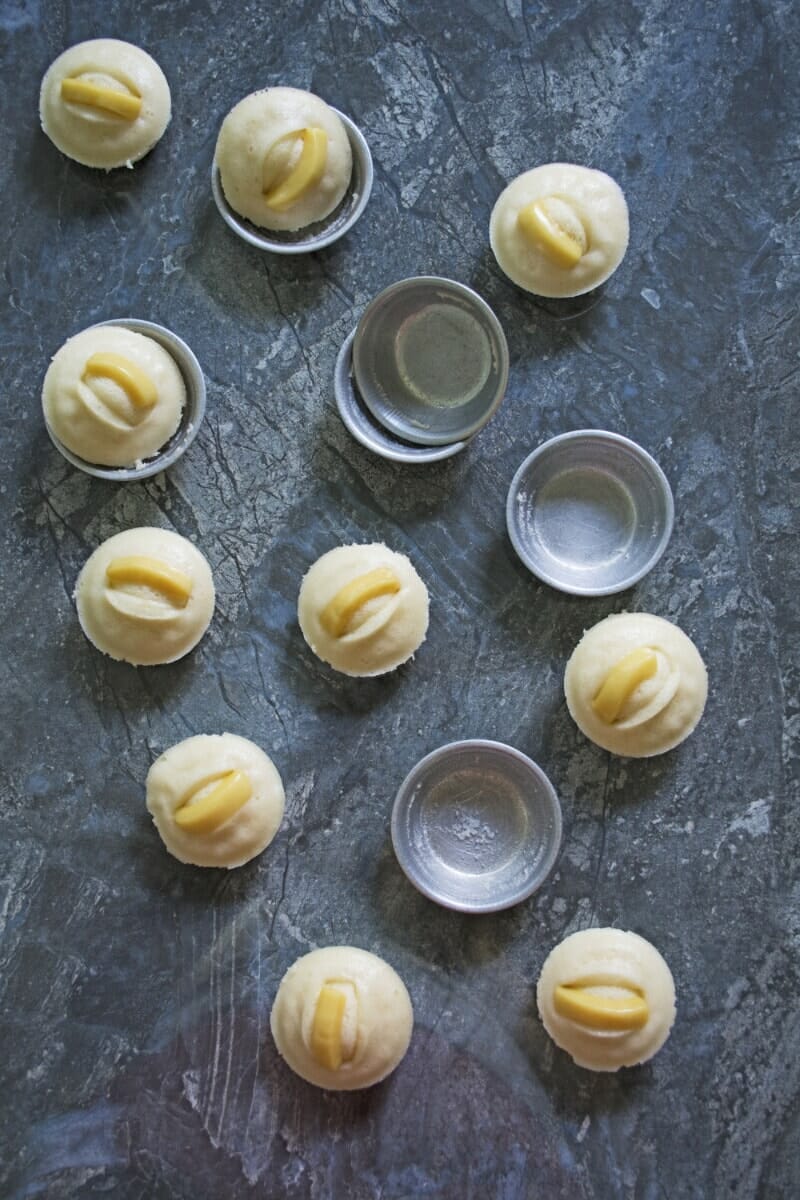 While traditional puto recipes use rice flour, homemade recipes usually rely on all-purpose flour as it is readily available at home. Toppings vary from Cheddar cheese, or salted egg but recently more modern flavors such as ube, leche flan, buko pandan and even chocolate find their way into this recipe. These ingredients also add some color and fun to the typically white-colored puto dish. Some puto are even sold as a bigger version of the usual cheese version or in big rectangular cake sized chunks.
A familiar snack to munch on, this steamed delicacy is usually sold by street food vendors and in malls. A popular snack on birthdays and fiestas.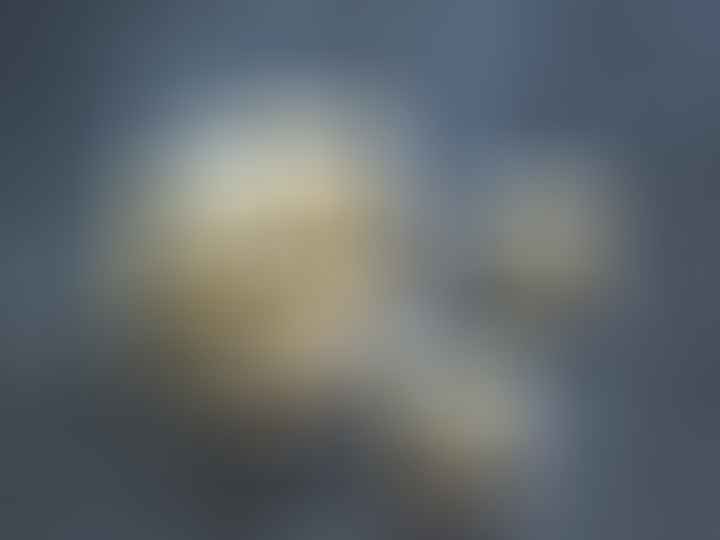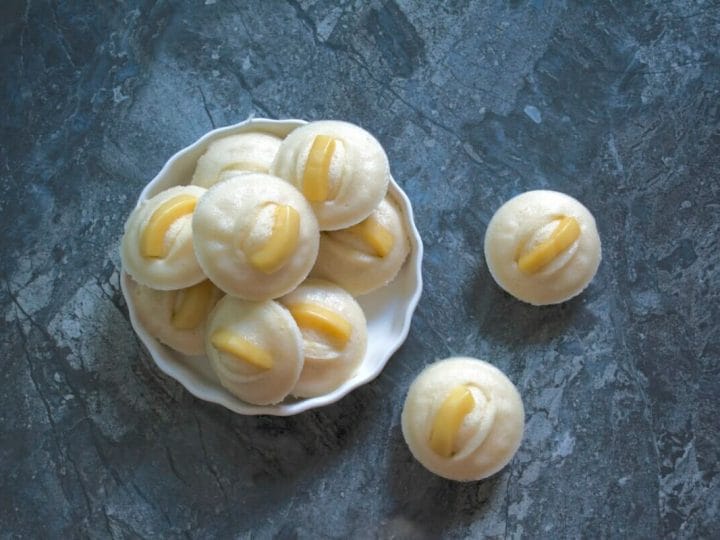 Yield:

12
Filipino Steamed Cheese Puto Snack
Easy-to-make Cheese Puto Steamed Cake: Sweet, Fluffy & Tasty Mini Afternoon Treats.
Ingredients
1 cup flour
1/2 tablespoon baking powder
1/2 cup white sugar
1/4 cup warm water
4 tablespoons evaporated milk
1 tablespoon butter ( softened)
1 large egg (use only the egg whites)
12 slices of cheddar cheese
Instructions
In a mixing bowl, mix all the dry ingredients: cake flour, sugar, and baking powder. Set aside.
In another bowl, mix all the wet ingredients: warm water, evaporated milk, butter, egg white.
Add the milk mixture to the flour mixture. Beating till mixture is void of any lumps.
Prepare the molds. Grease each mold with butter before adding the batter.
Add the cheese to the top.
Prepare the steamer. The water should be boiling before adding the Puto molds.
Place a towel before the steamer's cover to prevent water droplets from hitting the batter. Steam for 8-11 minutes or until the batter rises.
Cool for 5 minutes and serve.
Notes
Equipment: Small muffin pans or puto molds, Steamer
Some people like using Coconut milk or fresh milk to replace the evaporated milk.
You can also use rice flour instead of all-purpose cake flour to make puto.
You can add vanilla extract for more fragrance.
If you like smoother toppings, add the puto cheese after 9 minutes of steaming. Add the cheese and steam for 2-3 more minutes.
You can make a substitute steamer by using a pan or wok half-filled with water, place a cooling rack in the middle, place a baking pan or ceramic plate before placing the puto molds or muffin pan on top. Make sure that the water will not hit the mold. Cover with a towel before placing that pan's cover. Steam for 8-11 minutes.
Store leftover Puto in airtight containers and microwave for a few seconds before serving.
If you'd like to add different flavors such as ube or buko pandan you can add them at Step 2.
Other toppings you might try include butter, margarine, desiccated coconut and leche flan.
Nutrition Information:
Yield:
12
Serving Size:
1
Amount Per Serving:
Calories:

205
Total Fat:

11g
Saturated Fat:

6g
Trans Fat:

0g
Unsaturated Fat:

4g
Cholesterol:

47mg
Sodium:

263mg
Carbohydrates:

18g
Fiber:

0g
Sugar:

9g
Protein:

8g
This information is automatically calculated by third party software and is meant as a guideline only. This website is written and produced for informational purposes only. Statements within this site have not been evaluated or approved by the Food and Drug Administration