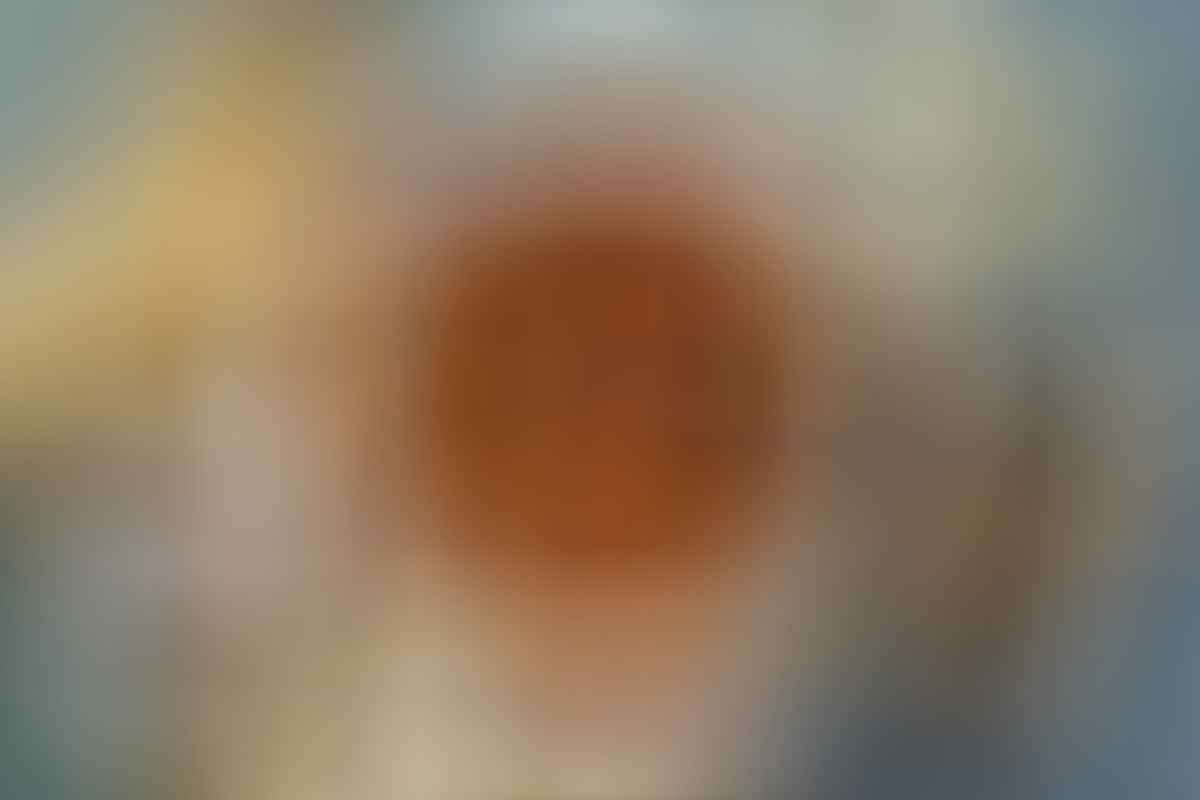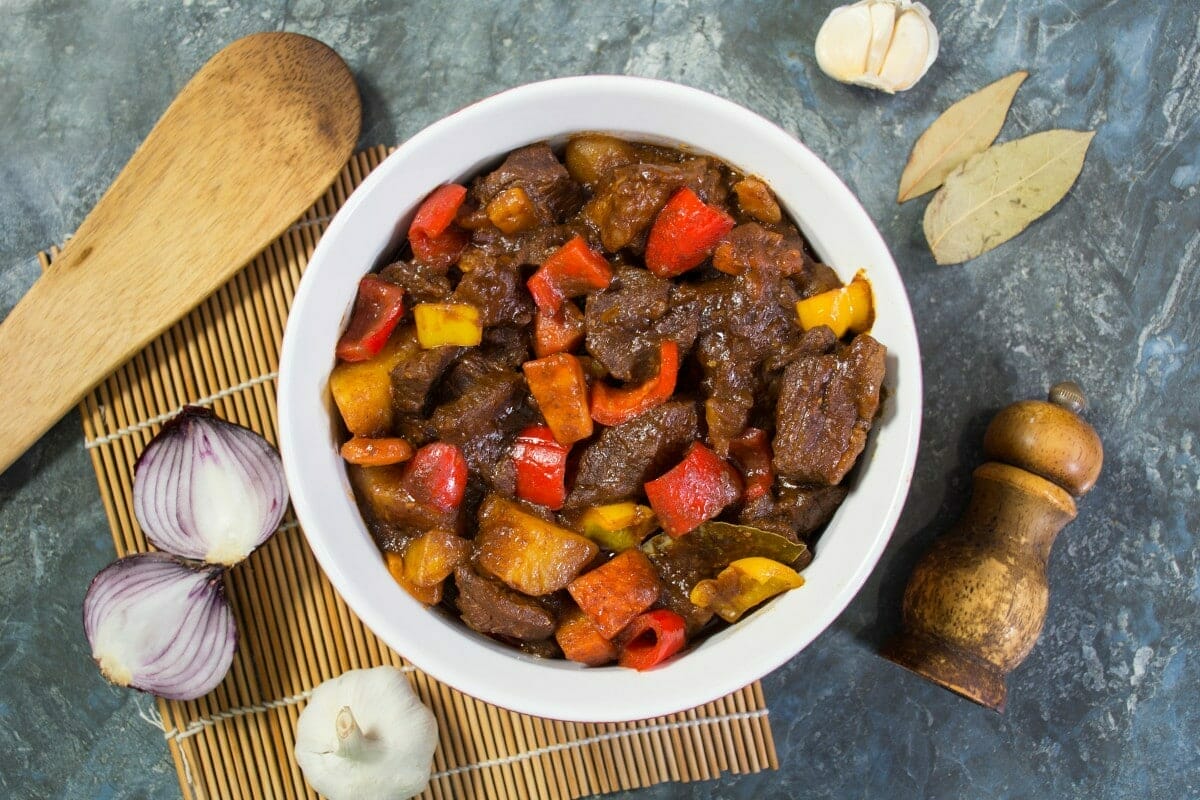 Beef Mechado or "Mechadong Baka" is one of the meatiest and beefiest Filipino dishes you will find. A stew made of beef chunks, seared with sautéed garlic and onions, stewed in tomato sauce, lemon juice, soy sauce, and seasoned with spices like bay leaf and black peppercorn.
All ingredients are simmered until the beef has turned tender in the sauce and fats. Embellished with potatoes and carrots, decorated with bell peppers, and served with a cup of steaming hot rice, this colorful dish is an instant classic.
Mechado's savory aroma draws people to the table. And by simmering meat for hours till soft and tender, the depth of flavor is wonderful. This savory comfort food is well received by foreigners and tourists too and is almost always present in parties and festivals and on other special occasions.
If you like this beef stew recipe, check out this chicken caldereta recipe for a delicious stew dish based on chicken.
But you don't need to travel to the Philippines to enjoy this dish. You can make it yourself with our complete recipe. But first, let's learn something about the dish that you can use to impress your dinner guests.
Ingredients & Cooking Methods from the New & Old World
The humble tomato, one of the main ingredients in mechado, was brought from Mexico to Spain and then to the Philippines by the Spanish. Cows were also transported from Spain, which helped introduce the taste of beef to Filipino cooks.
The traditional beef mechado used the method of inserting strips of fat in the center of the roll of lean meat or beefsteaks to prevent it from drying out in the exposed air. The meat is then marinated in soy sauce and citrus, browned in oil and braised with a marinade of broth, onions, fish sauce and bay leaves. The word mechado comes from the word mecha meaning "wick", which refers to how the pork fat sticking out resembles a wick. Mechar means lard or to 'stuff with lard".
Mechado recipes initially used inexpensive cuts of meat for stuffing and frying with fat, before dousing with broth to create the stew. This method helped make use of the leftover meat scraps in kitchens. But it still made for a tasty dish enjoyed by everyone. The more modern beef mechado recipe that we now know now is beef stewed with tomato sauce and filled with vegetables as an extender.
If you're familiar with Filipino cuisine you might recognise mechado as similar to afritada, a saucy red dish that uses pork or chicken as its meat. Or calderata, a popular recipe in Cebu that uses goat's meat. These dishes are preferred at lunch and dinner and often prepared for parties/fiestas, at Christmastime and New Years.
Mechado can be found everywhere from carinderias (food stalls usually seen on the roadside) to high-end restaurants.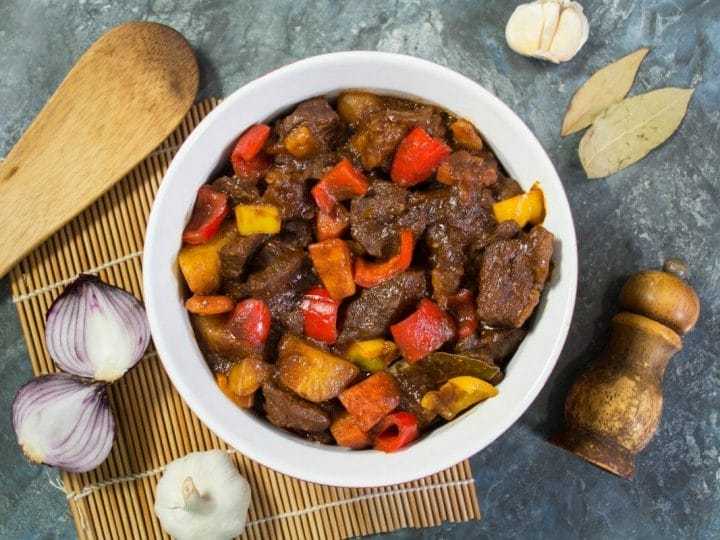 Yield:

6
Filipino Beef Mechado: A flavorful red meaty stew
Total Time:
3 hours
10 minutes
A dish for cooler evenings, family get together, or simply a wholesome family meal. This dish uses relatively simple ingredients but packs a deep, rich flavor.
Ingredients
2 lbs beef chunks
1 teaspoon salt
1 teaspoon ground black pepper
2 tablespoons cooking oil
5 to 7 cloves garlic (minced)
1 large red onion (sliced)
1 cup tomato sauce
1 cup water or beef stock
¼ cup Lemon or calamansi juice
2 tablespoons soy sauce
2 tablespoons tabasco
½ teaspoon black peppercorn
2 pieces of bay leaf
2 medium potatoes (chopped)
2 medium carrots (chopped)
1 red bell pepper (chopped)
1 yellow bell pepper (chopped)
Salt and pepper to taste
Instructions
Clean the beef chunks in running water and leave in the strainer to remove the excess water. Season with a teaspoon of salt and pepper
Oil a pan at medium heat, sauté sliced onions till translucent, then add minced garlic and cook till fragrant.
Add the seasoned beef chunks in the pan. Searing the edges to a light brown color.
Add in the tomato sauce, water, and lemon juice. Cover and let this come to a boil then simmer for 1 to 2 hours.
Place the potatoes and carrots in the pan. Cover and let it simmer till soft.
Mix in soy sauce, Tabasco, black peppercorns, and bay leaves. Let this simmer for 5 minutes.
Add salt and pepper to taste. Add the chopped red and yellow bell peppers. Cover and let it simmer for 5 to 7 minutes.
Serve hot.
Notes
Beef with some fat is preferred to keep the meat tender and juicy.
Cut the beef chunks into 1 to 2-inch sized cubes.
An alternative to Step 4. You can also simmer the sauce for 30 minutes to one hour by reducing the size of the beef chunks. The time it takes to tenderize the beef chunks depends on the size its cut.
To test if the beef is ready, simply poke the meat with a fork get a feel of how tender it is in Step 4. Check the meat once in a while to prevent overcooking the dish.
To get a thicker sauce, reduce the 1 cup of water or beef stock into half.
The dish can vary from the tomato sauce you use. If the dish turns to salty you can add 1 teaspoon of sugar, potatoes or carrots to balance its taste.
You can also marinate the beef with salt, pepper, and lemon overnight to have a tangier sharp taste.
You can also use a pressure cooker to reduce time by adding all the ingredients together after searing the meat in Step 3. Setting the time to 20 to 25 minutes or till the meat is tender. Adding in the pan-fried potatoes, carrots, bell peppers, and salt and pepper to taste.
Nutrition Information:
Yield:
6
Serving Size:
1
Amount Per Serving:
Calories:

461
Total Fat:

16g
Saturated Fat:

5g
Trans Fat:

1g
Unsaturated Fat:

10g
Cholesterol:

150mg
Sodium:

1236mg
Carbohydrates:

29g
Fiber:

4g
Sugar:

10g
Protein:

54g
This information is automatically calculated by third party software and is meant as a guideline only. This website is written and produced for informational purposes only. Statements within this site have not been evaluated or approved by the Food and Drug Administration