Kare-kare is a Filipino dish whose name comes from 'kare' or 'curry' and is a mouthwatering medley of nutty, creamy, and beefy flavors.
This delectable dish includes a warm and often bright orange-colored sauce made from a natural colorant called annatto oil, and peanut sauce. A spoonful of glutinous rice flour and collagen from simmered beef gives the stew its thick and hearty texture. A colorful variety of vegetables is seasoned with typical Filipino flavors like onions, garlic, and fish sauce to give the dish a unique flavor.

Often it's helpful to learn about a dish's history, especially if you're unfamiliar with Filipino cooking. This helps everyone appreciate the ingredients and, well, it gives us some taking points over that amazing dinner you're about to put on for friends and family. Our goal is to help people understand the history behind one of the world's most diverse and flavorful cuisines.
There are several origin stories to kare-kare. One is that the dish originated in Pampanga, often heralded as the 'culinary capital of the Philippines'.
The second story describes how the dish came from the Moro ethnic group who settled in Manila before the Spanish colonization. The story also holds true today, as kare-kare remains popular in Tawi-Tawi and Sulu Municipalities.
The third story tells of Indian sepoys or Indian infantrymen who settled in the Philippines during the British occupation in Manila, they improvised the curry with available materials and called in 'kari-kaari'.
Today, kare-kare is usually made for special occasions such as fiestas, holidays, birthdays, or other celebrations. The hour-long simmering time is why some households only prepare kare-kare on special occasions. While many people only enjoy the dish in restaurants, it can actually be made at home for a fraction of the price. It's a reasonably easy recipe to make. Simply simmer the meat for an hour or so while you prepare the vegetables and sauce. Then add the now tender beef and a few cups of the simmered broth, and you're ready to serve the dish.
Filipino cuisine's famous dish is perhaps the ultimate in warm, comforting comfort food. A taste of this dish will make you believe it is absolutely worth it.
Alternatives
Can I use other leafy vegetables?
Any vegetable you have at home will do. Use leafy vegetables and add or remove vegetables from the traditional recipe if you prefer. You can also add banana flowers, banana hearts, spinach, or kangkong (water spinach). There's even a vegan version that simply contains eggplants, green beans, bok choy, and aromatics like onion and garlic. Non-vegans also eat these if they don't want to go through the simmering process of the beef.
Can the meat be replaced?
Beef can be substituted with pork, goat meat, mussels, prawns, squid, and even chicken. Crispy pork pata or liempo, a rendition of the lechón, is a good pairing and is sometimes even added as a topping.
The liempo version can be made at home using a pork belly cut with slits on the meat side, filled with aromatics. This is then rolled, and boiled in a broth base, dried, salted, and cooked over a charcoal grill, or baked in an oven at high heat to create that beautiful crispy outer skin.
You can also eat the kare-kare as is, without the meat, simmering it longer, or adding around twice or thrice the rice flour to help it thicken.
What's a good substitute for annatto oil?
Annatto oil can actually be omitted since it is primarily used as a natural colorant.
You can also use annatto seeds. Prepare 1-2 tablespoons of seeds by pouring ¼ cup of boiling hot oil over them. Leave to 'cook' for 2-3 minutes. Strain the seeds to extract the oil.
Alternatively, use ½ teaspoon of annatto powder with your choice of 2 tablespoons of oil.
The ingredients list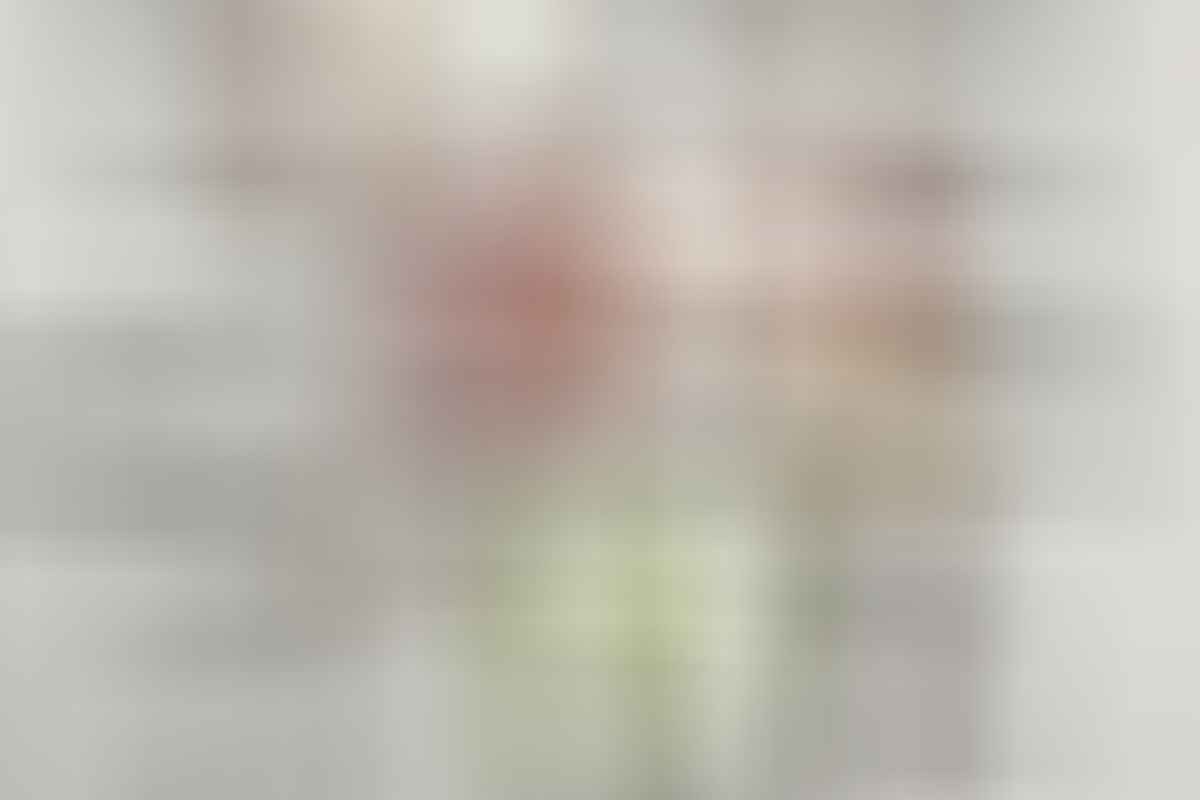 Beef brisket – The beefy taste is brought out by adding oxtail or tripe because they act as natural thickeners that produce collagen.
Salt and pepper – to enhance the flavor.
Yellow onion – a light natural sweetener for the broth
Water – for boiling
Oil – for frying and used with the flour to make into a paste.
Glutinous rice flour – gives a light rice flavor and acts as a paste to bind the sauce.
Red onion – Gives the dish a slight bold taste (stronger than the white onion flavor)
Garlic – a flavorful aromatic used in many Filipino dishes.
Annatto oil – brightly colored oil that not only adds an interesting splash of color, but also gives a slightly nutty taste.
Peanut butter – gives the nutty flavor and creaminess to the dish
Brown sugar – for a sweeter taste. Optional.
Fish sauce – gives the dish a delicious tangy flavor
Green beans – adds crunchiness.
Eggplant – adds color and is also used as a filler.
Bok choy or Chinese cabbage – leafy vegetables have a slightly sweet flavor and are a great way to get fiber. You'll find many kare-kare varieties that use leafy vegetables not only as filler but also add some color into the dish.
Peanuts – for décor and extra crunch.
Instructions Photos
Quick tips
– Ensure that the beef kare-kare broth is thick and creamy by choosing a nice selection of beef brisket, with or without a few tendons, oxtails, and tripe. Add glutinous rice flour for extra "glue". But what really makes it thick are the little melted collagen pieces that turn into an almost gelatinous texture.
– Depending on how thick or big the beef brisket is, simmer time could be as fast as 30 minutes or take up to 2 hours. Check your beef every 30 minutes with a fork. You should easily pierce through the meat as well as take the fork out just as easily.
– During the simmering stage, check if the beef is tender. Tender beef makes the dish even better. Avoid further simmering at the sauce stage, as this may cause the sauce to burn.
– Cook leafy vegetables last since they cook quickly.
– You can also serve kare-kare with a side of shrimp paste, a type of fermented condiment used in Filipino dishes and sometimes used as a side sauce. Salty and savory, it contrasts well with sweet dishes and sour fruits.
– Keep leftover Kare-Kare in an airtight container. In the fridge, this will keep for 3 days to a week, and in the freezer, it will keep for a month. To reheat, thaw the frozen food and microwave for a minute or two, or simmer it at medium heat, stirring often to prevent the bottom from burning.
– We used yellow onions to simmer the meat, and sautéed red onions to create the sauce. Yellow onions are referred to as 'all-purpose onions' because of their sweet taste when cooked for a long time. In comparison with yellow onions, red onions are slightly astringent.
Cook Time:
1 hour
30 minutes
Total Time:
1 hour
40 minutes
Kare-kare Beef is a delicately seasoned blend of tender beef, oxtail, and vegetables cooked in an enticing peanut sauce until the flavors melt into one. Paired with boiled white rice (and maybe some steamed or stir-fried vegetable) it's sure to become a favorite family meal.
Treat yourself with this beefy, savory, and creamy nutty deliciousness that Beef Kare-Kare is well known for.
Ingredients
Beef
1 kilo beef brisket (with optional oxtail, or tripe)
1 teaspoon salt
1 teaspoon pepper
1 large yellow onion (cut in half)
water for boiling
Sauce
1 tablespoon oil
1 tablespoon glutinous rice flour
1 piece red onion
5 cloves garlic
2 tablespoons annatto oil
⅓ cup peanut butter
1 tablespoon brown sugar
1 tablespoon fish sauce
1 cup green beans or string beans
1 cup eggplant
1 bundle bok choy or Chinese cabbage
crushed or ground peanuts for decor
Instructions
Clean and strain the beef. Place in a large pot and season with salt and pepper.
Add the onion and enough water to cover the beef.
Place the pot on a stove at medium heat and bring this to a boil. Removing any scum that appears. Add more water if needed.
Let this simmer for 1-2 hours or till the beef is tender and can be easily pierced by a fork. Set aside.
Clean and string the green beans, chop the eggplants into circles, slice the ends of the bok choy or Chinese cabbage, and chop the onions and garlic to small bits.
Heat oil in a pot at medium heat, add glutinous flour, stirring till it has a tinge of yellow or brown color.
Add the chopped red onions and garlic. Sauté till the onions are a bit translucent and the garlic is aromatic.
Mix in the annatto oil, peanut butter, beef, and 2-3 cups of the simmered beef stock.
Add the fish sauce and brown sugar to taste.
Add the green beans, eggplants, and bok choy. Mix well and let this simmer with the sauce till softened.
Taste and add salt and pepper or sugar as needed. There should be a balanced – not too sweet not too salty – savory taste.
Serve with halved or ground peanuts on top.
Frequently Asked Questions
What part of beef is used for kare-kare?
Several types of beef can be used for kare kare but we recommend brisket, oxtail, or chuck. Any type of tougher beef cut that requires long, slow cooking will work.
How long does kare kare last in the fridge?
Kare kare will last up to 3 days in the fridge.
What does kare kare taste like?
Kare kare has a rich, heavy cream taste that's distinctly roasted peanut or satay in flavor. It's a unique but subtle taste that most people will enjoy.
How to make peanut butter for kare kare?
The easiest way to make your own peanut butter for kare kare sauce is to roast or toast peanuts and then add to a food processor or blender with a small amount of sauce.
Is kare kare keto-friendly?
If you eat the dish without rice, kare kare can be considered keto-friendly. There's only a small amount of sugar and rice flour but the dish is high in fat and has a medium amount of protein. Keto diet followers will be fine eating a portion of kare kare.