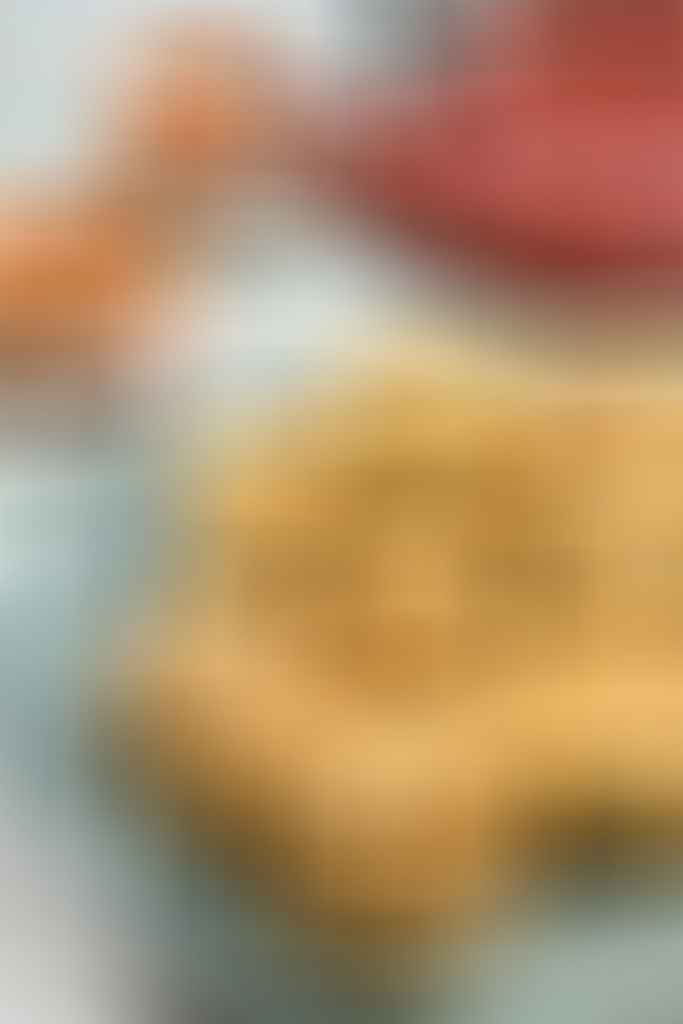 Buchi are sweet and savory deep-fried glutinous rice cakes traditionally filled with sweetened mung or red or beans covered with sesame seeds. The seeds give this dessert, also called "butsi", its nutty taste. This delightful chewy snack is made with glutinous rice flour, warm water, sugar, and salt, mixed together to form a gooey-textured dough. The dough is then rolled and filled with sweetened beans to help balance the filling-to-dough ratio. The buchi mix is then formed into balls, rolled, and covered with sesame seeds. The sesame-covered balls are then submerged in hot oil till they turn golden brown on all sides.
Buchi or butsi is loved for its crisp outer covering with a warm and chewy filling and is typically eaten as a dessert after a full course of Chinese dishes. It's also enjoyed as an afternoon snack. These sweet rice balls are commonly found at Chinese restaurants or bakeries in Binondo.  Fast food chains like Chowking offer buchi as part of their dessert menu, with some restaurants offering their own version of sesame balls as a seasonal dessert. The dessert can also be ordered online in speciality shops with a variety of fillings that include cheese, yema or sweet custard, peanut butter with crushed peanuts, sweet potato, ube, and a combination of mung beans and ube. 
A dessert born of many cultures
Sesame seed balls are part of southern Chinese cuisine. This Chinese pastry called "Jian Dui" consists of sesame balls filled with lotus or sweet black bean paste. These treats were served as a palace food in the Tang dynasty known as "Ludui", famously recounted in a poem by Wang Fanzhi.
China exported many of its dishes and its culture as it's people migrated around Asia. Countries such as Cambodia, Sri Lanka, India, Korea, Indonesia, Japan, Malaysia, Vietnam, and the United States all have their own version of Sesame Seed balls. Buchi is one of the many Chinese-Filipino fusion desserts in the Philippines. Other popular fusion desserts include hopia, mango sago, sago't gulaman, and the Filipino version of flavored tikoy or glutinous rice cake. All have been embedded in some way in Filipino culture. Desserts like hopia and tikoy are enjoyed at Chinese New Year or during the Mooncake festival. Mango sago and sago't gulaman are desserts and coolers found on typical Filipino menus.
Yield:

21
Buchi: Sesame balls filled with sweet beans
Total Time:
1 hour
15 minutes
Learn how to make Buchi - sweet and savory deep-fried rice cakes filled with red beans or mung beans and covered with sesame seeds.
Ingredients
Bean filling
1 1/2 cup mung beans
1 cup white sugar
3 cups water
Red bean filling
2 cups red bean
1 1/2 cup white sugar
1/2 teaspoon salt
4 cups water
Buchi skin
1 1/2 cups glutinous rice flour
1/4 cup brown sugar
1/8 teaspoon salt
3/4 cup water (warm)
1/3 to 1/2 cup sesame seeds
Instructions
For the bean filling:
Rinse the beans in running water.
Place in a pot at medium-high heat with enough water to cover the beans. Let it boil for 30 minutes (or 35 minutes if required). Check regularly to see if the beans need more water.
Once the beans have softened and are easy to squish with your fingers. Blend these with a hand blender.
Add the sugar. Mix till all the sugar has dissolved and the bean paste has thickened.
Cool at room temperature before placing in an airtight container.
For the red bean filling:
Rinse the beans in running water.
Place the beans in a pot with enough water to cover the beans. Let this boil for 10 minutes.
Strain the beans. This helps make sure they are thoroughly cleaned.
Add the rinsed beans back to the pot. Fully covering the beans with water. Let this boil for 1-2 hours or till the beans has softened.
Strain and blend the beans till smooth and return this in the pot.
Mix in the salt and sugar, stirring continuously till it fully dissolves and turns into a thick paste.
Set aside and let it cool at room temperature before placing in an airtight container.
For the buchi dough:
In a bowl, mix together warm water, salt and brown sugar. Stir until the sugar has dissolved.
Add half of the glutinous rice flour and mix well before adding the other half.
The dough should feel smooth and moist. The type of glutinous rice flour may differ for each brand. Adjust the water proportion till the dough feels moist but does not stick to your hands.
Separate the dough into 1-inch sized balls.
Flatten and mark the middle of the buchi balls.
Add around 1 to 1 1/2 tablespoon of the fillings.
Stretch the skin to cover the fillings and roll it around the palm of your hands to smoothen.
Using damp hands, roll the balls in sesame seeds. This helps keep the seeds from falling off when deep frying.
In a pot at medium heat, add enough oil to cover half or fully cover the buchi.
Once balls are in the oil, move them around to keep them from getting stuck at the bottom of the pan. The buchi is ready once the skin turns golden.
Best served hot.
Notes
To help keep the sesame seeds sticking in the dough, use damp hands or dip the filled dough in water before dipping into the seeds.
We recommend doing the fillings a day before so they have time to cool and turn more solid. This makes them easier to handle.
Ready-made red bean fillings can be bought at your local Asian grocery.
You can also replace the sweet bean fillings with ube jam, peanut butter or chocolate.
Avoid making the skin too thick in order to avoid raw inner dough.
The paste can look watery after adding in the sugar. This paste will thicken once it settles down to room temperature or after it chills in the fridge.
To make sure the oil is hot enough on step 9.
If the rice dough cracks or dries up, cover this with a moistened towel for a minute.
Recommended Products
As an Amazon Associate and member of other affiliate programs, I earn from qualifying purchases.
Nutrition Information:
Yield:
21
Serving Size:
1
Amount Per Serving:
Calories:

176
Total Fat:

1g
Saturated Fat:

0g
Trans Fat:

0g
Unsaturated Fat:

1g
Cholesterol:

0mg
Sodium:

75mg
Carbohydrates:

40g
Fiber:

3g
Sugar:

26g
Protein:

4g
This information is automatically calculated by third party software and is meant as a guideline only. This website is written and produced for informational purposes only. Statements within this site have not been evaluated or approved by the Food and Drug Administration